Sports Betting Futures Odds: And Now the NBA Season Can Really Begin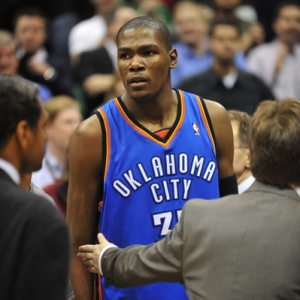 It is not unfair to say that the NBA season begins with the playoffs. Arguably in no sport is the discrepancy in entertainment value between the regular slate of action and the postseason more severe than it is in the NBA. The 2015-16 campaign may be a slight exception, what with Kobe Bryant's farewell tour and the Golden State Warriors' quest for 73 wins. But all of that is just an appetizer to the festivities that are about to begin.

Odds provided by MyBookie.ag unless otherwise indicated .
NBA Championship

Golden State Warriors (-200) -The record has been achieved, with the Warriors having gone 73-9 in the regular season to break the 1995-96 Chicago Bulls' mark of 72-10. Now they can focus on the task that really matters: winning a second straight NBA title.

San Antonio Spurs (+350) - San Antonio's 67-15 record is pretty incredible, but it was grossly overshadowed by what was transpiring out in the Bay Area. Head coach Gregg Popovich and future Hall of Famer Tim Duncan already own five titles, and now LaMarcus Aldridge is part of the mix.

Cleveland Cavaliers (+350) - The Cavs secured the No. 1 seed in the Eastern Conference by one game over Toronto. That makes their appearance in the NBA Finals even more inevitable. The question is: can LeBron James and company beat either Golden State or San Antonio?

Oklahoma City Thunder (+1800) - Oklahoma City will likely have to go through the Spurs and the Warriors (without home-court advantage against either one) just to get out of the conference. Yeah, it's safe to say there is a reason why the odds have this as a three-team race.

National League Central

Chicago Cubs (-200) - Arguably the best division in baseball, the NL Central featured each of the two wild-card teams in 2015. The Cubs have lost left fielder Kyle Schwarber for the season because of a torn ACL, but that will not put a damper on lofty expectations. Included in a loaded lineup is right fielder Jason Heyward, whom Chicago heisted from division rival St. Louis.

St. Louis Cardinals (+300) -The Cardinals have triumphed on three consecutive occasions, but their 2015 division crown did not help them at all in the playoffs. They lost right away in four games to Chicago, which had defeated Pittsburgh in the wild-card game. A healthy Adam Wainwright anchoring an impressive pitching staff should help St. Louis' effort.

Pittsburgh Pirates (+350) -Although the Pirates have been a force to reckoned with in recent years, they are still looking for their first division title since the NL Central was formed in 1994. Pittsburgh has played in three straight wild-card games, winning the first before losing the next two. Andrew McCutchen and Gerrit Cole headline what is another talented roster.

Cincinnati Reds (+3800) - It looks, as usual, like it will be a three-horse race in the NL Central. There are the Cubs, Cardinals, and Pirates, and then there are the Reds and Brewers. Cincinnati is, however, off to an encouraging 5-3 start. Of course, that can be explained in part by getting to open the season with three straight against Philadelphia (the Reds swept).

U.S. Open (BetOnline Sportsbook)

Jordan Spieth (+550) -More than a few players are members of epic chokes in Masters lore and they now have even more company in Spieth. The world No. 2 will be eager to bounce back from blowing a five-shot lead on the back nine at Augusta National. Spieth is the defending champion of the U.S. Open and has two months to get his game-and brain-back in shape.

Rory McIlroy (+600) - There will be no career Grand Slam for McIlroy in 2016, as the Masters is what he needed in that effort and he never seriously contended during the weekend. The world No. 3's U.S. Open title came in 2011 at Congressional. He has finished in the top 10 in five of his last six major appearances and in seven of his last nine.

Jason Day (+800) -Day is still No. 1 in the world thanks to Spieth's late collapse in Augusta. But it is a distinction that is well-deserved. The Aussie has placed in the top 10 in each of the last four majors, including his first Grand Slam triumph at last summer's PGA Championship. Day owns two victories this season-at Bay Hill and at the Match Play Championship.

Rickie Fowler (+1600) - One of the best players to have never won a major, Fowler finished in the top 5 in all four slams in 2014. But he has underwhelmed ever since and was terrible at the Masters last week. The colorful American boasts two top-10 U.S. Open finishes. Adam Scott is also +1600. Danny Willett is +3330-the same as injured former world No. 1 Tiger Woods.

Next James Bond

Tom Hardy (+150) - Producers are reportedly desperate for Daniel Craig to stay on as Bond and are offering him a deal to make two more films. Whatever the case, there will be a new Bond at one point or another. Hardy is currently a slight favorite following a brilliant performance in The Revenant that earned him a Best Supporting Actor nomination at the Oscars.

Tom Hiddleston (+175) - The 35-year-old Englishman is best known for his role as Loki in the Marvel Cinematic Universe, having appeared in Thor, The Avengers, and Thor: The Dark World. He is hearing more than enough Bond rumors. "I want to just make it stop," Hiddleston said, "because I have no power over it. But that's what being famous is."

Idris Elba (+500) - Pierce Brosnan said last year that the next Bond cannot be woman, but also that the next Bond can be black. Elba, who says 007 executives have not approached him, would be the first such Bond. For whatever it's worth, Dev Patel of Slumdog Millionaire fame is backing Elba to be the choice. The 43-year-old Londoner starred in Mandela in 2013.

Damian Lewis (+500) - The Emmy Award winner has made a name for himself on the Showtime hit series "Homeland." Said Lewis of the Bond rumors: "When you're growing up as a kid, if somebody said to you, 'Would you like to be James Bond,' first off all you'd laugh and say, 'It's never going to happen.' Secondly you say, 'Yeah, obviously.'"
Read more articles by Ricky Dimon