Sports Betting Futures Odds: NCAA Hardwood Action One Week Away From Heating Up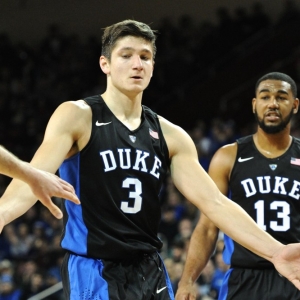 With baseball season wrapping up tonight, football and basketball will share the spotlight over the next few months. The NBA is already in full swing, and now it is almost time for the 2016-17 NCAA season to begin. Defending champion Villanova should still be in the mix, but the usual suspects such as Duke, Kentucky, and Kansas are favored.

All odds provided by Bovada Sportsbook.

NCAAM National Championship

Duke (+350) -Duke won it all in 2014-15 but stumbled to a 25-11 record last season and lost to Oregon in the Sweet 16 after barely scraping past UNC-Wilmington and Yale. The Blue Devils lost Brandon Ingram to the NBA, but they return Grayson Allen to go along with an awesome recruiting class.

Kansas (+900) -Head coach Bill Self and company are looking for their first title since 2008. They came close in 2011-12, losing to Kentucky in the final, and reached the Elite Eight last season. The returns of Frank Mason III and Devonte' Graham should have the Jayhawks in contention yet again.

Kentucky (+900) -Kentucky last raised a banner during the brief Anthony Davis era. Of course, that shouldn't be the case given the Wildcats' ridiculous talent in 2014-15 that took them to an undefeated regular season. They struggled in 2015-16 but have all the tools to return to prominence.

Arizona (+1400) - Don't sleep on the Wildcats, who haven't been worse than 25-9 in any of the past four seasons and have reached three Elite Eights in the last six years. They have a great freshman class, but they also have some early off-the-court issues. Oregon is also a +1000 fourth choice.

Heisman Trophy

Lamar Jackson, Louisville (-300) - Unless Louisville implodes, Jackson is probably one Clemson loss and one Michigan loss away from beating Deshaun Watson and Jabrill Peppers and locking up the Heisman Trophy. The sophomore has passed for 2,522 yards, has run for 996, and has accounted for 38 total touchdowns.

Deshaun Watson, Clemson (+450) - Watson is still in the race thanks to the Tigers' 42-36 victory over Louisville on Oct. 1-and because they are still undefeated on the heels of escapes against Auburn, N.C. State, and Florida State. The junior has passed for 2,328 yards and has thrown 22 TDs, but 10 interceptions do not look good.

Jabrill Peppers, Michigan (+450) - Peppers could become the first primarily defensive player to capture the stiff-armed statue since Charles Woodson-also of Michigan fame-in 1997.The linebacker has 48 tackles (31 solo, 12.5 for loss) and 3.5 sacks. He also has 131 rushing yards, one TD, and a TD among his many huge punt returns.

Jake Browning, Washington (+2000) -Jackson isn't the only super sophomore in the mix. Browning is doing his best to overcome a possible east-coast bias, with 28 touchdowns compared to only three interceptions for the undefeated Huskies. Browning has 25 TDs and two INTs in his last seven outings, and a 14-to-1 ration in his last four.

Sprint Cup championship

Jimmie Johnson (+250) -Johnson is already through to the last round of the Chase for the Sprint Cup-the season finale at Homestead on Nov. 20-thanks to his victory in Martinsville last weekend. That has separated the six-time champion for the rest of the remaining eight title contenders.

Matt Kenseth (+350) -Kenseth won it all in 2003 and has finished inside the top 10 of the Sprint Cup standings on 10 other occasions, including two runner-ups (2006 and 2013). He has six Top 10s in eight playoff races this season, which is why he is still alive despite having not won during this stretch.

Denny Hamlin (+425) - Hamlin, a runner-up in 2010 and third-place finisher in 2013, is still in search of his first championship. The 35-year-old was almost done for a few weeks ago, but he advanced to the round of eight via a tiebreaker thanks to a third-place showing at Talladega on Oct. 23.

Kyle Busch (+500) - Busch currently registers at fourth in the standings behind Johnson, Hamlin, and Kenseth, although just about everyone other than Johnson is interchangeable in NASCAR's win-heavy format. The defending champion has seven top-10 finishes in his last eight races.


Breeders' Cup Classic

California Chrome (-120) - The Breeders' Cup takes place on Saturday at Santa Anita Park in Arcadia, Calif. California Chrome, now five years old, won the Kentucky Derby and the Preakness Stakes in 2014. Among his exploits this season are wins at the San Diego Handicap and the Pacific Classic.

Arrogate (+275) - This three-year-old is the son of Unbridled's Song, who won the Kentucky Derby in 1990. He is also trained by Bob Baffert, so there definitely things to like about him. Arrogate missed some time earlier this season with a shin injury but soared into prominence by winning the Travers Stakes.

Frosted (+550) -Frosted is probably best known for finishing fourth at the Kentucky Derby and second at the Belmont Stakes during his Triple Crown year in 2015. He also placed third at the Travers Stakes that season. Still in fine form, Frosted has won three of his last five races.

Keen Ice (+1600) - The last two Travers Stakes winners will be in attendance this weekend, because Keen Ice got the job done at that event in 2015 (beat American Pharoah) before Arrogate won it this season. Keen Ice finished third in the 2015 Belmont Stakes behind American Pharoah and Frosted.
Read more articles by Ricky Dimon