Sports Betting Futures Odds: NBA Regular Season Less Than One Week Away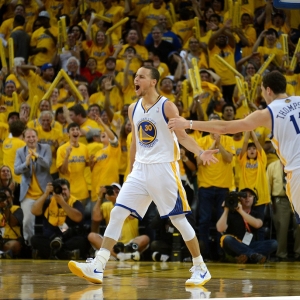 They say Christmas is the most wonderful time of the year, but isn't it October? After all, this is the only month (depending on how long the World Series lasts) in which all four major American sports are in progress. Baseball will soon crown a champion, football is in midseason form, hockey has already started up, and basketball is about to get underway. Enjoy!

All odds provided by BetOnline Sportsbook.

NBA Championship

Golden State Warriors (-140) -The 2016-17 campaign has not even begun and Golden State is already favored over the entire rest of the field. That's right; Stephen Curry, Kevin Durant, and company are less than even money to win it all. They will have to hope the playoffs go as well as last year's regular season.

Cleveland Cavaliers (+275) -The Cavaliers are the champions until someone else knocks them off, but that doesn't mean they are favored going into their title defense. J.R. Smith just re-signed, so just about everyone is back on board (except Matthew Dellavedova, which may be addition by subtraction).

San Antonio Spurs (+900) -These aren't your grandfathers' Spurs, as Tim Duncan has decided to hang 'em up and Father Time is catching up with Manu Ginobili and Tony Parker. But these are the Spurs of Kawhi Leonard and LaMarcus Aldridge. They finished an awesome 67-15 last season, second best in the NBA.

Boston Celtics (+2000) - According to the odds, there are really three tiers of teams when it comes to title contention: 1) Golden State, 2) Cleveland, 3) San Antonio, 4) everyone else. Boston may be the best of the rest coming off a 48-34 season and having added Al Horford to the roster.

NBA MVP

Russell Westbrook (+325) - From an individual standpoint, Durant bolting from the Thunder to the Warriors could be a perfect storm for Westbrook. It is no secret that Westbrook loves to have the ball in his hands and fork it up with reckless abandon. The stats, which were already lofty, should be off the charts this season.

Stephen Curry (+350) -Curry won MVP in 2014-15 and only got better for his encore. He averaged 30.1 points per game last season while leading Golden State to a record-setting 73-9 mark. At 28 years old, the former Davidson star is squarely in his prime. But will Durant's arrival take the ball out of Curry's hands too often?

LeBron James (+375) - LeBron was the MVP of the league four times in a five-year span from 2008-09 through 2012-13. He is 31 years old now, and the past two seasons were LBJ's first since his rookie campaign in which he averaged less than 26 points per game. LeBron has been content to share the wealth with Kyrie Irving and Kevin Love.

Kevin Durant (+700) -Durant was MVP in 2013-14 when he ran the show in Oklahoma City along with Westbrook and averaged 32.0 ppg. He will have even more company in Golden State, where Curry and Klay Thompson are also scoring machines. Leonard is a +700 second choice, as well.


Heisman Trophy

Lamar Jackson, Louisville (-200) - Jackson peaked at -500 before the Cardinals lost to Clemson. The setback was by no means the fault of his own, but what if Clemson and Ohio State stay undefeated and Louisville loses-say-one more game? It may not matter how outrageous Jackson's numbers become.

J.T. Barrett, Ohio State (+550) -The Buckeyes survived Wisconsin in overtime last Saturday night to keep Barrett's campaign rolling. His interceptions have gone up (three in the last three games following one in the first three), but the junior has 22 total touchdowns, 1,207 passing yards, and 434 rushing yards.

Deshaun Watson, Clemson (+750) -Like three of the top four Heisman Trophy favorites, Watson is the leader of an undefeated team. Should the Tigers be perfect? Well, no, but the bottom line is that they are. Following last week's overtime escape against N.C. State, Watson has 14 total touchdowns in four ACC games.

Jake Browning, Washington (+850) - There may be an east-coast bias, but Browning has entered the Heisman discussion to represent the other side of the country. The Huskies' sophomore signal-caller has 23 TDs compared to just two INTs, including 20 to one in the last five games and nine to zero in the last two outings.

NFC East

Dallas Cowboys (-150) -Tony who? Rookie quarterback Dak Prescott, with plenty of help from rookie running back Ezekiel Elliott, has the Cowboys at 5-1-one game out in front in what is a crowded NFC East. They have reeled off five consecutive wins since since losing their opener to the division rival Giants.

Philadelphia Eagles (+400) -Philadelphia appeared to be bagging this season when it heisted a future first-rounder from Minnesota in exchange for Sam Bradford. Well, not so fast. Carson Wentz has the team at a solid 3-2. The Eagles are in the midst of an off week in advance of a huge Week 8 Sunday night showdown against Dallas.

Washington Redskins (+450) - The Redskins have played each team in the division and have a 2-1 record to show for their first go-around (4-2 overall thanks to a current four-game winning streak). Still, it may have been a bit premature for several players to have declared themselves NFC East champs after beating Philly last week.

New York Giants (+600) - With every other team over .500 at the moment, a 2-4 record would have been disastrous for the Giants. That came close to becoming a reality, but a late Odell Beckham Jr. touchdown helped them emerge from Week 6 with a huge win over Baltimore. At 3-3, New York is within striking distance.


Read more articles by Ricky Dimon