Sports Betting Futures Odds: Day, McIlroy, Spieth Co-favorites at the Masters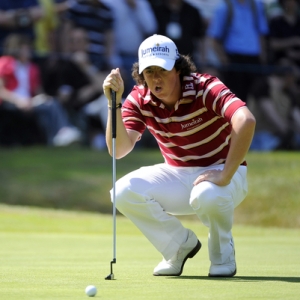 What does spring mean? It means March Madness, baseball, the beginning of playoffs in the NBA and NHL, and the Triple Crown in hose racing. It also, of course, means the Masters. The world's best golfers-led by Jason Day, Rory McIlroy, and Jordan Spieth-are descending upon the hallowed grounds of Augusta National this week. Who will capture the year's first major title? We're about to find out.

Odds provided by BetOnline Sportsbook unless otherwise indicated .
The Masters

Jason Day (+1000) - Will Day be off to the races now that he finally has a major under his belt (the 2015 PGA Championship?). There are a multitude of reasons to think so. He has won each of his last two starts, including the Match Play Championship. In four Masters appearances, Day has a T2 (2011) and a third-place finish (2013).

Rory McIlroy (+1100) - Only the Masters stands in between McIlory and the career Grand Slam. The four-time major winner went without a slam title in 2015 as he got surpassed in the rankings and arguably in popularity by Day and Jordan Spieth. McIlroy recently advanced to the match play semifinals before bowing out to Day.

Jordan Spieth (+1200) - Spieth generally peaks for majors, but has his opportunity to get his game in shape for Augusta come and gone? The defending champion has only one top 10 in his last six tournaments and he has nothing better than a 13th-place showing in his five most recent stroke-play events.

Bubba Watson (+1000) - Bubba's form hardly matters heading into the Masters. He has won two of the last four installments of this tournament. That being said, his form is good right now. His last three outings include one victory and one runner-up performance. Adam Scott, who won in back-to-back weeks about a month ago, is also +1000.

American League West

Houston Astros (+110) - As usual, the AL West is expected to be competitive; perhaps the most competitive division in the business from top to bottom. That being said, Houston-which had to settle for a wild card last season-is a relatively clear favorite. Cy Young Award winner Dallas Keuchel is back, and the Astros boast a ton of young talent in the lineup.

Texas Rangers (+275) -Texas is the defending champion of this division. It appeared to parlaying that title into postseason success with a 2-0 lead over Toronto in the ALDS, but the Blue Jays memorably stormed back to prevail in five games. The Rangers' roster includes Cole Hamels, Elvis Andrus, Prince Fielder, Adrian Beltre, and Shin-Soo Choo.

Seattle Mariners (+375) - The Mariners struggled down the stretch in 2015 and finished in fourth place, 12 games out of first. Felix Hernandez slumped just a bit to a 3.53 ERA last season, but he is still in the relative prime of his career at 29 years old. Robinson Cano, 33, is also looking to bounce back after he batted below .300 (.287) for the first time since 2008.

Los Angeles Angels (+600) - Mike Trout and company finished only three games back of the Rangers and one game behind the Astros for a coveted wild-card spot. With Trout, Albert Pujols, Yunel Escobar, and plenty of other talent, it is clear the Angels can contend once again. No team in the AL West has longer than +1200 odds (Oakland).
Kentucky Derby

Nyquist (+280) - With one month to go before the Run for the Roses, Nyquist has established himself as a solid favorite. He won the Breeders' Cup Juvenile in 2015 and triumphed last weekend at the Florida Derby. Nyquist was sired by Uncle Mo, who was briefly the Kentucky Derby favorite in 2011 before being scratched.

Mohaymen (+1000) -Mohaymen's trainer "thought he was invincible going in" to the Florida Derby, at which he was favored but finished fourth. It was the first loss of his otherwise illustrious career. Despite the setback, all systems are go for Churchill Downs and jockey Junior Alvarado will once again engineer the ship.

Destin (+1000) -Destin surged into the Kentucky Derby discussion by winning last month's Tampa Bay Derby and setting a track record in the process. He has won three of his last five starts and placed second in another. Destin is trained by Todd Pletcher, who won the 2010 Kentucky Derby with Super Saver and also owns two Belmont Stakes victories.

Cupid (+1000) - Damn, Bob! Back at it again with another Kentucky Derby contender. That's right; Cupid is trained by Bob Baffert, a four-time Kentucky Derby winner who helped American Pharoah capture the first Triple Crown since 1978 last year. Cupid won the Rebel Stakes last month and will compete in the Arkansas Derby next week.

Stanley Cup

Washington Capitals (+375) -The Capitals secured the Presidents' Trophy (best record in the regular season) with about a zillion games still remaining. Although they have appeared to lose focus with such a commanding lead, the Caps own 117 points-12 more than any other team in the entire NHL.

Chicago Blackhawks (+800) - There's Washington; and then there's everyone else. Chicago is in third place in its own division right now, but this is not a franchise that can be discounted. The Blackhawks have lifted the Stanley Cup three times in the past six years, including last season.

Pittsburgh Penguins (+800) - The Penguins are in the midst of a seven-game winning streak that has allowed them to clinch a playoff berth and sit in second place behind Washington in the Metropolitan Division. Sidney Crosby and company are 13-1 in their last 14 games, but can they overcome recent playoff failures?

Anaheim Ducks (+800) - Anaheim got off to a slow start during this 2015-16 campaign, but it is now tied for first atop the Pacific Division with the Los Angeles Kings. The Ducks have allowed the second fewest goals in the NHL (187). L.A., which has split the last four Stanley Cups with the Blackhawks at two apiece, are also +800.


Read more articles by Ricky Dimon