Sports Betting Futures Odds: Warriors Favored to Bring it Back in 2017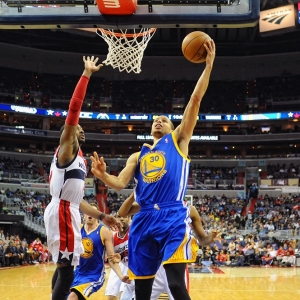 The 2015-16 NBA season ended four days ago, which means it Is not too early to start thinking about next year. As always, the oddsmakers have already looked ahead. The Golden State Warriors, who won it all in 2014-15 but just lost to the Cleveland Cavaliers in seven games, are favored to triumph next summer. But don't count out LeBron James and company from repeating; they are a close second choice.

All odds provided by Bovada Sportsbook .

2017 NBA championship

Golden State Warriors (+200) - After getting the job done in 2014-15, the Warriors looked poised for more when they compiled a record-setting 73-9 mark during the regular season. But injuries caught up with them in the playoffs-just as they did to the Cavaliers one year earlier.

Cleveland Cavaliers (+225) -Cleveland, for the first time since the Jurassic Era (basically), is a title town. The Cavaliers may not be built for the long term like a youthful Golden State squad, but LeBron is still in his prime for the time being, and he was on a different level during the finals.

San Antonio Spurs (+750) -An old era is transitioning to a new era in San Antonio, but unlike when that happens with mere mortal franchises, it seems like there will be no "rebuilding" period. LaMarcus Aldridge and Kawhi Leonard have kept the Spurs near the top during Tim Duncan's decline.

Oklahoma City Thunder (+850) - The Western Conference-and maybe the entire NBA-will be shaped by what happens with Kevin Durant. Will he stay in Oklahoma City? Will he go to the Warriors? If Golden State doesn't get him, will it go for Dirk Nowitzki? Stay tuned….

Wimbledon (Gentlemens' singles)

Novak Djokovic (-150) - Djokovic currently holds all four major titles. And if you took away his ranking points from each of the last four Grand Slams, he would still be No. 1 in the world. Yes, that is just how dominant the Serb has been. Djokovic is a three-time Wimbledon champion (2011, 2014, 2015).

Andy Murray (+350) - Murray finished runner-up to Djokovic at the French Open. Grass should give the second-ranked Scot a better chance, and he fine-tuned his game for the All-England Club by capturing a title at last week's AEGON Championships. Murray won Wimbledon in 2013.

Roger Federer (+1200) - Federer is tied with Pete Sampras at the top spot in terms of all-time Wimbledon titles (Open Era) with seven. The Swiss has had three opportunities to surpass Sampras since last triumphing in 2012, but Djokovic-and others-have stood in his way.

Milos Raonic (+1400) - Injuries have held Federer and Raonic back this season, but both remain extremely dangerous when healthy. Raonic recently led Murray by a set and a break in the Queen's Club final but promptly collapsed and lost in three. The 25-year-old Canadian was a semifinalist at SW19 in 2014.

EURO 2016

France (+400) - France last triumphed at the European championship in 2000, when it edged Italy on a golden goal in sudden-death overtime of the title match. With home-field advantage in 2016, it may be the Bleus' time once again. They snagged the top seed out of Group A with a pair of wins followed by a 0-0 draw against Switzerland.

Germany (+450) - The Germans have not yet been scored upon in this competition, but they also found the back of the net just three times in three round-robin matches. That was enough to win Group C ahead of Poland because of goal differential. Germany is tied for the all-time lead in EURO titles (three) and finished runner-up in 2008.

Spain (+550) - The top three title favorites are all on the same side of what looks like an impossibly imbalanced draw. Spain has to go up against Italy right off the bat in the knockout rounds, with the winner possibly to face either France or England in the semifinals. Germany (vs. Slovakia on Saturday) also finds itself in the bottom half.

Belgium (+550) -Belgium was not really in the discussion among title favorites throughout much of group play. But then the bracket happened…and the Belgians have to like where they stand. Following a Sunday showdown against Hungary, they could run into either Wales or Northern Ireland. Croatia and England are tied for the fifth choice at +900.

British Open

Rory McIlroy (+700) - Two majors down; two to go in 2016. Neither of the first two was won by any member of golf's sort-of big three involving McIlroy, Jordan Spieth, and Jason Day. McIlroy spent much of this past weekend fumbling away any chance he had at the U.S. Open and going off on the USGA for its handling of Dustin Johnson's penalty-stroke situation.

Jordan Spieth (+700) - Like McIlroy, Spieth failed to seriously contend during the weekend at the U.S. Open and finished in time to put the USGA on blast via Twitter. Unlike that of McIlory, Spieth's game may be more tailor-made for the Masters-and even for U.S. Opens-than it is for British Opens. But he almost battled into last year's playoff at St. Andrews.

Jason Day (+700) - After Day finally got over the hump to win his first major at the PGA Championship while truly dominating at times late last summer, many thought he would promptly rack up slam after slam. The world No. 1 was in contention going into Sunday at both the Masters and the U.S. Open but never made charges. He finished T4 at St. Andrews in 2015.

Dustin Johnson (+1000) -Speaking of getting over the hump, that is exactly what Johnson did at Oakmont last week. Having previously lost multiple majors in excruciating fashion, the big-hitting American looked susceptible to another hard-to-believe fate when he may or may not have caused his ball to move on the fifth green. But Johnson destroyed an overpowered field.


Read more articles by Ricky Dimon