Sports Betting Futures Odds: Tiger Returns at Hero World Challenge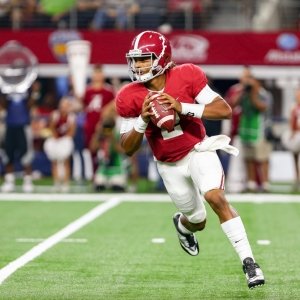 Tiger Woods is back. Well, he will be back when-and if-he strikes his first tee shot at this week's Hero World Challenge. This weekend will also decide the four spots in the 2016-17 College Football Playoff. Clemson and Washington are in position to join Alabama and Ohio State in the semifinals, but conference championship games could have an impact.

All odds provided by BetOnline Sportsbook .

Hero World Challenge

Dustin Johnson (+500) -Johnson, the U.S. Open champion, earned PGA Tour Player of the Year honors. He probably should have won the FedEx Cup, too, but Rory McIlroy snatched it away. Johnson finished a disappointing 15th at this event last year, when he contended through two founds before falling off the pace on Saturday and Sunday.

Jordan Spieth (+500) - Spieth dominated this tournament by 10 strokes in 2014 before placing fourth last season at the same course in the Bahamas where it remains today. But it's hard to know what to expect from the 23-year-old because he has not been his normal self in 2016. Spieth collapsed at the Masters and still hasn't recovered.

Hideki Matsuyama (+700) - Matsuyama was 13th at this event two years ago, and he tied for last in 2015. That being said, this is a different Matsuyama. The 24-year-old Japanese sensation has turned in three consecutive top-five performances dating back to the Tour Championship. He has a win and a runner-up in his last two outings.

Tiger Woods (+2500) -Tiger will be playing competitive golf for the first time since August of 2015. He last won a tournament in August of 2013. The former world No. 1 had been scheduled to return in mid-October at the Safeway Open, but he ended up withdrawing. Henrik Stenson and Brooks Koepka are tied as +1000 fourth choices.

College Football Playoff

Alabama (-160) - Alabama is in-even if it loses to Florida in this weekend's SEC Championship. And the thought of that happening, of course, is laughable. The Crimson Tide have won their last nine games by double-digits, and eight of those have been by at least 18 points. They have allowed a combined 18 points in their last four contests.

Ohio State (+250) -It is actually good news for the Buckeyes that they aren't in the Big Ten title game. Now they have no chance of suffering a second loss, which they avoided in a borderline miracle win over Michigan last week. OSU has reeled off five straight victories-some too close for comfort-since falling to Penn State.

Clemson (+700) -Clemson flirted with disaster against Louisville, N.C. State, and Florida State. It caught up with them in a loss to Pittsburgh, but the good news this season is that one loss is not one too many. If the Tigers take care of business against Virginia Tech on Saturday then they will be part of the College Football Playoff.

Washington (+1000) -The case is the same for Washington, which has a conference championship standing in its way of a berth in the semifinals. If the 11-1 Huskies win the Pac-12 at Colorado's expense on Friday, they will be good to go. Jake Browning and company boast four Top 23 wins this season and have fallen only to red-hot USC.

NFL MVP

Tom Brady (+350) -Brady is 6-1 since returning from a four-game suspension, during which the Patriots suffered one of their two losses (by shutout fashion, in fact). He is completing 68.4 percent of his passes and has thrown for 18 touchdowns compared to just one interception.

Ezekiel Elliott (+400) -There are not one but two Dallas rookies who are in the running for NFL MVP. Elliott and quarterback Dak Prescott have led the Cowboys to a 10-1 record, giving them the inside track on the No. 1 seed in the NFC. Elliott has rushed for 1,199 yards and 11 touchdowns.

Matt Ryan (+550) -The Falcons may not be as good as New England and Dallas, but they almost certainly wouldn't even be a playoff team without Ryan. With him, they are 7-4 and in position to win the NFC South. Ryan has completed 68.9 percent of his attempts with 26 TDs and six INTs.

Derek Carr (+550) - New England has some competition for home-field advantage throughout the AFC playoffs, and it is coming from none other than the Raiders. They are also 9-2, including 5-0 on the road. Carr has thrown for 3,115 yards and 22 touchdowns. Prescott is a +850 fifth choice.

English Premier League

Chelsea (+200) -Has the English Premier League ever been more bunched up at the top? Through 13 matches, or one-third of the season, three points separate the top four clubs. Chelsea, which triumphed in 2014-15 for its fifth title, is currently first with 31 points. The Blues have won seven matches in a row since falling to Arsenal.

Manchester City (+215) - Manchester City captured the title twice in the span of three years from 2011-12 through 2013-14 before coming up short the last two seasons. The Sky Blues were in control of things early this time around, but they are now tied for second with 30 points. They have been unspectacular in their last three (2-0-1).

Liverpool (+275) - Whereas Chelsea boasts Diego Costa and Man City has Sergio Aguero (tied for first with 10 goals apiece), Liverpool features none of the top scorers (Sadio Mane is tied for eighth with six). But the Reds, who have 30 points along with City, showcase a balanced scoring attack that has them No. 1 in the EPL with 32 goals.

Arsenal (+800) - Arsenal is looking for its first title since 2003-04. It has twice finished runner-up since-in 2004-05 and again last season to Leicester City. The Gunners are hanging around in fourth place right now, not far behind with 28 points. Led by Alexis Sanchez and Theo Walcott, they have not lost since their opener against Liverpool.



Read more articles by Ricky Dimon