Sports Betting Futures Odds: Defending Champions Currently Atop Wild AFC West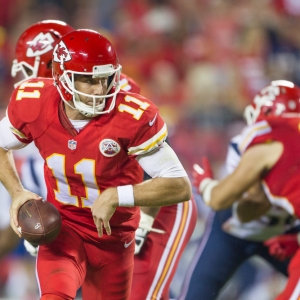 Two weeks do not an NFL season make, and that is certainly the case in a crowded AFC West. No team is 0-2; only the Denver Broncos are 2-0. But even with football heating up and baseball barreling toward October, don't forget about the non-major sports. The playoffs are just getting underway in NASCAR, while they are coming to an end this week in golf at the Tour Championship in Atlanta.

Odds provided by Bovada Sportsbook unless otherwise indicated .

AFC West (BetOnline Sportsbook)

Denver Broncos (+110) -In two NFL divisions-the AFC West and the NFC North-the favorite is more than even money to win. Denver is +110 in the former and the New York Giants are +115 in the latter. New quarterback Trevor Siemian has managed games well for the Broncos, and Von Miller is once again anchoring a scary defense.

Kansas City Chiefs (+210) -Aside from Denver, it is hard to get a read on every other team in this division. The Chiefs opened with a comeback victory over San Diego but were stymied by Houston in a 19-12 Week 2 loss. They are coming off an 11-5 campaign that left them just one game behind the Broncos in the West.

Oakland Raiders (+475) -Oakland was the talk of the NFL after winning a Week 1 thriller at New Orleans in which a late touchdown and gutsy two-point conversion resulted in a 35-34 triumph. But some growing pains may remain for a young, up-and-coming team. It promptly fell 35-28 at home to the Falcons last weekend.

San Diego Chargers (+600) -While the Raiders went a somewhat respectable 7-9 last season, the Chargers stumbled to an awful 4-12 mark. They have not won the AFC West since 2009 (when they went 13-3) and they have not been better than 9-7 at any point since. San Diego bounced back from Week 1 by beating Jacksonville 38-14.

English Premier League

Manchester City (-165) - The Sky Blues are looking for their third title in the span of six seasons and they are certainly off to a good start in that effort. City finds itself atop the Premier League table with a perfect 15 points (5-0 through three matches). It also won the Manchester Derby 2-1 over United on Sept. 10.

Liverpool (+550) - Liverpool sits five points back in the standings (tied for fourth with 10). It has bounced back nicely from a 2-0 loss to Burnley, with victories at the expense of Leicester City and Chelsea in addition to a 1-1 draw against Tottenham Hotspur. The Reds have not won the English championship since 1990.

Chelsea (+1000) - Also tied for fourth on the table with 10 points, the Blues started an impressive 3-0 but have since tied Swansea and lost to Liverpool. Chelsea is hoping to make amends for a disastrous 10th-place showing in 2015-16, but the 2014-15 champions appear to have a lot of work to do.

Arsenal (+1000) -The Gunners, who finished runner-up to surprising Leicester City last season, are currently tied for fourth with a 3-1-1 record. They are 3-0 in their last three outings. Manchester United, which has dropped two EPL matches in a row to Man City and Watford, is a +1100 fifth choice.

The Tour Championship

Dustin Johnson (+450) -Johnson finally has a major title under his belt (2016 U.S. Open). Is a Tour Championship and FedEx Cup next? The 32-year-old American is No. 1 in the FedEx Cup standings after winning the BMW Championship two weeks ago. Johnson was T5 last year at East Lake thanks to a final-round 64.

Rory McIlroy (+600) - McIlroy and Johnson have shared the last two playoff titles, as the Northern Irishman prevailed at the Deutsche Bank Championship over Labor Day weekend. That marked McIlory's first win of the PGA Tour season. He contended at the 2015 Tour Championship before a Sunday 74 and he finished T2 two years ago.

Jason Day (+800) -Of the top-four favorites at the Tour Championship, only Johnson and Day are in the top five of the FedEx Cup standings and therefore control their own destiny. But Day comes in as a question mark because he withdrew from the BMW Championship in the middle of the final round because of a back injury.

Jordan Spieth (+800) - It was simply Spieth's year in 2015, when he won the Masters, the U.S. Open, the Tour Championship, and the FedEx Cup. He triumphed by four shots at East Lake last fall, so he knows what he is doing around this course. Spieth, however, has not placed better than ninth in any of his last five events.


Bad Boy Off Road 300 (MyBookie.ag)

Kyle Busch (+600) - Busch slumped just a bit through three races prior to the Chase, but he performed decently at Chicagoland last week. The No. 18 Toyota started on the pole and led 21 laps before finishing eighth. Busch's impressive season includes four victories (tied with Brad Keselowski for the most), 11 top-5s, and 16 top-10s.

Kevin Harvick (+600) -The second playoff race in the Chase for the Sprint Cup takes place on Sunday in New Hampshire. Harvick is looking for his second win at the event, having triumphed back in 2006. He has two wins, 13 top-5s, and 21 top-10s this season, but his streak of four straight top-5s ended last week in Chicago.

Martin Truex Jr. (+600) -Truex is the hottest driver on the planet right now. He has won twice in the last three weeks, including at the Chase-opening event in Chicago. It could have been three in a row, as Truex also had the best car in Richmond-where he led 193 laps before placing third. He finished eighth last year in New Hampshire.

Denny Hamlin (+800) -Hamlin has turned in a whopping nine consecutive top-10 finishes, with two wins during this stretch (including two weeks ago). Kenseth and Joey Logano are also +800 fourth choices. Since this race's inception in 1997, only three drivers have won it twice; Kenseth is one of them (2013 and 2015).
Read more articles by Ricky Dimon