Sports Betting Futures Odds: Wild-Card Thrillers Give Way to Final Eight in MLB Playoffs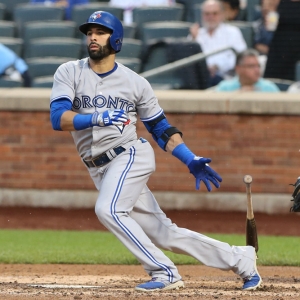 Toronto won the American League wild-card game on a three-run walk-off homer by Edwin Encarnacion that sent Baltimore packing with a 5-2 loss. One day later, San Francisco prevailed on the road when Conor Gillaspie hit a three-run blast in the top of the ninth inning to beat the Mets 3-0 and make a winner out of Madison Bumgarner. Will the Blue Jays and Giants parlay their momentum into additional success? We won't have to wait long to find out.

Odds provided by MyBookie.ag unless otherwise indicated.

World Series (Bovada Sportsbook)

Chicago Cubs (+250) -The Cubs won 103 games during the regular season, while no other club picked up more than 95 victories. They have the pitching with Jon Lester and Jake Arrieta, and they also scored the second-most runs in all of baseball (808).

Boston Red Sox (+500) -Only Boston (878) crossed the plate more times than the Cubs throughout the 162-game slate. But the team's 93 victories were third most in the American League, so Cleveland has home-field advantage in their divisional series.

Texas Rangers (+600) - It is Texas that snagged home-field advantage throughout the AL playoffs after compiling a 95-67 record. Interestingly, however, the Rangers finished with a run differential of a mere plus-8. Will they continue to be able to win close games?

Toronto Blue Jays (+625) -The recent history between Texas and Toronto is an extensive one, what with Jose Bautista's bat flip during last year's playoffs and the punch he took from Rougned Odor this season. Get your popcorn ready for the rematch.

NFC South

Atlanta Falcons (-150) -The Falcons opened the season by losing at home to division rival Tampa Bay, but they have since won three straight contests as underdogs-at Oakland, at New Orleans, and against the visiting Panthers. Matt Ryan and Julio Jones (300 yards versus Carolina) are nothing short of on fire.

Carolina Panthers (+170) -Just four games into the 2016 campaign, the Panthers find themselves as underdogs in the NFC South. Not only are the 2015-16 Super Bowl runner-ups 1-3, but they also lost Cam Newton to an apparent concussion against Atlanta. A crucial showdown against the Buccaneers awaits on Monday night.

New Orleans Saints (+1100) - Drew Brees and company would have been all but out of contention at 0-4, and that is where they appeared to be headed when San Diego led at home by 13 points and possessed the ball with less than seven minutes remaining. But the Saints stormed back for a 35-34 victory to tie for second in the division at 1-3.

Tampa Bay Buccaneers (+1800) -The Buccaneers and Falcons have gone in exact opposite directions since the Week 1 showdown in Atlanta. Tampa Bay has since lost three games in a row, including one by 33 points (to Arizona) and another by 20 (last week to Denver). Jameis Winston has as many interceptions as touchdowns (eight).

NBA Regular-Season Wins

San Antonio Spurs (O/U 57) - In the last five full seasons (not including the 2011-12 lockout), the Spurs have won more than 57 games four times. But the Tim Duncan era is over, so San Antonio will look a little different after going 67-15 during the 2015-16 regular season. The team now belongs to Kawhi Leonard and LaMarcus Aldridge.

Los Angeles Clippers (O/U 54) -Has there been a more consistent team than the Clippers of late? Probably not. They've been perennially good but never great-to the extent that they have won between 53 and 56 games in each of the past four seasons. Will Chris Paul and Blake Griffin be able to make Paul Pierce's last ride a fun one?

Oklahoma City Thunder (O/U 45) - Kevin Durant is gone, having decided to seek greener pastures in Golden State. In the last three seasons during which Durant was healthy, the Thunder won between 55 and 60 games. Kyle Singler is no Kevin Durant, so it will be up to Russell Westbrook to keep this franchise afloat.

Chicago Bulls (O/U 40) - Speaking of new-look franchises, Derrick Rose has left Chicago and taken his talents to New York. Now it is Dwyane Wade who is on board to team up in the backcourt with Jimmy Butler. The Bulls have not won fewer than 41 games in a season since 2007-2008, but they won a pedestrian 42 last year.


Bank of America 500

Martin Truex Jr. (+400) - The next round in the Chase for the Sprint Cup begins on Saturday in Charlotte, and what's not to like about Truex's chances? He won two of the first three playoff races and in the last five events he boasts three victories and no finishes worse than seventh. Truex placed third at this race in 2015.

Kevin Harvick (+600) -Like Truex, Harvick also found Victory Lane during round one of the playoffs (in New Hampshire) to automatically advance. He triumphed at Charlotte Motor Speedway in 2014 and finished runner-up last year, so he has to feeling good about a return to this track.

Jimmie Johnson (+600) -Johnson is the third favorite in Charlotte because he has won this event three times. Nobody has taken the checkered flag more often (three others have won it on three occasions). But Johnson's victories came in 2004, 2005, and 2009, and his drought continued last fall with a 39th-place performance.

Kyle Busch (+800) - Johnson scraped into the next round of the Chase in 11th place (12 qualified), while Busch cruised with no trouble by finishing eighth, third, and second in the last three races. The No. 18 Toyota crossed the line 20th at Charlotte Motor Speedway last season but looks poised for improvement this time around.
Read more articles by Ricky Dimon