Sports Betting Futures Odds: Panthers Favored to Avenge Super Bowl Loss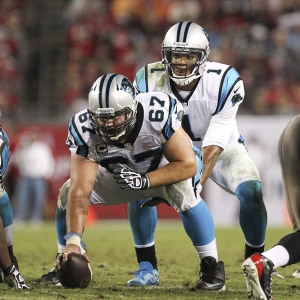 According to the oddsmakers, Super Bowl LI cannot come soon enough for the Carolina Panthers. With Super Bowl 50 having come and gone, it is not premature to start thinking about next season-not when odds are already out. The Panthers may have lost to the Denver Broncos this past Sunday, but they are favored to win it all in 2017.

All odds provided by BetOnline Sportsbook .

Super Bowl LI

Carolina Panthers (+800) -If there is any good news for Carolina, it's that the team looks well-positioned to make another run-if not plenty more runs. Newton is the MVP of the NFL and squarely in the prime of his career. And we will presumably have more help next season as receiver Kelvin Benjamin should be back from injury.

New England Patriots (+900) -The Patriots were the best team in the league for much of this season but seemingly took their foot off the gas once they hit 10-0. Consecutive losses in Week 16 and Week 17 cost them home-field advantage-and arguably the Super Bowl. With Tom Brady and Bill Belichick, New England's chances are always good.

Seattle Seahawks (+900) - Marshawn Lynch is retiring, but Seattle has a younger and already-proven running back in Thomas Rawls lurking behind Beast Mode. With Russell Wilson under center, the offense should be more than capable of complimenting a stellar defense. After a slow start to this season, the Seahawks looked like one of the league's best.

Pittsburgh Steelers (+1000) - Pittsburgh made the playoffs, won at Cincinnati, and had the lead and the ball in the fourth quarter at Denver-all of that without running back Le'Veon Bell. A knee injury on Nov. 1 sidelined Bell for the remainder of the 2015 campaign. If this experienced club can stay healthy (Ben Roethlisberger), it should once again be a force.
Golden State Warriors

73 wins or more (+100) - Will the Warriors break the 72-10 record set by Michael Jordan and the 1995-96 Bulls? They currently stand at 46-4. For those counting, that means they are on pace to win between 75 and 76 games. Stephen Curry and company have currently won nine in a row.

72 wins or fewer (-130) - Although Golden State is pretty much favored in every game it plays, the schedule has to be taken into account. The picture may become much clearer after a tough, seven-game road trip beginning on Wednesday. It includes stops in Portland, L.A. (Clippers), Atlanta, and OKC.


To win NBA title (+115) - The Warriors won it all last year and have just about the same team intact, so that experience should prove to be invaluable. And it's not like they just had it handed to them, either. They endured at least minor scares against Memphis, Houston, and Cleveland before dominating.

Failing to win NBA title (-145) - Nothing, of course, is a given-especially not in the playoffs. Golden State lost Game 2 at home to Memphis, barely won the first two against Houston, and trailed Cleveland 2-1 at one point. The Spurs and Cavs (if the latter team stays healthy) look like real challengers.

AT&T Pebble Beach Pro Am

Jordan Spieth (+450) -It's hard to bet against Spieth under any circumstances right now, and Pebble Beach probably isn't the place to do so. He finished T4 in 2014, and that was even with a third-round 78. He placed T7 last year with four straight rounds of either 67 or 68. Spieth has played once since the turn of the calendar and-you guessed it-he won (Kapalua).

Jason Day (+900) - Day dominated in the late summer (a stretch that included his first major at the PGA Championship) before Spieth restored order to the proceedings at the Tour Championship in Atlanta. The Aussie is suddenly a question mark after missing the cut two weeks ago at Torrey Pines, but he turned in a T4 showing last year at Pebble.

Dustin Johnson (+1000) -Johnson absolutely owned this course at one point in his career. He won the event in 2009 and 2010 and was dominating the 2010 U.S. Open at Pebble Beach before a final-round implosion in which he took 82 strokes to get around. The big-hitting American remains a force at a Pebble, with a T2 in 2014 and a T4 last season.

Brandt Snedeker (+1100) -Perhaps nobody other than Spieth is hotter than Snedeker at the moment. Before a T33 showing last week in Phoenix (final-round 68), Snedeker turned in three straight top-three finishes-two in Hawaii before he got over the hump to win at Torrey Pines. Oh, and he just so happens to be the Pebble Beach defending champion.

Best Director at the 88th Academy Awards

Alejandro Gonzalez Inarritu , The Revenant (+120) -The Revenant took home the Golden Globe Award for Best Drama. It is a third choice for Best Picture at the Oscars later this month, while Leonardo DiCaprio is almost a lock for Best Actor. Inarritu won this Best Director just last year for Birdman, which was also named Best Picture.

George Miller, Mad Max: Fury Road (+250) -Fury Road is not going to win Best Picture, but it has to be said that it outdid almost everyone's expectations. Heck, it garnered 10 Oscar nominations and is the first of the Mad Max franchise to earn even one. Miller is a one-time Academy Award winner, albeit not in this category.

Adam McKay, The Big Short (+275) - This comedy-drama that focuses on the build-up of the housing and credit bubble during the 2000s is currently favored to win Best Picture. McKay is not the favorite, himself, but he is very much in the picture. This is the first film McKay has directed that does not feature Will Ferrell in the lead role.

Thomas McCarthy, Spotlight (+500) - Spotlight went home from the Golden Globes empty-handed; that probably won't be the case at the Oscars. It even has a very real chance to win the big one-Best Picture. McCarthy co-wrote Up, which earned him an Academy Award Nomination for Best Original Screenplay in 2009.
Read more articles by Ricky Dimon