This Week in Sports Betting, A-Z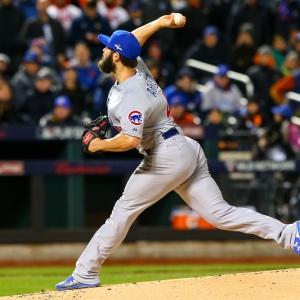 A. Arrieta, Jake . Arrieta tossed the second no-hitter of his career (and second in a span of 11 starts) when the visiting Cubs destroyed Cincinnati 16-0 last Thursday night. Of course, the real story here is that some Indiana University student stormed the field and actually celebrated with the Cubs on the mound for more than a few seconds. He said spending the night in jail was "worth every penny" and even his dad said that he was "proud" of his son. Welp. The Cubs are +450 favorites at BetOnline Sportsbook to win the World Series.

B. Brooks, Scott .The Wizards hired Scott Brooks last week, giving him a five-year, $35 million contract. In other words, they are spending $35 million to recruit Kevin Durant. As for Brooks' former team, Durant and Oklahoma City finished off the Mavericks in Game 5 on Monday night. The Thunder prevailed 118-104 to win the series 4-1 and set up a conference semifinal showdown with San Antonio. OKC is +900 at Bovada Sportbook to win the NBA title.

C. Curt Schilling . It was only a matter of time. ESPN has probably been looking for a justifiable cause to fire Schilling following several past incidents that were controversial but not exactly fireable. The network got it last week, when Schilling made an unacceptable post on social media that seemed to agree with the North Carolina law that bans transgender people from using bathrooms. One, two, three strikes, you're out!

D. Dehydrochlormethyltestosterone . Yep. That's the actual name of a substance-and a banned one, at that. Chris Colabello of the Blue Jays has been suspended 80 games after testing positive for it last week. In 101 games last season with Toronto, Colabello batted .321 with 15 home runs and 54 RBIs.

E. Edwards, Carl . If you don't think Edwards will do whatever it takes to win, think again. It was his own teammate in front of him during the last lap of Sunday's Sprint Cup race at Richmond Motor Speedway and Edwards still bumped him out of the way. Edwards sped away to victory after running into Kyle Busch with just a couple of turns remaining. Busch was aiming for-and probably deserved-his third win in the span of four weeks. Edwards is +900 at MyBookie.ag to win the Sprint Cup title.
F. Find me a new team . That's basically what Sam Bradford told the Eagles on Monday. Philadelphia recently traded for the No. 2 pick in Thursday's NFL Draft and Bradford is none too pleased about it. Maybe his beef should be with his own performance on the field, the mediocrity of which is the whole reason why the Eagles felt the need to make a move in the first place.
G. Golden State Warriors . Two weeks-at least. That was the result of Monday's highly-anticipated MRI on Stephen Curry's right knee. The reigning NBA MVP and almost certain winner of the same award this season slipped on a wet spot late in the first half of Game 4 in Houston on Sunday and suffered a sprained MCL. If the Clippers, Spurs, and Cavaliers suddenly heave leaking roof problems later in these playoffs, you know why. Golden State is a -9 home favorite at 5Dimes Sportsbook over Houston on Wednesday.
H. Home . Jacoby Ellsbury, I'm happy for you and imma let you finish, but Benny "The Jet" Rodriguez in "The Sandlot" had the best steal of home of all time. That being said, Ellsbury's was pretty good. With the Yankees trailing Tampa Bay 3-2, he swiped home in the bottom of the fifth inning to tie the score. New York ended up prevailing 6-3.
I. Isaiah Thomas . Thomas' kids may have been even better at the podium than he was in Boston's wins over Atlanta in Games 3 and 4. Channeling their inner Riley Currys, they stole the show at Sunday's press conference. One, after exiting, ran back onto the stage and said, "thank you." Mic drop. The Celtics are +7 road underdogs on Tuesday, per GT Bets.
J. Josh Norman . After Carolina took away his franchise tag, Norman signed with Redskins for five years and $75 million. Yes, now we get Norman vs. Odell Beckham Jr. twice every regular season.
K. Kei Nishikori . Ten people have tried to beat Rafael Nadal on clay this season. Ten have failed. Nishikori became the latest victim on Sunday, when he lost to Nadal 6-4, 7-5 in the Barcelona title match. The nine-time French Open champion also triumphed in Monte-Carlo earlier this month.
L. Lakers . The Lakers are now in the midst of their fourth coaching search since 2011, when Phil Jackson retired. Um, that's not good. Byron Scott is out; who's in? Luke Walton? Walton is a -150 favorite at BookMaker to be their next head coach.
M. Manziel, Johnny . Things are going from bad to worse for Manziel. He has been indicted by a grand jury on a misdemeanor assault charge stemming from an alleged incident with his girlfriend at a Dallas hotel last year.
N. No. 2 pick . With the aforementioned second pick, the Eagles are likely selecting North Dakota State quarterback Carson Wentz. That's assuming St. Louis goes with California QB Jared Goff No. 1 overall. It's safe to say none of the trades that have shaken up the draft order was as shrewd as Kevin Costner's moves in "Draft Day."

O. Ovechkin, Alex . Washington, D.C. teams have a recent history of choking in the playoffs. The 2015-16 Washington Capitals have not joined the list-at least not yet. After dropping two in a row at the hands of considerable underdog Philadelphia, the Caps finally finished off the first-round series with a 1-0 road win on Sunday. Ovechkin wrapped up the six-game series with three goals and two assists. Washington is +375 to win the Stanley Cup, according to Bovada Sportsbook.

P. Prince . The music icon passed away at last Thursday at 57 years old. He delivered what is generally considered to be the greatest Super Bowl halftime performance ever (Super Bowl XLI between the Colts and the Bears in February of 2007). R.I.P.
Q. Quenneville, Joel . Quenneville's press conference following the Blackhawks' Game 7 loss to St. Louis on Monday was accompanied by sounds of wild celebrating nearby, Cam Newton at the Super Bowl style. The head coach kept his composure…but just barely.
R. Retired . Conor McGregor retired. Then he didn't. Then he tweeted that is back on the UFC 200 card on July 9 in Las Vegas. Then the UFC said he isn't. McGregor is, in fact, not retired, but it remains to be seen when he will fight again.
S. Stans . During Game 1 against Cleveland, Detroit head coach Stan Van Gundy said in sideline interview that the refs will never call an offensive foul on LeBron James. After Game 2, Stanley Johnson said that he was in LeBron's head. That is an especially interesting take given that LeBron went 6-for-6 with Johnson as his primary defender in that contest. Well, the Pistons probably figured the series would be short and they would have to get their talking in early and often…. They were right.

T. Tom Thibodeau . The Timberwolves hired Thibs as their coach and president of basketball operations last week. And it's not a bad roster to inherit: Ricky Rubio, Andrew Wiggins, Zach LaVine, and Karl-Anthony Towns, just to name a few.

U. U.S. Circuit Court of Appeals . A three-judge panel on the 2nd U.S. Circuit Court of Appeals ruled on Monday that Tom Brady must serve his four-game suspension that had been overturned prior to the 2015 season. Yes, ladies and gentlemen, we are still talking about deflategate.
V. Verlander, Justin . The Tigers ended a four-game losing streak with a 7-3 win over Oakland on Monday, but they are just 9-9 and in fourth place in the Central Division. Not even Verlander is immune to the problems as he is 1-2 with a 5.79 ERA. But he still dates Kate Upton, so there's that.

W. White Sox . Chicago turned a 9-3-2-6-2-5 triple play during last Friday's 5-0 win over the Rangers, and all the statisticians made sure to point out that it was the first such triple in major league history. Like…how would that not be the first in major league history? Six different spots on the field in that kind of order? Of course it's the first. For those wondering, that's right fielder-first baseman-catcher-shortstop-catcher-third baseman. The White Sox (Sale) are -125 favorites at Toronto (Dickey) on Tuesday, as indicated by BetOnline Sportsbook.

X. Xavier . Remy Abell just recently wrapped up his college basketball career at Xavier. Is his next move…the NFL? Abell, who last played organized football in eighth grade, had a tryout with the Bengals last Friday.
Y. Yaya Toure . The Manchester City striker is expected to miss Tuesday's UEFA Champions League semifinal match against Real Madrid. Yaya suffered a thigh injury during this past weekend's English Premier League blowout of Stoke City.
Z. Zurich Classic . Some of the stars such as Jason Day, Justin Rose, and Rickie Fowler are back for the first time since the Masters as the PGA Tour heads to New Orleans for the Zurich Classic. In a more wide-open field this past week at the Valero Texas Open, Charley Hoffman birdied the final hole to beat Patrick Reed by one stroke. Reed missed an eight-footer on 16 and a seven-footer on 17 before also carding a birdie on the par-5 18th. GT Bets has Day as a +500 favorite in New Orleans.
Read more articles by Ricky Dimon