This Week in Sports Betting, A-Z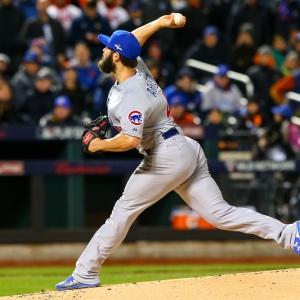 A. Arrieta, Jake . The streak is over at 23 games, which is how many consecutive starts made by Arrieta in which the Cubs had emerged victorious. And the ending was no fault of Arrieta's. He pitched seven innings of scoreless ball on Tuesday before the bullpen collapsed in a 5-0 loss. Ironically, Arrieta's outing is the only loss Chicago has suffered in its last nine games. The Cubs are +375 favorites at Bovada Sportsbook to win the World Series.

B. Bautista, Jose . In an upcoming Sports Illustrated story, Bautista tells the publication that Rougned Odor was not really at the park to play baseball when last month's punch heard 'round the world took place and was instead simply "looking for a fight." Well, it's safe to say if that was the case, Odor found what he was looking for.

C. Curry, Stephen . Not that he cares about anything other than another title, but the Warriors are on pace to lift consecutive Larry O'Brien trophies without Curry winning finals MVP on either occasion. Curry and Thompson combined for 20 points in Thursday's Game 1 victory over Cleveland-their fewest of the entire season. Is Shaun Livingston (20 points) this year's Andre Iguodala? Golden State is a -6.5 home favorite on Sunday, per MyBookie.ag.

D. DeMarcus Ware . Denver's outside linebacker could miss the remainder of organized team activities because of recurring back issues. And Cam Newton is like, "Couldn't that have been a problem in February?"

E. Exaggerator . The Belmont Stakes just isn't the same when there is no chance of a Triple Crown winner. It's even less noteworthy when there is no showdown between the Kentucky Derby and Preakness champs. With Derby winner Nyquist out, Exaggerator will be the primary draw next week in New York. He is a -125 favorite at BetOnline Sportsbook.

F. Freeze, Hugh ."There is a difference between making mistakes and cheating," Freeze said earlier this week amidst an ongoing investigation into the Ole Miss football program. Well, sometimes there is a difference; but not in the case of Freeze and the Rebels!

G. Grobe, Jim . Art Briles is out-and so is just about everyone else at Baylor University. Grobe is in. This was obviously a character-based hire, but you know Grobe has gotta be good if he once led Wake Forest to the Orange Bowl.

H. Harambe . Being an animal in Cincinnati rarely ends well. Just ask the Bengals, who have not won a playoff game since 1990. In much worse news, Harambe-a 17-year-old gorilla-was shot and killed at the Cincinnati Zoo after a kid somehow fell into his enclosure.

I. Indianapolis 500 .Talk about running on empty. Little-known American Alexander Rossi didn't have close to the best car at last week's Indianapolis 500, but he managed to conserve just enough fuel to avoid making a late pit stop that drivers with far more dominant cars had to make. Rossi took the lead, sputtered to the finish line, and ran out of fuel right after taking the checkered flag.
J. Jordan Spieth . He's back! Well, that won't really be confirmed until Spieth wins another major-and maybe not even until he wins the Masters again. Such was the extent of the 22-year-old's monumental meltdown at Augusta National two months ago. But an epic back nine (5-under 30) last Sunday propelled Spieth to victory at the Dean & Deluca Invitational. He birdied six of the last nine holes while making putts and chips totaling 752 feet* (*denotes measurement is approximate). BookMaker has Spieth at -220 to win zero majors in 2016.

K. Kevin Durant . Will he stay or will he go? That is the question. Durant was hoping that the current question would be whether or not Oklahoma City could beat Cleveland in the NBA Finals. But the Thunder flopped after leading Golden State three games to one as Durant and company watched the Warriors storm back to win three in a row.

L. LeBron James . With 23 points, 12 rebounds, and nine assists, LeBron was way better than Curry and Klay Thompson in Game 1. What's scary is that still didn't result in a Cleveland victory-not even close.5Dimes Sportsbook has the Game 2 over/under at 207.

M. Martin Truex Jr. Finally, Truex Jr. has a win this series. After dominating several Sprint Cup races only to be derailed by bad luck, he cruised to victory at last week's Coca-Cola 600.

N. Nadal, Rafael . Rafael Nadal just endured the worst French Open his career (retired prior to the third round because of a wrist injury). For his efforts, Nadal moved up to No. 4 in the world (passing Stan Wawrinka, who failed to defend his title).

O. Odell Beckham Jr. OBJ and Khloe Kardashian were mighty cozy at Drake's pool party in California earlier this week. Alas, they aren't Facebook official-nor any kind of official. Khloe promptly shot down those rumors via a Twitter post.
P. Penalty kicks . Last week's Champions League final went into a shootout, and if you had Madrid winning, well, you were in good shape. Real Madrid beat Atletico Madrid on a winning kick by-you guessed it-Cristiano Ronaldo after overtime could not break a 1-1 draw.
Q. Quentin . Ravens' running back Justin Forsett took at-risk kids to San Quentin prison to expose them to incarcerated life. He was also exposed to the inmates' fantasy football-playing ways. "I was like, WHAT, you all have fantasy football in here!?," Forsett wrote in a blog post. "It brings a new perspective to a season-ending injury when you have an inmate telling you he had you on his fantasy team ... and I know I didn't get any points for this guy. You know I had to apologize."

R. Rust, Bryan . Rust opened the scoring in the Stanley Cup Finals when he lit the lamp in Pittsburgh's 3-2 win over San Jose on Monday, but it was a blow to the head he absorbed from Patrick Marleau that got him in the headlines. He managed to play in Game 2 on Wednesday (won by the Penguins in overtime), while Marleau managed to avoid a suspension after the hit was reviewed by the NHL. The Sharks are -140 home favorites on Saturday, according to Bovada Sportsbook.

S. Serena Williams . Serena ran into a few scares along the way, and she does not appear to be 100 percent physically, but the world No. 1 is through to the French Open final. She will be looking for her fourth title at this event and third in the last four years when she faces Garbine Muguruza on Saturday. Serena is a -182 favorite at GT Bets.

T. Trimble, Melo . The good news for Maryland: Trimble is coming back for his junior year. The bad news for Maryland: it is losing its four other starters. Trimble has led the Terrapins in points and assists in each of his first two seasons.

U. University of Texas . Augie Garridowas, for all intents and purposes, was fired as head baseball coach earlier this week and reassigned to an administrative role in the athletic department. The 77-year-old is the winningest coach in college baseball history and he led Texas to National Championships in 2002 and 2005.

V. Vegas vacation . A whole bunch of NFL players descended on Las Vegas last weekend for what appeared to be an epic throw-down. In news that may or may not be related, Johnny Manziel was recently reported missing because he missed a party. But not to fear; he has been found!

W. White Sox . Once 23-10, the White Sox lost seven games in a row from May 23 through Memorial Day. But they have since won two straight contests. MyBookie.ag has Chicago at +200 to win the American League Central.

X. Xander Bogaerts . "Every time I see him hit, I think he's going to hit a home run." That's what the Red Sox shortstop said of teammate Mookie Betts earlier this week. Pretty much, yep. Betts went deep three times against Baltimore on Tuesday and twice more on Wednesday. The right fielder, who is in the midst of a six-game winning streak, has 14 dingers on the season.

Y. You're out! Marlon Byrd once said that "you have to be an idiot to test positive" for performance-enhancing drugs. But what about testing positive for them twice? Previously suspended in 2013, Byrd's second positive test earlier this week has resulted in a 162-game ban for the Indians' outfielder. Idiot.

Z. Zika . Tigers' closer Francisco Rodriguez had the Zika virus this past offseason. His advice to prospective Olympic athletes is to educate themselves about Zika. Um, even people who haven't had the virus are capable of giving the same advice. Detroit (Zimmermann) is a -130 home favorite over the White Sox (Rodon) on Friday, as indicated by BetOnline Sportsbook.
Read more articles by Ricky Dimon