This Week in Sports Betting, A-Z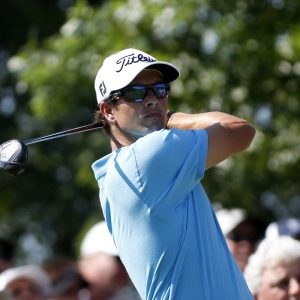 A. Adam Scott .Make it back-to-back for Scott. One week after winning the Honda Classic, the red-hot Australian triumphed at the Cadillac Championship on Sunday. He started the final round three shots back of Rory McIlroy, but his comeback was capped off after he barely avoided the water with his approach shot on 18. Scott is +1200 at GT Bets to win the Masters.

B. Ben Simmons . LSU's star freshman is not eligible for the Wooden Award because he failed to meet academic requirements. Unless the Tigers win the SEC Tournament, Simmons will also fail to meet an unofficial requirement for Wooden Award consideration: getting your team to the NCAA Tournament.

C. Christopher Horner . The Pittsburgh-based photographer snapped two photos of a man saving a boy from getting hit in the had with a bat that flew into the stands during last weekend's spring training game between the Pirates and Braves. In the first frame the bat is deflecting off the man's left forearm right in front of the boy's face, after which the second frame shows the bat falling harmlessly behind the two of them. The boy, not surprisingly, was focused on his cell phone. Fortunately, the man was not! Pittsburgh is +1000 at BookMaker to win the National League Pennant.

D. Duke . Duke-North Carolina is like a box of chocolates: you never know what you're going to get. Two weeks ago, the Blue Devils won despite playing on the road without Matt Jones. This past Saturday, they lost despite playing at home and with Jones. Duke's 76-72 setback left them in fifth place in the ACC and without a double-bye in the conference tournament.

E. Eastern Conference . Third through 10th-place in the NBA's Eastern Conference is separated by seven games. Fifth through ninth is separated but just three games. The seventh-place Pacers are looking to bolster their playoff positioning with Monday's acquisition ofpoint guard Ty Lawson.

F. Florida Panthers . The Panthers enjoyed a comfortable lead atop the Atlantic Division heading into February and maintained it throughout the month. But a relative slump combined with Tampa Bay's eight-game winning streak (which ended on Monday) means there has been a chancing of the guard in first place. Florida has lost two in a row and four of its last five to find itself suddenly two games back of the Lightning. It is +700 to win the Eastern Conference, as indicated by Bovada Sportsbook.

G. Griffin, Blake . Griffin said recently that he is "very close" to returning to the Clippers. Well, that's as long as he doesn't inflict any additional harm on himself by clocking his team's employees.

H. Holly Holm . Less than four months after upsetting Ronda Rousey, Holm lost to Miesha Tate in the 135-pound title fight of UFC 196 inside the MGM Grand Garden Arena in Las Vegas last Saturday. While Rousey was rear-naked (aside from body paint) in the recent SI swimsuit edition, Holm succumbed to a rear-naked choke by Tate at 3:30 of the final round.

I. Isner, John . For the first time since 2013, the United States is through to the quarterfinals of tennis' team competition-the Davis Cup. Isner and company went into Australia last weekend and beat the home team 3-1 in matches, with the 6'10'' American prevailing twice in singles.

J. Jacob deGrom . The Mets' 27-year-old starter refused to sign a contract that will pay him $607,000 in 2016. But he is not yet eligible for arbitration, so it's not like he has a choice. Basically it was nothing more than an act of protest-and an ineffective protest, at that.

K. Keselowski, Brad . Keselowski won last week's Sprint Cup race at Las Vegas Motor Speedway, after which extreme winds ripped a celebratory American flag from his grasp as he did donuts with his car. He stopped immediately, got out to pick up the flag off the asphalt, and continued to wave it triumphantly. #Merica.

L. Lakers .The Los Angeles Lakers beat the Golden State Warriors. In an actual game of basketball. You cannot make this stuff up, folks. L.A. positively dominated, too, winning 112-95 after Stephen Curry went 1-for-10 from three-point range and Klay Thompson delivered an 0-for-8 performance from deep. The Lakers are +3 home underdogs against Orlando on Tuesday, per GT Bets.

M. Maria Sharapova . After Sharapova announced a "major" Monday afternoon press conference a day in advance, speculation ran rampant that the 28-year-old Russian would retire. Well, she didn't retire-but she may be away from tennis for a while. Sharapova tested positive for a banned substance at the Australian Open earlier this season and she will be indefinitely suspended pending results of an investigation.

N. Northern Iowa . Wes Washpun's last-second shot that punched Northern Iowa's ticket to the NCAA Tournament was unassisted-unless the rim can get an assist. Washpun pulled up for a jumper on an isolation play with Sunday's Missouri Valley Conference Tournament final against Evansville tied nearing the end of regulation. It bounced high off the back rim before falling back through the net as time expired to give the Panthers a 56-54 victory. In Tuesday's Northeast Conference title game, BookMaker has Wagner as a -9.5 favorite over Farleigh Dickinson.

O. Over . It finally is in Washington, D.C. Robert Griffin III's tenure with the Redskins has come to a merciful end. RG3 was released on Monday after four tumultuous years in the nation's capital. He posted a long message of thanks on Instagram and channeled his inner Tim Tebow by ending it with "God Bless."

P. Peyton Manning . Manning called it a career on Monday after 18 seasons in the NFL. There isn't enough space to mention all of the records he owns. And they're probably not worth mentioning, anyway, since Tom Brady is about to break all of them!

Q. Quin Snyder . A fan recently asked Jazz forward Trevor Booker how long it takes his head coach to get his hair properly groomed prior to games. "At least an hour" was the quip Booker shot back via Twitter. But this is no laughing matter: Utah is in serious playoff contention, just 1.5 games back of eighth-place Houston in the Western Conference. 5Dimes Sportsbook has the Jazz as -1.5 home favorites over Atlanta on Tuesday.

R. Randle, Joseph . Randle's record is vast, and we're not talking about wins and losses in the NFL. He has been arrested six times in the last 19 months. Charges range from aggravated battery, to criminal threat, to criminal damage to property, to possession of marijuana, and to a failure to appear in court. The former Cowboys' running back was hit with the latter offense earlier this week.

S. Smith, Lovie . Smith was hired as the new head coach at Illinois on Monday. The Fighting Illini's records the last four seasons were 2-10, 4-8, 6-7, 5-7. Sounds like they were just getting a head start on getting used to life with Lovie.

T. Tommy John surgery .And the first results of the season are in regarding the list of players who will paying dreaded visits to Dr. James Andrews. Braves' reliever Andrew McKirahan has a torn ulnar collateral ligament and will undergo Tommy John surgery for the second time in his career. Rockies' reliever Jairo Diaz is dealing with the same injury and will also have TJ. MyBookie.ag has Atlanta's over/under win total this season at 67.5.

U. Utley, Chase . Major League Baseball has dropped Utley's two-game suspension that had been levied down on him for a hard slide that broke the leg of Mets' shortstop Ruben Tejada during NLDS action last fall. As such, the Dodgers' veteran second baseman will be available to play on Opening Day. That will sit about as well with Mets' fans as Daniel Murphy's World Series performance.

V. Villanova . The Wildcats captured the Big East regular-season title by cruising past Georgetown 84-71 last Saturday. That would have been a pretty decent accomplishment a few years ago. In fairness to 'Nova, a No. 1 seed in the NCAA Tournament could be locked up at this week's conference tournament. The Wildcats are +1000 at BetOnline Sportsbook to win the National Championship.

W. West Bromwich . It's fun for a lot of clubs to play against Manchester United these days. It's especially fun when Manchester United has to play with 10 men. The Red Devils were one short after Juan Mata got sent off with a red card in the 26th minute of last weekend's English Premier League date with West Bromwich and they eventually lost 1-0. League-leading Leicester City is even money at Bovada Sportsbook to capture the title.

X. Xander Bogaerts . The Red Sox came to terms on a contract figure for the 2016 season with their young shortstop last week, and that number is $650,000. Is it the best bargain in baseball? Maybe so, but it's also 30 percent more than what the team had to pay him under the rules of the collective bargaining agreement. Bogaerts will become arbitration eligible for the first time in 2017.

Y. Yale . After a heartbreaking end to the 2014-15 season that left Yale short of the Ivy League title and on the outside looking in on a berth in the NCAA Tournament, the Bulldogs are in the Big Dance this time around. Their 71-55 win at Columbia last Saturday locked up the regular-season championship and will send Yale to the tourney for the first time since 1962.

Z. Zach Johnson . Johnson may be just a 6-foot-2 guard, but he came up with the most clutch blocked shot you will ever see. The Florida Gulf Coast freshman swatted away a layup attempt by Stetson's Divine Miles at the end of overtime to give the Eagles an 80-78 victory in the final of the Atlantic Sun Tournament on Sunday. Call it divine intervention that Dunk City is going back to the NCAA Tournament.
Read more articles by Ricky Dimon