This Week in Sports Betting, A-Z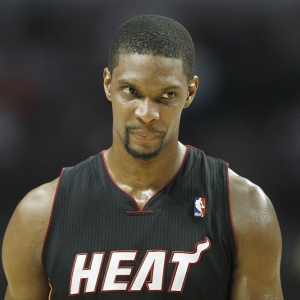 A. Alvarez, Canelo . Alvarez retained the WBC middleweight crown last weekend by knocking out Amir Khan in Las Vegas. The fight had been competitive until Alvarez landed a KO-worthy blow with his right hand in the sixth round. Gennady Golovkin, who was sitting ringside, could be the next challenger.

B. Bernard Tomic . The often-controversial Australian tanked match point of his meeting with Fabio Fognini last week at an ATP tournament in Madrid, "attempting" to return a serve with the handle of his racket. It's safe to say the strings are normally a better option when it comes to hitting a tennis ball. Tomic fell 6-2, 6-4 and is currently riding a five-match losing streak.

C. Chris Bosh . To the chagrin of both Bosh and the NBA players' association, Miami's star forward has been ruled out for the remainder of the postseason. Bosh has not played since the all-star break after a blood clot was found in his leg. Fortunately for the Heat, Dwyane Wade is playing like he's Benjamin Button. GT Bets has Miami at +900 to win the Eastern Conference.
D. Downtown . The Cavaliers dialed long distance an NBA-record 25 times in Game 2 against Atlanta. That's not just a playoff record, but an all-time record-regular season included. As an encore, LeBron James and company (or more like Channing Frye and company) drained 21 three-pointers in Game 3. The Cavs, who are now 12-0 at the Hawks' expense in the playoffs and 8-0 in the last two seasons, completed the sweep with a 100-99 road win on Sunday.

E. Exaggerator . Already one of Nyquist's chief rivals, Exaggerator made this past weekend's Kentucky Derby interesting. Trained by Keith Desormeaux and jockeyed by Kent Desormeaux, Exaggerator closed in on the favorite down the stretch but could not catch him and lost by little more than a length. Traffic 3.5 furlongs from the finish line may have prevented the comeback bid from coming to fruition. Nyquist is a -140 favorite at Bovada Sportsbook to win the Preakness Stakes.

F. Frank Vogel . Vogel is out. Who will be in? The Pacers are reportedly eyeing Jeff Hornacek, but the coaching carousel is going 'round and 'round quite quickly at the moment-so who knows. As for Vogel, he appears to be the frontrunner to replace Dave Joerger in Memphis. Joeger recently agreed to become the Kings' new head coach.

G. Gary Glazer . According to a court order by the Philadelphia-based judge, a testimony has been made by one of the alleged Penn State sexual assault victims that he told Joe Paterno of Jerry Sandusky's crimes as recently as 1976. This really is a story that just won't go away.

H.Home run . Go crazy, folks! Go crazy! Mets' fans certainly did-heck, all of baseball did-when Bartolo Colon went deep for the first time in his career last Saturday night in San Diego. Colon, who victimized James Shields in the top of the second inning of New York's 6-3 win, became the oldest player in major league history to hit his first home run. The Mets (deGrom) are -135 favorites at the Dodgers (Wood) on Tuesday night, according to MyBookie.ag.

I. Intestinal flu . That is the latest excuse made by someone suspended for violating Major League Baseball's substance-abuse policy. They just keep getting funnier and funnier. Dodgers' minor-league pitcher Josh Ravin was the latest offender, testing positive last week for Growth Hormone Releasing Peptide 2 and incurring an 80-game ban.

J. Johnny Manziel . Manziel recently made his first court appearance since being indicted on assault charges against his ex-girlfriend. He celebrated-or something-three days later by going clubbing in L.A. this past weekend. Johnny's gonna be Johnny, no matter what.

K. Kyle Busch . Busch's season only got better at Kansas Motor Speedway last Saturday night, when he recorded his third victory and incredible ninth top-five finish in 11 starts. Pole-sitter Martin Truex Jr. dominated much of the race by leading 172 of 267 laps, but a loose tire with 52 left forced him to make an unscheduled pit stop. Busch was the beneficiary, and he now has a 19-point lead atop the Sprint Cup standings.

L. Le'Veon Bell . The Steelers' star running back dropped a mixtape this offseason and said he wants to collaborate on a hip-hop record with Snoop Dogg. Snoop, a massive Steelers' fan, responded affirmatively earlier this week. "I'll make it happen," he assured.

M. Madrid . The Champions League final will be a Madrid derby. Atletico got past Bayern Munich last Tuesday on the away goals tiebreaker after drawing 2-2 on aggregate in their two semifinal legs. One day later, Real took care of visiting Manchester City 1-0 having previously drawn 0-0 in the first leg. The championship match will take place May 28 in Milan. Real is a -130 favorite at BookMaker.

N. Non-existent .The end appears to be near for Tim Duncan. For the first time in 249 career playoff games, the Spurs' 40-year-old center was held scoreless when his team fell at Oklahoma City in Game 4 on Sunday. Duncan committed four fouls in the first half and played only 12 minutes. He has scored a total of four points in the last three outings.San Antonio is a -7 home favorite in Game 5 on Tuesday, per GT Bets.

O. Overtime . More like three overtimes. That's how many extra frames Nashville required to even its series with San Jose at 2-2 last Thursday night (more like Friday morning). The Predators won again in overtime on Monday to once again draw level (this time at 3-3) and force a Game 7 on Thursday.

P. Michael Phelps . Phelps and his fiancée, Nicole Johnson, welcomed their first child last week according to a recent Instagram post. Boomer Robert Phelps, was born last Thursday. He's probably already wondering where the 2040 Olympics will be held.

Q. Quail Hollow . With Rory McIlory making an early Sunday move, it looked like the final round of the Wells Fargo Championship could develop into a marquee showdown between McIlroy, Rickie Fowler, and Justin Rose…. Eh, not so much. It ended up coming down to a playoff between unheralded James Hahn and Roberto Castro. Hahn won it on the first extra hole to pocket his second career PGA Tour win. McIlory is a +800 favorite at BetOnline Sportsbook to win The Players Championship this week.

R. Reed, Jordan . Oh, what 87 catches for 952 yards and 11 touchdowns will do for you. It gets Reed $50 million over the next five years it what it does. That's the extension the tight end signed last week after helping the Redskins capture the NFC East title in 2015.

S. Sandoval, Pablo . The Red Sox much-maligned third baseman is out for the season after undergoing surgery for a torn labrum last week. That means they paid $17 million for zero hits and four strikeouts in three games. Welp. 5Dimes Sportsbook has Boston (O'Sullivan) as a -132 home favorite over Oakland (Manaea) on Tuesday.

T. Texas A&M . Aggies' assistant coach Aaron Moorehead went on a recent Twitter rant blasting quarterback Tate Martell-albeit without naming Martell directly-for backing out of his commitment and opening up his recruitment. Head coach Kevin Sumlin says Moorehead has been disciplined internally. Such discipline may end up being a firing if Sumlin ever realizes how many recruits he is already losing over Moorehead's boneheadedness.

U. Under Armour . Bryce Harper signed a 10-year contract extension with Under Armour that is believed to be the largest-ever endorsement deal for a baseball player. Apparently when Under Armour has golden boy Stephen Curry under its wing to offset less upstanding citizens, it can afford to sign players who get ejected from games and then drop f-bombs on umpires during the victory celebrations.

V. Verlander, Justin . Kate Upton is off the market. Verlander's gain is everyone else's pain, and the Tigers' starter caused it by proposing at some point prior to the Kentucky Derby-where Upton was flashing her gigantic gem. It's safe to say Verlander probably won't be losing any sleep over Detroit's bullpen wasting his stellar start against Texas on Sunday.

W. Wolverines . Head football coach Jim Harbaugh got in some batting practice with Michigan's softball team last week. Yes, he hit a home run. Yes, he dabbed. And yes, he was wearing khaki pants. MyBookie.ag has UM as a +900 fourth choice to win the National Championship.

X. Xavier Rathan-Mayes . Florida State may be a football school, but watch out for the basketball team next season. Rathan-Mayes (11.8 ppg, 4.4 apg) announced last week that he will return for his junior campaign. Fellow guard Dwayne Bacon (15.8 ppg, 5.8 rpg) had already announced that he is coming back.

Y. Yzerman, Steve . The three-time Stanley Cup champion continues to work magic as a general manager. Yzerman has Tampa Bay back in the Eastern Conference Finals, which they won last year before succumbing to Chicago in the Stanley Cup Finals. The Lightning took care of the Islanders in five games after prevailing 4-0 at home on Sunday. Tampa Bay is +500 to win the Stanley Cup, as indicated by Bovada Sportsbook.

Z. Zika . A Puerto Rico series of games was supposed to take place between the Marlins and Pirates on May 30 and May 31. But Major League Baseball has nixed that idea over concerns surrounding the Zika virus. Instead, those games will be played Miami. Can the United States also steal the Summer Olympics?
Read more articles by Ricky Dimon