This Week in Sports Betting, A-Z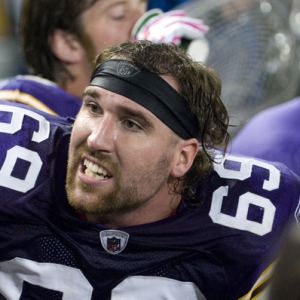 A. Allen, Jared . The veteran defensive end signed a one-day contract with the Vikings and officially retired last Friday. "In my heart, when it was all said and done, I knew I wanted to retire as a Viking," Allen said. During six seasons in Minnesota, he was named to five Pro Bowls and made 83.5 sacks (third in franchise history).

B. Bosh, Chris . Bosh, who missed last year's playoffs due to blood clots, is out indefinitely with an undisclosed injury. He gave an emotional speech to the Heat last Friday and they responded by hammering Charlotte 123-91 in Game 1 on Sunday. Bovada Sportsbook has Miami as a -350 favorite to win the first-round series.
C. Carolina Panthers . The 2016 NFL schedule was released in full last week. It will all begin with a Thursday night rematch of the Super Bowl between Carolina and Denver. The Week 1 festivities begin on Sept. 8 and end on Monday, Sept. 12 with two Monday night showdowns (Pittsburgh vs. Washington and the newly-christened L.A. Rams vs. San Francisco). The Panthers are a +800 second choice at BetOnline Sportsbook to win Super Bowl LI.
D. Djokovic, Novak . Djokovic suffered a rare loss to Jiri Vesely (who?) in his opening match at last week's Monte-Carlo Masters. That opened the door for the rest of the field, and it was none other than Rafael Nadal who walked through it with victories over Andy Murray in the semis and Gael Monfils in the final.

E. Edwards, Carl . Joe Gibbs Racing teammates endured all kinds of tire issues at Bristol Motor Speedway this past Sunday. One of them was Kyle Busch, who was looking for his third win in as many weeks. Edwards did not have any such problems and he dominated from the poll position to lead 276 of 500 laps en route to victory. He is +900 at MyBookie.ag to win the Sprint Cup.
F. Fish . The only thing worse than getting swept is getting swept by an opponent that was previously 0-9. Such was the fate of the Miami Marlins last weekend, when they dropped three in a row at home to the lowly Atlanta Braves. Miami gave up six runs in all three contests and lost the finale in extra innings after scoring a tying run with two outs in the bottom of the ninth.
G. Grace, Branden . Grace recently missed the cut at the Masters for a third straight year. He will have a chance to make amends at Augusta National next spring after earning an automatic berth by winning the RBC Heritage in Hilton Head, S.C. last week. Grace fired a final-round 66 while third-round leader Luke Donald carded a 71, paving the way for the South African to prevail by two strokes. Grace is +3000 at GT Bets to win the U.S. Open; Jordan Spieth and Rory McIlroy are +700 co-favorites.
H. Hudson, Kate . J.J. Watt was linked to tennis star Caroline Wozniacki and now it's actress Kate Hudson, with whom Houston's star defensive end went on a date last week. It included dinner and messing around with Snapchat filters. Kids these days….

I. Injured . Avery Bradley suffered a significantly strained hamstring during Boston's Game 1 loss in Atlanta this past Saturday. Head coach Brad Stevens called his second leading scorer "doubtful" and "very unlikely" for the rest of the first-round series. Bradley had 18 points, one steal, and one block before going down midway through the fourth quarter. The Hawks are -6.5 home favorites in Game 2 on Tuesday, according to GT Bets.
J. Joe Paterno . Apparently Donald Trump forgot that Paterno died. At a rally last week in Pittsburgh, the Republican presidential candidate said, "How's Joe Paterno? We're gonna bring that back? Right? How about that whole deal?" Reps said Trump was referring to the Paterno statue that was removed from campus. Which begs the question: why would Trump ask how a statue is doing?
K. Karl, George . The Kings, whose playoff drought has now reached 10 years, fired Karl last week. Somewhere, DeMarcus Cousins is fist-pumping.
L. Lynn Swann . USC has hired Swann as its new athletic director. He replaces Pat Haden, with whom Swann played on the Trojans' 1972 team that beat Ohio State in the Rose Bowl. Let's hope that's the only thing Swann has in common with Haden when it comes to leading the USC athletic program.
M. Messi, Lionel . Messi scored his 500thcareer goalon Sunday, when Barcelona squared off against La Liga rival Valencia. The 28-year-old has 450 goals with FC Barca and 50 with Argentina's national team. But the news has not been as good of late for Messi's club, which lost Sunday's match 2-1. Barcelona is 1-5 in its last six outings and even its one victory ended in a loss, as Atletico Madrid prevailed 3-2 on aggregate after two legs of the Champions League quarterfinals. Atletico is +395 at BookMaker to win the Champions League.
N. No. 1 pick . The Rams gave up…well…pretty much everything to acquire the top pick in the upcoming NFL Draft from Tennessee. Will it be Jared Goff or Carson Wentz? Jeff Fisher and company better make the right choice given that they basically have no other selections from now until the end of time.
O. Olivera, Hector . Talk about adding insult to injury. With the Braves still winless at the time, Olivera was arrested last Wednesday in Washington and accused of sexual assault. Atlanta has since managed to win three games, but it's safe to say the season so far has basically been a disaster. WagerWeb has the Braves (Teheran) as +135 home underdogs against the Dodgers (Wood) on Tuesday.

P. Pablo Sandoval . Sandoval has "a great deal going on" in his left shoulder, according to a recent MRI. As such, the Red Sox third baseman will pay a dreaded visit to Dr. James Andrews. Sandoval, of course, also has a great deal going on in his stomach. He is currently dealing with weight issues and reports have surfaced that the Giants banned him from ordering room service during his tenure in San Francisco.

Q. Quenneville, Joel . With Quenneville as their head coach, the Blackhawks are 43-14 in Games 4-7 of all postseason series. In round one of the 2013-14 playoffs, Chicago erased a 2-0 deficit against the Blues by winning four in a row. The Blackhawks find themselves in another hole at the moment, having lost Game 3 at home 3-2 on Sunday to trail St. Louis 2-1. Chicago is a -165 home favorite on Tuesday, per Bovada Sportsbook.
R. Rosenhaus, Drew . Monday came and went apparently without Johnny Manziel heeding Rosenhaus' warning to either get treatment or seek another agent. But last week did not come and go with Manziel causing $32,000 of damages (allegedly) during a wild Los Angeles party and partying it up at Coachella.
S. Sixty . Well, that was a decent way to go out. Who cares that it took Kobe Bryant 50 shots to do it, because his 60-point performance against Utah will not soon be forgotten. And, perhaps even more amazingly, the Lakers actually won.
T. Tubby Smith . Josh Pastner's jump from Memphis to Georgia Tech started a chain reaction (see below). The second domino to fall came in the form of Smith's hiring at Memphis after having run the show at Texas Tech for three years.
U. UNLV . The Runnin' Rebels have had three head coaches in less than four full months of 2016. You can't make this stuff up, folks. Dave Rice was fired in January, Chris Beard was hired last month and then bolted for Texas Tech three weeks later, and former New Mexico State boss Marvin Menzies was hired last weekend. Oh, how the days of the Shark are missed.
V. Van Gundy, Stan . "LeBron's LeBron. They're not going to call offensive fouls on him. He gets to do whatever he wants." That's what the Pistons' head coach said after the first quarter of a Game 1 loss to Cleveland. Well, he wasn't wrong.

W. Warriors . No Stephen Curry, no problem. Of course, it helps when you're playing the Houston Rockets. Golden State, which broke the record by winning its 73 rd regular-season game in last week's finale, took care of Houston 115-106 on Monday even though Curry was sidelined with a sprained ankle.

X. Xavier Munford .What's left of the Memphis Grizzlies? Well, center Marc Gasol (foot) and point guard Mike Conley (Achilles') are out. Munford ran the offense for 28 minutes in Sunday's Game 1 blowout loss to San Antonio, which led by 11 at halftime before breaking things open on the way to a 106-74 win. Although he is still coming off the bench, Munford has averaged 29 minutes in the last four contests. 5Dimes Sportsbook has the Grizzlies as +18 underdogs in Game 2 on Tuesday.

Y. Yoenis Cespedes . The car-loving, pig-owning, horse-riding left fielder is heating up nicely for the Mets. All three of his homers have come in the last eight games, a stretch that also includes 11 total hits and nine RBIs. He even went two whole games without striking out! New York (Verrett) is a -104 underdog at Philadelphia (Velasquez) on Tuesday, as indicated by BetOnline Sportsbook.

Z. Zinedine Zidane . Zidane's Real Madrid club finished off Wolfsburg 5-0 on aggregate after dominating the second leg of their Champions League quarterfinal 3-0 last week. Real will go up against Manchester City in the semifinals, beginning next Tuesday.
Read more articles by Ricky Dimon