Weekly Q&A with Doc's Sports Expert Handicapper Raphael Esparza
by Doc's Sports - 3/22/2016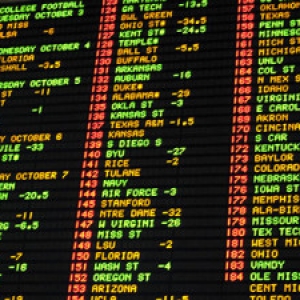 The 2016 NCAA Tournament is down to the Sweet 16, so in this week's discussion with Doc's Sports expert handicapper Raphael Esparza we will get his current take on which teams he has moving on after the next two rounds. We will also continue our trip around the upcoming MLB division races with a closer look at the AL West and the NL East.
Known in the sports betting business for years as the Vegas Sports Informer, Raphael cut his teeth as an expert handicapper during a long and successful career in the Las Vegas sportsbook industry. At the high point of his career, Raphael held the prestigious position of Director of the Race and Sports Book for MGM Grand's Aria until his retirement in 2013. More recently, he has been bouncing back and forth between Las Vegas and New Orleans running a successful and diverse sports investment service. The following is this week's Q&A with one of Doc's most interesting handicappers.
Doc's Sports: While there were some wild upsets and a few dramatic buzzer beaters during the first few rounds of this year's NCAA Tournament, the majority of the top favorites were able to successfully navigate their way to the Sweet 16. Given last week's results, who were the winners and losers in Las Vegas; the betting public or the sportsbooks?
RE: The books in town got off to a big start with Thursday's results in what was close to a record-breaking one-day take for this tournament. They did lose a bit of ground with a rough Friday night, but small gains both in Saturday's and Sunday's results made the first two rounds quite profitable.
Doc's Sports: With Michigan State out of the way on the right side of the bracket as well as one of your early picks West Virginia, are North Carolina out of the East and Virginia out of the South on a collision course to meet in the Final Four or do you still think a team like Indiana can disrupt this dream matchup for ACC fans?
RE: I am not ready to concede an all-ACC matchup in this half of the Final Four. Indiana is capable of taking out the Tar Heels if it stays hot shooting the ball, and Iowa State could give Virginia trouble on Friday night. Also keep an eye on a team like the Gonzaga Bulldogs, who continue to prove that March is their time to really shine.
Doc's Sports : Over on the left side, it appears that this is still the Kansas Jayhawks' tournament to lose. Given what you have seen so far from Kansas as many sportsbook's favorite to win, would you go with this Big 12 power as your pick to win it all?
RE: You can't deny that Kansas has looked tough so far, but at this stage of the tournament it only takes one off night to send you packing. I still think Oregon can power its way into the Final Four, and from there I would give the Ducks a fighting chance in a matchup against the Jayhawks.
Doc's Sports : We took a break from our tour of each MLB division race the past few weeks in favor of covering college hoops, but with opening day right around the corner it's time to get back on the stick. Moving to the final race in the American League, which team do you have winning the West this season?
RE: This could be the tightest race on the board in the AL this year. I have the Texas Rangers back on top, with both Houston and Los Angeles battling it out for a wild-card spot in pretty much the same fashion this division ended up last season. I think that you cannot completely rule Seattle out of the mix with its improved lineup.
Doc's Sports: The New York Mets exceeded expectations last year to knock perennial NL East favorite Washington out of the top spot. Does history repeat itself this year with New York listed as a heavy favorite to win again?
RE : There is no doubt that the Mets have the best overall pitching in this division, but I am still a bit leery of staying on this bandwagon given some question marks in their ability to consistently score runs. Washington is poised to bounce back from last season's slide, and I would probably go with the better value in the Nationals' futures odds to win the NL East.
Click here to visit Raphael Esparza's Insider's Page at Doc's Sports for more information on his amazingly-profitable sports handicapping picks. Also, get $60 worth of Esparza's member's picks absolutely free - no obligation, no sales people - you don't even have to enter credit card information. You can use this $60 credit for any sport Esparza handicaps. Click here for $60 worth of free picks from Raphael Esparza .