Case of the Mondays: Clippers Unceremoniously Bounced Out of Playoffs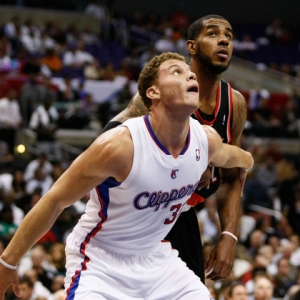 The Los Angeles Clippers did not last long in the NBA Playoffs. Granted the Clippers and the Utah Jazz were likely playing for nothing more than the right to get blown out by the Golden State Warriors in round two, but it still would have been nice-especially for Paul Pierce-if L.A. had treated the Staples Center crowd to a win on Sunday. Instead, the Clippers are going (or staying) home and can join the Chicago Bulls at various offseason golf courses.

Odds provided by BetOnline Sportsbook unless otherwise indicated.

Los Angeles Clippers . An injury-plagued, back-and-forth series came to an end with a decisive Game 7 in Los Angeles on Sunday afternoon. The Clippers, who had done well to stay alive by winning in Utah two days earlier, threw all of their momentum away with a disappointing effort from start to finish throughout the biggest game of the season. Following an even first quarter, the Jazz took a seven-point lead into halftime and extended their advantage to 16 points going into the fourth quarter. In what proved to be the final chapter of Pierce's career, L.A. never mounted a charge and lost 104-91. Utah is a +13 underdog at Golden State in Game 1 on Tuesday.

Chicago Bulls . As for the Bulls, they did not even make it to a Game 7. That seemed like an impossibility after the underdogs stole each of the first two contests on the road against the Boston Celtics, but an injury to point guard Rajon Rondo changed everything. Rondo-who had 12 points, eight rebounds, and six assists in the opener before contributing 11 points, nine rebounds, and 14 assists in Game 2-missed the last four games of the series with a broken thumb. Chicago lost all four, including the Game 6 clincher 105-83 at home last Friday.The Celtics, who lead the Washington Wizards 1-0, are +350 to win the Eastern Conference.

Braden Holtby . The Washington Capitals avoided another playoff collapse when they held off the surprising competitive Toronto Maple Leafs in six games during first-round action. It looks like the Capitals are not waiting long to see the next disaster come to fruition. They trail the Pittsburgh Penguins 2-0 in the Eastern Conference semifinals after suffering home losses by scores of 3-2 and 6-2. Holtby, Washington's generally rock-solid goalie, has given up six goals on just 35 shots through two outings. "In my eyes and maybe numbers-wise, he's one of the best goaltenders in the world," Caps' forward T.J. Oshie said of Holtby. "He's one of our leaders. He's arguably our most valuable player." The Capitals will need him to be just that for at least four of the next five games. They are now +355 to win the series.

Noah Syndergaard . Syndergaard had been complaining of bicep pain in his pitching arm but refused to go in for an MRI. Nor did the New York Mets insist that their starting right-hander get one. Those decisions were confirmed to be the wrong ones on Sunday, when Syndergaard left his start against the Washington Nationals in the second inning after giving up five runs. New York ended up losing by an embarrassing 23-5 score, which was highlighted by Anthony Rendon's 10 RBIs for Washington. An MRI on Monday showed that Syndergaard has a partial tear in his right lat muscle and is out indefinitely. The Mets (Gsellman) are +103 underdogs at Atlanta (Teheran) on Monday.

Arsenal . Arsenal is not going to win its first English Premier League title since 2003-2004. That much was determined many weeks ago. But the Gunners have been fighting for a top-four finish and a berth in the 2017-18 Champions League, and now even those hopes are on thin ice. Arsenal got shut out 2-0 by Tottenham on Sunday and now finds itself in sixth place on the EPL table, six points back of fourth place (Liverpool and Manchester City are tied for third) and 21 points behind league-leading Chelsea. Real Madrid is a +120 favorite to win this year's Champions League title ( MyBookie.ag).

Dale Earnhardt, Jr. It was a long week for Earnhardt, who announced his upcoming retirement from NASCAR last Tuesday. The two-time Daytona 500 winner is getting out of the car for good at the end of this season. Five days after making that announcement, Earnhardt was almost forced out of his car at Sunday's Toyota Owners 400 in Richmond by a teammate. Jimmie Johnson, who also drives for Hendrick Motorsports, slammed Earnhardt into the wall during the middle of the race. The No. 88 Chevrolet managed to stay on the track and finished 30 th, while Johnson came in 11th place.

Doug Whaley . How's this for interesting timing? The Buffalo Bills let Whaley, their general manager, oversee their NFL Draft for three days and then fired him immediately thereafter. You would think the Bills would want to have a long-term GM in place for something as important as the draft, but-hey-this is a franchise that in recent times has made the Cleveland Browns seem functional by comparison. Buffalo hasn't made the playoffs since 1999 and has compiled only two winning seasons during this stretch (none better than 9-7). So maybe it's not bad thing for Whaley to have been given the boot after all. The Bills are early -6 home favorites over the Jets in Week 1.
Read more articles by Ricky Dimon