Case of the Mondays: Clippers Again Plagued by Injury in Playoffs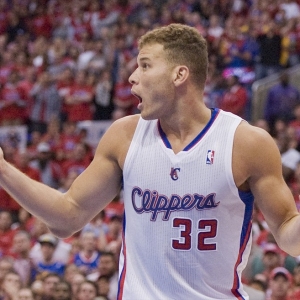 The Los Angeles Clippers are no strangers to seeing playoff runs derailed by injuries. Unless they work some miracles during their road through the Western Conference, the story will be the same this time around. Power forward Blake Griffin is out for the postseason with a toe injury. On the bright side, at least L.A. is still alive at the moment and tied with the Jazz 2-2 in that first-round series. The Pacers, on the other hand, are already on the golf course and the Thunder and Trail Blazers may not be far behind.

Odds provided by BetOnline Sportsbook unless otherwise indicated.

Blake Griffin . Utah lost center Rudy Gobert just 17 seconds into Game 1 and missed him for the rest of that contest and for Game 2. Los Angeles will be missing Griffin for much longer than that-or as long as its playoff life lasts. Griffin, who was sidelined last year starting with Game 4 of a first-round date with Portland, is done after sustaining an injury to the plantar plate of his right big toe during his team's Game 3 victory over the Jazz. "It's tough," point guard Chris Paul admitted. "As much as me and big fella have been (through) together…you just hate for dumb stuff like this to happen when you know how hard somebody works. Everybody doesn't get an opportunity to see that. For somebody who's as dedicated to the process and the training and the working out and all that stuff like that, for something to happen, you hate to see it." The Clippers lost Game 4 on Sunday 105-98 as the Jazz sent the series back to L.A. tied 2-2.L.A. is +2500 to win the Western Conference; Golden State is a -325 favorite ( Bovada Sportsbook ).

Indiana Pacers . It wasn't for a lack of effort, but Indiana was booted out of the playoffs after just four games. Although the Pacers were impressively competitive against LeBron James and friends, they got nothing to show for their efforts. Indiana suffered its four losses by a combined 16 points, which is especially commendable when you consider that the underdogs were expected to lose their first two at Cleveland by a combined 18 points (nine-point 'dogs in each). The Cavaliers finished off the pesky Pacers with a 106-102 road win on Sunday. Cleveland is +300 to win the NBA title (Bovada Sportsbook).

Chicago Blackhawks . The Blackhawks did not score a single goal at home during their first-round playoff series against Nashville, getting shut out in both Game 1 and Game 2. Things did not get much better thereafter, and as such Chicago never even made it back to the United Center for a Game 5. The Predators closed out the 'Hawks with a 3-2 overtime victory last Monday and a 4-1 clincher three days later. Chicago, which had won three of the last seven Stanley Cups, became the first No. 1 seed since 2012 to lose in the opening round of the postseason (Vancouver fell to eventual champion Los Angeles). Nashville is +300 to win the Western Conference; Anaheim is a +210 favorite.

Atlanta Braves . No team has been streakier than the Braves in the early stages of this baseball season. They lost six of seven to begin the 2017 campaign, won five in a row, and are now mired in a six-game losing streak. After sweeping San Diego in four straight to begin the life of new SunTrust Park, Atlanta promptly suffered three-game sweeps at the hands of Washington and Philadelphia. The visitors dropped the first two at Philly by one run, blowing a one-run lead in the bottom of the 10th inning on Saturday. They failed to close out a 2-1 advantage late on Sunday by giving up four runs in the eighth inning on back-to-back-to-back homers en route to a 5-2 setback. Atlanta is +8000 to win the National League Pennant; the Cubs are +200 favorites.

Real Madrid . The latest installment of El Clasico was a true classic on Sunday. In a wild, back-and-forth thriller that featured three goals in the final 20 minutes, FC Barcelona picked up a crucial 3-2 road win over Real Madrid. Real took a 1-0 lead at the Santiago Bernabeu in the 28th minute, but Messi tied the match five minutes later and Ivan Rakitic put the visitors ahead 2-1 with a brilliant strike in the 73rd minute. James Rodriguez scored the equalizer for the Madrid club in the 85 th minute only to see more magic from Messi, resulting in the game-winner two minutes into stoppage time. With only two minutes added, that is how the memorable showdown ended. Real could have put La Liga all but out of reach with six matches remaining (five for Barcelona), but now Messi and company are tied atop the table with 75 points. Real is a -238 favorite over Deportivo Coruna in La Liga action on Wednesday.

Eli Manning . It's late April, and that means all the NFL talk right now is related to the draft-except for the ongoing situation involving Manning. A memorabilia dealer is suing the Giants' quarterback for fraud, claiming that he was complicit in a scheme to pass off equipment as game-used. Manning and his attorneys hit back over the weekend, filing a motion stating that "relevant evidence" was intentionally omitted in order to make the two-time Super Bowl champion look guilty. "I've done nothing wrong, and I have nothing to hide," Manning said last Thursday. The Giants are +2000 to win Super Bowl LII.
Read more articles by Ricky Dimon