Case of the Mondays:Raptors Swept Out of Playoffs, Jazz next?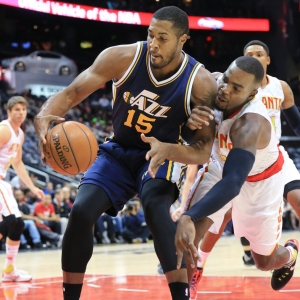 The Toronto Raptors and Utah Jazz did well to win their first-round playoff series. Neither one, however, is going to last long in the conference semifinals. Toronto got swept by the defending champion Cleveland Cavaliers and Utah is one loss away from suffering the same fate at the hands of the Golden State Warriors. Like the Raptors, the New York Rangers are also dangerously close to being able to make their offseason tee times because they have dropped a slew of close contests against the Ottawa Senators.

Free $60 in Member Sports Picks No Obligation Click Here
Odds provided by BetOnline Sportsbook unless otherwise indicated.
Utah Jazz
. Utah outlasted the Los Angeles Clippers in seven games to reach the second round for the first time since 2009-10. A steep step up in competition, though, is making the celebration short-lived. The Jazz trail the Warriors 3-0 after turning in two commendable but losing efforts on the road and giving Golden State an even tougher test-but another unsuccessful one-this past Saturday. Gordon Hayward and company led by six points late in the third quarter but all of that advantage was gone prior to the fourth and they got outscored 30-21 over the final 12 minutes en route to a 102-91 setback. The Warriors are -240 to win the NBA title.
Kyle Lowry
. Lowry (22.4 ppg, 7.0 apg, 4.8 rpg during the regular season) scored 20 points in each of the first two games against Cleveland on a combined 14-for-25 shooting. But the Raptors' point guard was unable to suit up for either contest at home, instead sidelined by a sprained ankle. With one of their two best players on the shelf, the third-seeded Raptors failed to put up much of a fight in the friendly confines of Air Canada Centre. They lost Game 3 by a 115-94 margin and saw their season come to an end in the form of a 109-102 setback on Sunday. The Cavs are -500 to win the Eastern Conference.
New York Rangers
.The Rangers have trailed for a grand total of 13 minutes and 10 seconds after five games of their Eastern Conference semifinal series against Ottawa. Somehow, they are behind in the overall series 3-2. New York trailed for a mere total of four minutes and 11 seconds through four outings but won only two of those four. It then blew a 2-0 lead in Game 5 on Sunday, recovered from a brief 3-2 deficit to go back in front 4-3, and then gave up an equalizing goal with 1:26 remaining in regulation. The Senators eventually ignited their home fans into one final frenzy by lighting the lamp 6:28 into overtime for a 5-4 victory.
New York is a -165 home favorite
in Game 6 on Tuesday.
San Francisco Giants
. San Francisco (11-21) is the worst team in the National League and the second worst in all of baseball, better than only Kansas City (and that's not saying a lot because the Royals have scored a hopeless 82 runs; no other team in the American League has scored fewer than 118). Just how bad are the Giants? Well, they have scored the fewest runs in the NL (105) and have given up the most (167). Madison Bumgarner is likely out through the all-star break after getting injured in a dirt-bike accident and San Francisco recently allowed a total of 31 runs while suffering a three-game sweep at the hands of Cincinnati.
The Giants (Moore) are +144 underdogs
at the Mets (DeGrom) on Monday night.
Dustin Johnson
. It was still a productive outing for Johnson in his first appearance since withdrawing from the Masters with a back injury, but the world No. 1 came close-no cigar, however-to doing something that had not been done since 2008. No player has won four straight starts since Tiger Woods won five in a row nine years ago. Johnson had won three in succession heading into last week's Wells Fargo Championship. The 32-year-old American made the cut on the number then surged into contention by going 67-67 on the weekend. Johnson was tied for first with Brian Harman and Pat Perez late on Sunday until Harman stole victory by sinking a 28-foot birdie putt on the 18
th
hole. DJ is a +650 favorite to win this summer's U.S. Open.
Tottenham Hotspur
. Chelsea opened the door to the English Premier League title by losing two of its last four matches in April. Tottenham showed signs of walking through the aforementioned door by winning seven in a row, but its already faint hopes may have gone up in a smoke last week. The Spurs lost 1-0 to West Ham United, which had been tied for 14
th
on the Premier League table and is still just tied for 10
th
. They are only four points back of league-leading Chelsea, but Tottenham has three matches remaining and the Blues have four. Chelsea is a -650 favorite over Middlesbrough on Monday.
Julio Cesar Chavez Jr.
There was no world title belt on the line when Chavez faced Canelo Alvarez this past weekend in Las Vegas, but Mexican pride was among the things at stake. Bragging rights-and an upcoming date with unified middleweight world champion Gennady Golovkin-went to Alvarez, who shut out Chavez (120-108 by winning all 12 rounds 10-9) on all three judges' scorecards."I wanted to box, but he went to the ropes, and I just needed to throw more punches," Chavez explained. "I would've attacked more, but I would've been countered by his punches. The speed and the distance was the key…. He's a good fighter; very fast and very consistent. Canelo beat me." Golovkin is a -170 favorite over Alvarez (
MyBookie.ag
).
Read more articles by Ricky Dimon