Case of the Mondays: Cavs Swept in Home-and-Home Series by Hawks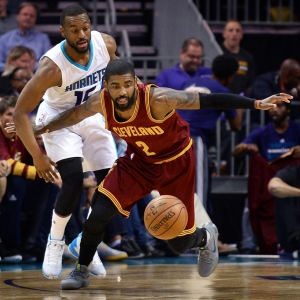 Which Cleveland Cavaliers loss to the Atlanta Hawks was harder to believe? That is the question. LeBron James and company first lost at home with most of the Hawks' starters out. Two days later they lost in Atlanta after blowing a 26-point fourth-quarter lead. Fortunately for the Cavs, they are obviously still going to the playoffs. The same cannot be said of the Charlotte Hornets.

Odds provided by BetOnline Sportsbook unless otherwise indicated.

Cleveland Cavaliers . Last Thursday the Cavs faced an Atlanta squad without Paul Millsap, Dwight Howard, Dennis Schroder, and Kent Bazemore. Despite all of those missing players, and the fact that they were playing on the road, the Hawks pulled off a 114-100 upset. With all of their guys back and playing at home two days later, the Hawks found themselves trailing 93-67 going into the fourth quarter. They erased all of that deficit by outscoring Cleveland 44-18 in the final frame and ended up winning 126-125 in overtime. "We became the team that was becoming attacked, rather than us attacking," Cavs' guard Kyrie Irving explained. "Once that flip-flops, the game started changing, and the momentum shifted." Cleveland is now tied for first with Boston for the No. 1 seed in the Eastern Conference with one game remaining on each team's schedule. The Cavs are +250 to win the NBA title.

Charlotte Hornets . Charlotte was officially eliminated from playoff contention when it lost to the Celtics 121-114 this past Saturday. The Hornets fell to 36-44 and they are in the midst of a three-game losing streak that has come o n the heels of having won three in a row. Charlotte shooting guard Nicolas Batum tied his season-high with 31 points in the losing effort against Boston. "We're a playoff team," Batum said hypothetically rather than technically. "We know that. We didn't make it this year. In five months, we'll work on it. I'm going to be back in the gym in two weeks. I'm going to dedicate my summer to this franchise. I'm going to be back on the court and work on myself, be back next year and bring this team back." The Hornets are +6.5 underdogs at Milwaukee on Monday.

Lindy Ruff .The now-former Dallas Stars' head coach will not be returning next season. Ruff, whose contract expired after the 2016-17 campaign, was informed on Sunday that he is being let go following four years with the Stars. They won the Central Division last season but were doomed this time around by injuries, bad defense, and subpar goaltending. Dallas (34-37-11) finished with the second-worst goals-against average in the NHL at 3.2 per game. The Washington Capitals are +350 favorites to win the Stanley Cup.

Seattle Mariners . Six runs were not enough of a cushion for Seattle going into the bottom of the ninth inning against the Los Angeles Angels on Sunday. The Mariners led 9-3 in the final frame before relievers Casey Fien and Edwin Diaz gave up all of it-and then some. Albert Pujols led off with a home run and Cliff Pennington eventually drove in Mike Trout with the winning hit for a shocking 10-9 victory. Seattle is now 1-6 after allowing 20 total runs in a three-game sweep at the hands of Los Angeles. "It's a really tough one," Mariners' second baseman Robinson Cano assured. "The thing is, nothing is going our way. We've just got to keep fighting. The last thing you want is to hang your head and start thinking about what happened the first seven, eight games. Just get ready for tomorrow." Seattle is +550 to win the American League West.

Justin Rose . Despite such a jam-packed leaderboard heading into Sunday, when tons of big names started the fourth round in serious contention, the Masters never materialized into a free-for-all among the likes of Rose, Sergio Garcia, Jordan Spieth, Rickie Fowler, and Adam Scott. It did, however, turn into a virtual match-play contest between Rose and Garcia. While two men separated themselves from the fray, for much of the way Sunday appeared to be in line to become nothing more than a one-man show. That is how Rose would have wanted it. After briefly trailing Garcia by three shots, the Englishman took a two-stroke lead and was sitting in the fairway of the par-5 13 th with Garcia being forced to drop after driving his tee-ball into the woods. A missed birdie putt by Rose and an awesome par by Garcia kept things close, and the rest is history. The Spaniard ended up capturing his first major by winning birdie to bogey on the first playoff hole. MyBookie.ag has Matt Kuchar as a +1100 favorite to win this week's RBC Heritage at Harbour Town.

Ryan Blaney . Blaney started second and arguably had the best car at Sunday's O'Reilly Auto Parts 500 in California. He led 148 of 334 laps and won two of the bonus-point stages during the race. Taking the second stage, however, may have cost him the overall victory. During a caution just before the end of the second stage on lap 170, Blaney remained on the track for a shot to win the stage while many other cars pitted. After that stage and his subsequent pit stop, Blaney restarted in 20th place and a poor final pit stop prevented him from getting back into serious contention."That last pit stop was pretty discouraging," Blaney admitted. "I don't know what it was there at the end of segment two and that made everybody have split strategies, and we got in the back and couldn't pass anybody. It was terrible to try to pass people."
Read more articles by Ricky Dimon