Case of the Mondays: ACC Teams Tumble Out of Big Dance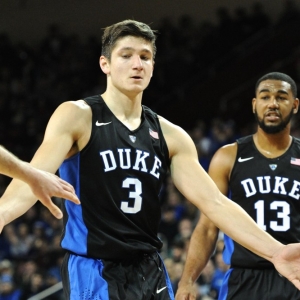 The ACC started the NCAA Tournament represented by North Carolina, Duke, Louisville, Florida State, Virginia, Notre Dame, Miami (FL), Virginia Tech, and Wake Forest. Only North Carolina remains-and almost all nine were ousted prior to the Sweet 16, as the Tar Heels trailed Arkansas 65-60 late in their Sunday night showdown before ending the game on a 12-0 run. Also gone from the festivities is defending national champion Villanova.

Free $60 in Member Sports Picks No Obligation Click Here
Odds provided by BetOnline Sportsbook unless otherwise indicated.
Virginia
.Thirty-nine points. That's how many the Cavaliers finished with in their second-round humiliation at the hands of Florida over the weekend. Virginia had been offensively challenged throughout the season, but things did not start going especially bad in that department until mid-February. During a three-game skid, the Wahoos scored a season-low 55 points against Duke, went for a mere 41 against North Carolina, and then scored in the 40s again despite getting five extra minutes in an overtime game against Miami (FL). The 39 points UVA finished with in round two of the NCAA Tournament marked its lowest output of the 2016-17 campaign. UNC is a +400 favorite to win the National Championship.
Villanova
.There will be a new national champion in 2017. Villanova, which lifted the trophy last year after beating North Carolina on a three-pointer at the buzzer, got bounced out of the NCAA Tournament with a second-round loss to Wisconsin. Among the many gripes people had with this year's committee, the Badgers were given nothing better than a No. 8 seed despite finishing second in the Big Ten. Hindsight is 20/20, but that now appears to be an even bigger joke than it did at the time. After all, the Big Ten has Wisconsin, Purdue, and Michigan in the Sweet 16 and watched Northwestern come relatively close to upsetting No. 1 seed Gonzaga. The bottom line is Villanova got a bad draw and the Wildcats failed to survive and advance as the Badgers pulled off a 65-62 upset this past Saturday.
Wisconsin is a +1.5 underdog
against Florida in the Sweet 16.
Atlanta Hawks
. The Hawks have been in the mix for home-court advantage in round one of the Eastern Conference playoffs throughout this season, but a current three-game losing streak may do serious damage to those hopes. In fact, Atlanta is now almost as close to missing out on a postseason spot altogether (four games) than it is to the No. 4 seed (three games). Heading into this week, the Hawks have dropped consecutive contests at the hands of San Antonio, Memphis, and Portland. Adding insult to injury, or vice versa, leading scorer Paul Millsap was a late scratch against the Trail Blazers because of knee tightness.
Atlanta is a +5.5 underdog
at Charlotte on Monday.
Minnesota Wild
. Once in contention for the Central Division crown and even for the No. 1 seed in the Western Conference playoffs, Minnesota can all but kiss those accomplishments goodbye. While division rival Chicago is in the midst of a five-game winning streak, the Wild have lost five in a row to the Blackhawks, Capitals, Hurricanes, Rangers, and Jets. All five setbacks have come in regulation, meaning their point total during this stretch is all of zero. Minnesota is 2-8 in its last 10 outings and all eight of those losses have come in regulation. Chicago has a conference-leading 99 points, seven better than the Wild's 92. Minnesota is +700 to win the Stanley Cup.
Kyle Larson
. Larson has been consistently good in 2017. He just hasn't been good enough. Since finishing 12
th
at the Daytona 500, Larson has been runner-up at three straight events (Atlanta, Las Vegas, and Phoenix). The No. 42 car
had a decent chance of capturing the checkered flag in Phoenix on Sunday, but a late pit stop proved to be decisive. Almost the entire field-Larson included-decided to pit for new tires during a caution with six laps remaining. Ryan Newman did not. Newman surged to the front and, despite running on old tires, managed to hold off Larson and the rest of his challengers.
Rory McIlroy
. McIlory was three strokes back of Kevin Kisner and Charley Hoffman heading into the final round of the Arnold Palmer Invitational, so he was not necessarily expected to triumph when Sunday began. But Kisner and Hoffman opened the door by both shooting 73, and McIlroy played his way into serious contention. The Northern Irishman made seven birdies during the final round and found himself tied for the lead at 10-under heading into the 18
th
hole. A three-putt all but ended his chances, as McIlory sent a 31-footer eight feet past the cup and missed the come-backer. Marc Leishman eagled the 16
th
hole behind McIlory and ended up triumphing by one shot over Kisner and Hoffman, two clear of McIlroy. McIlroy is +800 to win next month's Masters.
Dominican Republic
.Just like in the NCAA Tournament, there will be a new champion of the World Baseball Classic. Held every four years, the WBC has been won twice by Japan (2005, 2009) and once by the Dominican Republic (2013). In the most recent installment, the Dominican Republic blanked Puerto Rico 3-0 in an all-Caribbean title game. The 2013 champs, however, could not make it to the semifinals this time around. They led the United States 2-0 after one inning in a win-or-go-home showdown for both teams this past weekend, but Team USA recovered for a 6-3 victory. A two-run homer by Giancarlo Stanton off Ervin Santana and a home run robbery by Adam Jones on a blast by Orioles' teammate Manny Machado were the decisive moments. The United States is a +105 underdog against Japan on Tuesday.
Read more articles by Ricky Dimon