Case of the Mondays: No. 1 Seeds-But Not the UConn Women-Will Reign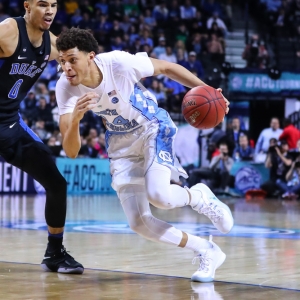 A No. 1 seed cut down the nets after the women's NCAA Tournament concluded on Sunday, but it was not Connecticut. The Huskies saw their 111-game winning streak come to a sudden end in the semifinals, with an overtime loss at the hands of Mississippi State. On the men's side, meanwhile, the two top-seeded Final Four participants scraped into Monday night's National Championship. But South Carolina and Oregon were not far away from pulling off respective upsets of Gonzaga and North Carolina.

Odds provided by BetOnline Sportsbook unless otherwise indicated.

Oregon . North Carolina missed four consecutive free-throws in the final five seconds of last Saturday's second national semifinal. That's bad. But perhaps failing to grab a defensive rebound on either of the two second missed free-throws is even worse. Trailing by one point, Oregon would have had a chance at a game-winning shot if it had simply corralled a rebound. Instead, the Tar Heels rebounded Kennedy Meeks' second miss and did the same following Joel Berry II's second miss to run out the clock and deny the Ducks any chance. Thus the Heels prevailed 77-76 to set up a National Championship against fellow No. 1 seed Gonzaga. UNC is a -1.5 favorite on Monday night .

UConn women . Connecticut had won four straight national titles and 111 games in a row heading into last Friday. The Huskies had not lost since Nov. 17 of 2014 in an overtime thriller against Stanford. Free basketball once again proved to be UConn's undoing, this time in far more shocking fashion. Mississippi State surged to a 16-point lead in the first half, trailed by three at one point in the fourth quarter, forced OT, and won 66-64 on a buzzer-beater by Morgan William. But for the Bulldogs, what a difference two days make. They ended up losing in Sunday's National Championship 67-55 to SEC rival South Carolina.

Indiana Pacers . Both the Pacers and the Cavaliers needed a win in a major way on Sunday-Indiana in its effort to reach the playoffs and Cleveland in its bid to regain the No. 1 seed in the Eastern Conference. The Pacers had already lost three in a row to fall into a tie for eighth place in the East with Miami. A more surprising three-game skid of the Cavs' own had ended last Friday against Philadelphia, but they still found themselves a half-game behind Boston in the conference standings heading into Sunday. LeBron James channeled his inner Russell Westbrook and produced a triple-double with 41 points, 16 rebounds, and 11 assists as Cleveland treated the home crowd to a 135-130 victory in double-overtime. Both teams maintained their position in the Eastern Conference thanks to a Miami loss to Denver and a Boston win over New York. The Cavs are -300 favorites to win the East.

Ottawa Senators . Ottawa was leading the Atlantic Division not long ago. Now the team is struggling just to make the playoffs. That's what a four-game losing streak will do, as the Senators have dropped four straight (three in regulation) and eight of their last 10. Ottawa, which has lost its last two by a combined 9-3 margin, is now tied for third in the division and tied for seventh in the Eastern Conference. The Sens are -104 underdogs at Detroit on Monday .

Lexi Thompson . You can't make this stuff up, folks. At the ANA Inspiration (previously the Nabisco Championship), the LPGA's first major of the season, Thompson marked a two-foot putt on the 17th hole during Saturday's third round and then put her ball back a couple of centimeters away from its initial location. This was caught by a random television viewer…but not until Sunday afternoon. After said television viewer e-mailed the LPGA, officials looked at the tape and deemed there had been an infraction. Mind you, Thompson was already done with 12 holes of her final round on Sunday at this point. Nonetheless, the 22-year-old American was given a four-stroke penalty-two for an incorrect placement and two for eventually signing an incorrect scorecard. Just like that she went from two strokes ahead to two strokes behind. Thompson recovered and birdied the 18th hole to force a playoff, but she ended up losing to So YeonRyu. Dustin Johnson is a +550 favorite to win the PGA Tour's first major, the Masters, this week.

Adrian Beltre . For the first time since 2001, Beltre is starting a season on the disabled list. The Rangers placed him on the DL with a right calf injury, but the move is retroactive to last Thursday so he is eligible to return this coming Sunday. Beltre, who played in the World Baseball Classic despite what was a left calf issue at the time, said he will be ready by Sunday-and could even suit up right now. "I'm not saying it's wrong (for me to be on the DL); it's just difficult to accept," the 37-year-old explained. "I think I could play with it; I could manage it. But I think everybody felt since I had injuries in both the left and the right that I didn't have enough time on the field. I'm disappointed, but it's better to miss a week than six or seven." Beltre has 2,942 career hits, leaving him only 58 away from becoming the 31st member of the 3,000 club. The Rangers are +1100 to win the American League Pennant.

Chelsea . Chelsea still owns a seven-point lead atop the English Premier League standings with nine matches to go, but it squandered a chance at taking a big step toward locking up the title when it fell to Crystal Palace this past Saturday. The Blues had not lost at Stamford Bridge since September and had not given up two goals in a single match since January 4. In this one, however, they allowed two goals in the span of three minutes and lost to Crystal Palace 2-1-a score that stood up after the 11th minute following a goal by Chelsea in the fifth minute and two almost immediately thereafter by the Eagles. Meanwhile, Tottenham Hotspur took care of Burnley 2-0 last weekend and the second-place Spurs now have 62 points to Chelsea's 69. The Blues are still -900 favorites to win the title.
Read more articles by Ricky Dimon