Sports Betting Futures Odds: NBA All-Star Weekend Takes to New Orleans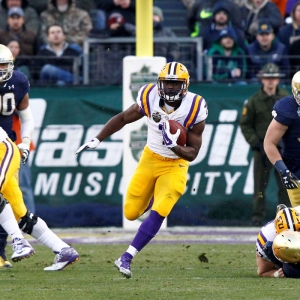 The NBA all-star break is almost here, and it will be highlighted by festivities in New Orleans this weekend. Zach LaVine is out of the Slam Dunk Contest (first by his own decision and then via injury, anyway), but that doesn't mean it will be easy in the Big Easy for Aaron Gordon.Derrick Jones Jr. could challenge Gordon, while Klay Thompson and Kyrie Irving are among those entered in the Three-Point Contest.

All odds provided by BetOnline Sportsbook .

Slam Dunk Contest

Aaron Gordon (-140) -Gordon helped revitalize the Slam Dunk Contest along with LaVine last year. In an epic showdown, they both recorded perfect scores in the final and needed two extra frames to separate one from the other. Many believed Gordon should have won, but LaVine emerged as back-to-back champion.

Derrick Jones Jr. (+125) - After LaVine made a mockery of the field in 2015, Gordon rose to challenge him in 2016. Someone new must give Gordon a go now that LaVine is on the sideline. Jones could be just that guy, as he put on brilliant dunk displays in one season at UNLV and is doing the same with the Suns.

DeAndre Jordan (+650) - Big men do not always fare well in the dunk contest, although past champions include Dwight Howard and Jordan's L.A. Clippers teammate, Blake Griffin. At 6-foot-11, Jordan obviously plays above the rim. He is averaging 13.7 rebounds and 1.7 blocks per game this season. But will he have creativity?

Glenn Robinson III (+1000) - Robinson is the obvious underdog in this group. He doesn't have the proven dunk contest experience as Gordon, the obvious jump-out-the-gym athleticism as Jones, or the name recognition as Jordan. The former Michigan standout has already taken to Twitter to ask fans for dunk ideas.

Three-Point Contest

Klay Thompson (+140) -Making his third straight appearance in the Three-Point Contest, Thompson is looking for a second consecutive title. He took down Stephen Curry in last year's final to give the Warriors back-to-back champions. Thompson is a career 42 percent shooter from distance and is at 41.8 percent this season.

Kyrie Irving (+500) - Irving is the veteran of these contestants, making his fourth appearance. The Cavaliers' guard won it as a first-time participant in 2012-13 and reached the final in 2014-15. Irving's 2014-15 season was his best in terms of shooting, but he registers at a decent 38.9 percent from three during the current campaign.

C.J. McCollum (+650) - McCollum made his contest debut last winter as a late replacement for an injured Chris Bosh. He underwhelmed, finishing second-to-last with 14 points in the opening round. The Trail Blazers' shooting guard is averaging 23.5 points per game in 2016-17 and is shooting better than 41 percent from long range.

Eric Gordon (+700) -Gordon is averaging 17.3 points per game in his first season with the Rockets, and he is jacking up threes at a career-high pace. The former Indiana star is taking more than 14 shots per game, with an average of more than nine attempts from beyond the arc.Kyle Lowry and Nick Young are tied as fifth choices at +800.

NFL Draft

Leonard Fournette first running back picked (-350) - A bad game against Alabama in 2015-16 and injuries this past season prevented Fournette from ever winning a Heisman Trophy. But he is NFL material with great speed and good size at 6-foot-1 and 235 pounds.

Dalvin Cook first running back picked (+325) - Will Cook follow in the footsteps of fellow Florida State Seminole Devonta Freeman and become a star in the NFL? Cook is small like Freeman (5-foot-11, 213), but he is tough to get a hand on and can also catch passes out of the backfield.

Mike Williams first wide receiver picked (-200) - Williams was always going to have the eye of NFL scouts at 6-foot-3 and 225 pounds. But his stock soared to new heights with an amazing performance in Clemson's National Championship win over Alabama (eight catches, 94 yards, one touchdown).

Corey Davis first wide receiver picked (+175) - Davis is not a big name because he played his college ball at Western Michigan. But his four-year career with the Broncos was a brilliant one. Davis had at least 1,408 yards and 12 touchdowns in each of his last three seasons.

Genesis Open

Jordan Spieth (+700) -Spieth is heating up nicely in preparation to redeem himself at the Masters after last year's back-nine collapse. In fact, he has been hot throughout the first two months of this season. Including one December appearance, Spieth has turned in five straight Top-10 finishes and is coming off a win at Pebble Beach.

Dustin Johnson (+750) - Pebble Beach is Johnson's traditional stomping ground, and he did not disappoint last week despite failing to keep up with Spieth (third place, five strokes behind Spieth). Although Johnson missed the cut at Torrey Pines last month, he has three Top-6 performances in his past four starts.

Hideki Matsuyama (+1000) -Nobody in the sport is playing as consistently well as Matsuyama these days. He is coming off a victory in Phoenix and has won five times in the last four months. The 24-year-old from Japan knows what he's doing around this course, too, with a T11 finish in 2016 and a T4 showing two years ago.

Jason Day (+1400) -Day is a question mark any time he suits up for a tournament because of his back issues, but he remains one of the best players in the game when healthy. The Australian bounced back from a missed cut at Torrey Pines to finish fifth last week at Pebble Beach with three rounds in the 60s-including one 64.
Read more articles by Ricky Dimon