Sports Betting Futures Odds: Patriots Take Controversial Control of AFC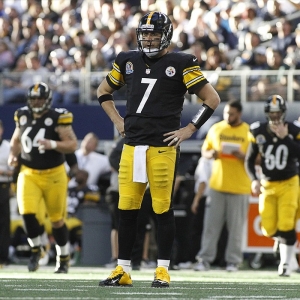 The Week 15 showdown between New England and Pittsburgh was almost certainly a battle for the No. 1 seed and home-field advantage throughout the AFC playoffs. And it did not disappoint-unless you're a Steelers fan. The Patriots survived a controversial thriller to move atop the conference standings. In the NFC, meanwhile, the up-for-sale Panthers are firmly in the mix.

Odds provided by BetOnline Sportsbook unless otherwise indicated .

AFC Championship

New England Patriots (-110) - New England clinched another AFC East title with its 27-24 victory at Pittsburgh. Both teams are now 11-3, but the Patriots obviously own the head-to-head tiebreaker and they can secure the top seed with home wins over Buffalo and the Jets. In other words, the road to the Super Bowl is going through Foxborough.

Free $60 in Member MLB Picks No Obligation Click Here
Pittsburgh Steelers (+275)
- The Steelers would have all but locked up the No. 1 seed with a victory, which would have put them at 12-2 and two games clear of both New England and Jacksonville. At least they have clinched the AFC North, but that is just about where the good news ends. And star receiver Antonio Brown got hurt in the loss.
Jacksonville Jaguars (+600)
- These aren't your grandfather's Jaguars. Well, they aren't your older brother's Jaguars (they haven't been around all that long). What they are is playoff bound, having clinched a postseason spot for the first time since the 2007 season. Jacksonville is No. 1 in the NFL in scoring defense and third in total defense.
Kansas City Chiefs (+800)
- This 2017 campaign has been a roller-coaster ride for the Chiefs, who started 5-0, lost six of their next seven games, and have since won two in a row. The current result is an 8-6 record and a one-game lead in the AFC West (really two because they have the head-to-head tiebreaker over the Chargers).
Carolina Panthers
( Bovada Sportsbook )
To win the NFC (+850)
- The Panthers can capture the crowded NFC South if they win their last two games and New Orleans loses once. A first-round bye is in play, too, if they get just a little help from Minnesota. Although the NFC is deep, it is not top-heavy-which is especially the case now that Carson Wentz is out for Philadelphia.
To be bought by Diddy (+300)
- Diddy is +300 to have at least some share of the team by Week 1 of the 2018 season. Just a few hours after owner Jerry Richardson announced this past Sunday that he is selling the team amidst misconduct allegations, the 48-year-old rapper announced via Twitter video his intentions to buy.
To be bought by Stephen Curry (+700)
- Curry has a lot of money; just not as much as Diddy, and not enough for any kind of majority stake in an NFL franchise. But acquiring a share or two is not out of the question if he finds a willing partner. The two-time MVP is a hardcore Panthers fan who grew up in Charlotte.
To be bought by Colin Kaepernick (+1000)
- Kaepernick has less money than Curry, is less likely to find someone willing to partner with him, isn't a Panthers fan, and is currently at major odds with the NFL. It's hard to see why his odds of owning a share in the Carolina franchise are close to those of Curry. But who knows?
New Year's Day bowl games

Sugar Bowl: Alabama (-2.5) vs. Clemson
- The proverbial rubber match is coming in a national semifinal as opposed to the championship this time around. Alabama won the 2015 title with a 45-40 victory over Clemson before the Tigers triumphed 35-31 last season.
Clemson is an underdog
despite being ranked No. 1.


Rose Bowl: Georgia (-2) vs. Oklahoma
- With the Big Ten and Pac-12 left out, the SEC got two teams in the College Football Playoff-Alabama and conference champion Georgia. The Bulldogs avenged their November loss to Auburn by routing the Tigers in Atlanta. Can Heisman Trophy winner Baker Mayfield solve the Dawgs' defense?
Citrus Bowl: LSU (-3) vs. Notre Dame
- In terms of opposition quality, the Fighting Irish have no bad losses in 2017 (home against Georgia, at Miami (FL), and at Stanford). But they got hammered by both the 'Canes and the Cardinal, the latter result eliminating them from CFP contention. LSU has won six of its last seven games.

Outback Bowl: Michigan (-7.5) vs. South Carolina
- Yes, even a relatively irrelevant SEC team has a spot in a Jan. 1 bowl game. The Gamecocks are 8-4 with no particularly good wins aside from beating a once-promising N.C. State squad in the season opener. Michigan is coming off consecutive losses to Wisconsin and Ohio State.

LeBron James' 2018-19 team
Cleveland Cavaliers (+200) - Cleveland is still a bona fide NBA title contender, but it is second in the Eastern Conference behind Boston right now, and both the Warriors and the Rockets in the Western Conference look more formidable. Given that LeBron has already delivered one championship to the Cavaliers, he may be willing to leave.
Houston Rockets (+250) - The Rockets were +500 less than two months ago to land LeBron. But they are suddenly looking like the best team in the NBA, both according to overall record (25-4) and current form (14-game winning streak). They already have James Harden and Chris Paul, so LeBron would be a part of another big three.

Los Angeles Lakers (+400) - Not long ago Los Angeles was a +250 second choice to be victorious in the LeBron sweepstakes. Those odds have dropped slightly because of Houston's rise, but the Lakers are likely still in play with so many tools with which to lure LeBron: money, location, history, and a plethora of young talent.
Philadelphia 76ers (+1000) - The process is pointing toward serious success in the future, and perhaps sooner rather than later. Philadelphia would not be in the playoffs if the season ended today, but Ben Simmons and Joel Embiid are two of the brightest young stars in basketball. The Spurs and Timberwolves are +1200 fifth choices.
Read more articles by Ricky Dimon