Sports Betting Futures Odds: It's Playoff Time in Baseball as NHL Season Arrives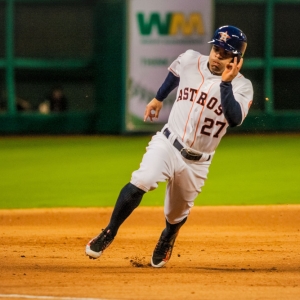 October is here, and that means baseball. Yes, the playoffs got underway on Tuesday with the Yankees' 8-4 victory over visiting Minnesota in the American League wild-card game. But October also means hockey, football, and basketball. The NHL season began on Wednesday, the NBA is not far behind, and action continues to heat up on the college and NFL gridiron.

Odds provided by BetOnline Sportsbook unless otherwise indicated .


Free $60 in Member MLB Picks No Obligation Click Here


American League Pennant ( Bovada Sportsbook )

Cleveland Indians (+160) - Cleveland rolled through the American League last year before blowing a 3-1 World Series lead against the Cubs. A return trip to the Fall Classic may be in the cards following a 102-60 campaign (second best record in baseball behind the Dodgers). Corey Kluber once again headlines a stellar staff.

Houston Astros (+250) -Like the Indians (vs. the Yankees), Houston has home-field advantage in the ALDS (vs. the Red Sox). The Astros compiled an awesome 101-61 record, their best since 1998 and second-best ever. Houston crossed the plate 896 times during the regular season, by far the most in the majors.

Boston Red Sox (+325) -Boston finished with a worse run differential than the Yankees (+117 compared to +198), but it won the AL East thanks in part to winning a slew of close games. The Red Sox have not won a postseason series since 2013, when they won the World Series. Lefty ace Chris Sale leads the rotation.

New York Yankees (+425) -The Yankees got their playoff bid started by coming back from an early 3-0 deficit to beat the Twins. Now, as recent postseasons have taught us, anything can happen. New York is relatively young and has the tough task of going up against Cleveland right off the bat, but any team with Aaron Judge is scary.

NHL MVP

Connor McDavid (+175) -At just 20 years old, McDavid is already a one-time winner of this award. He was named MVP last season after leading the NHL with 100 points and completely dominating the assist category (he had 70; no one else had more than 63). McDavid also led Edmonton to the fourth best record in the Western Conference.

Sidney Crosby (+300) - Crosby, a grizzled veteran compared to McDavid, is a two-time MVP (2006-07 and 2013-14). The 30-year-old has been plagued by physical problems throughout his career, but when healthy he remains one of the best. Crosby helped Pittsburgh capture the Stanley Cup in 2016-17 while being named playoffs MVP.

Alex Ovechkin (+1000) - The question is if Ovechkin and the Capitals can ever get the job done in the playoffs. It is fair to say that the regular season has never been a problem. Ovechkin is a three-time MVP and he paced Washington to the best record in the NHL-by far-with 118 points last season. The 32-year-old recorded 69 points.

Auston Matthews (+1000) - Matthews also tied for 20th in the league with 69 points (40 goals and 29 assists). The rookie announced his arrival with a memorable four-goal performance in his NHL debut and did not slow down too much thereafter, helping Toronto reach the playoffs. Patrick Kane of the Blackhawks is a +1400 fifth choice.

Los Angeles Lakers

LeBron James to join Lakers for 2018-19 (+450) - LeBron did exactly what he set out to do upon returning to Cleveland: deliver a championship to the city. Now it looks like Golden State has surpassed the Cavaliers by a considerable margin, Kyrie Irving is already gone, and an aging Dwyane Wade is on a one-year contract.

Lonzo Ball to make all-star team this season (+1200) -Expectations are high for Ball, in part because his dad likes to talk a lot. But as the odds suggest, they not so high that the No. 2 overall draft pick is expected to be an all-star in his rookie year. That being said, Ball's numbers could be good because the rest of his team stinks.

Ball to average more than 14.5 points per game (-105) - The aforementioned doldrums regarding the rest of the Lakers' roster means Ball will have the ball in his hands a lot. And even though he is a skilled distributor, he also likes to shoot. The 19-year-old will not be afraid to fork up the rock with reckless abandon.

Ball to have more than 2.5 triple-doubles (-150) -Thunder point guard Russell Westbrook, by comparison, had 42 triple-doubles this past season. Of course, Ball is not Westbrook-not yet, at least. But he should score plenty, his passing ability is obvious, and he has the size (6'6'') to bring down some rebounds.

Tennessee head coach in 2018

Chip Kelly (+325) -Butch Jones is not officially gone-yet-as Volunteers' head coach, but he might as well be after his team just suffered the worst loss in Neyland Stadium history (41-0 to Georgia last weekend). Kelly is a proven winner in college, having compiled a 46-7 record in four seasons at Oregon.

Bobby Petrino (+450) -Like Kelly, Petrino gets it done at the collegiate level but was a disaster in the pros. Kelly was little more than hopeless with the Eagles and 49ers, while Petrino went 3-10 with the Falcons in 2007 and then infamously quit before the end of the season. Louisville has always been relevant under Petrino.


Jeff Brohm (+450) -Brohm was all over the place as a quarterbacks coach and offensive coordinator before getting the head job at Western Kentucky (2014-16) and Purdue (present). He went 30-10 in three seasons at WKU, leading the Hilltoppers to a trio of bowl games. Purdue is currently 2-2 with wins over Ohio and Missouri.

Mike Norvell (+750) -Are you sensing a trend here? Tennessee wants an offensive mind, and why not? It is completely inept in the department of moving the football right now. Norvell bounced around as a receivers coach and offensive coordinator before getting his first head job with Memphis last year. He is 11-6 in two-plus seasons.





Read more articles by Ricky Dimon