Sports Betting Futures Odds: And Then There Were Four...With Ohio State Left Out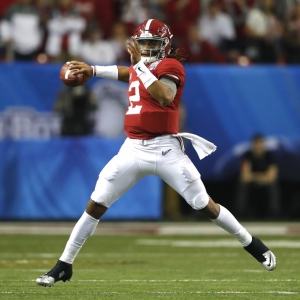 Football's version of the final four is upon us-or at least it will be in less than a month. The matchups are set, with Clemson facing Alabama in the Sugar Bowl and Oklahoma going up against Georgia in the Rose Bowl. The Crimson Tide, who bagged the fourth seed ahead of Ohio State, are last but not least. They are slight favorites to win the College Football Playoff.

Odds provided by BetOnline Sportsbook unless otherwise indicated.

College Football Playoff

Alabama (+200) - The Crimson Tide's resume is lacking a big win. But they have a chance to put two such feathers in their cap at the expense of Clemson and then either Oklahoma or Georgia. The CFP committee went with "Bama, which suffered its lone setback against Auburn, as the No. 4 seed as opposed to two-loss Ohio State

Clemson (+225) - It's time for the rubber match, this time in the semis (Sugar Bowl). Clemson lost a thriller to Alabama in the National Championship two years ago before getting the best of another instant classic last season. The Tigers have rebounded in emphatic fashion from a bad loss at Syracuse to reach the top of the rankings.

Georgia (+350) - What a difference three weeks make. On Nov. 11, the Bulldogs got blasted at Auburn 40-17. Playing in the friendlier confines of Atlanta last Saturday, they pounded the Tigers to the tune of some 28-7 revenge in the SEC Championship. A 12-1 Georgia Team has won its last three games by a combined 81 points.

Oklahoma (+350) - The Rose Bowl will be an intriguing battle between the No. 1 offense in the entire nation and a defense that does not belong to a Big 12 team. Georgia boasts a better defensive unit than anything Oklahoma has run into up to this point. Soon-to-be Heisman Trophy winner Baker Mayfield may have his hands full.

NBA MVP

LeBron James (-120) - Kyrie Irving is no longer on the Cavaliers, and Isaiah Thomas is still out due to injury. Nonetheless, LeBron has his team at 17-7 and currently in the midst of a 12-game winning streak. He is averaging 28.0 points, 8.5 assists, and 7.9 rebounds per game while shooting a career-best 58.4 percent from the floor.

James Harden (+350) - In a discussion of the best player on the best team, right now that is either Irving or Harden. The latter has Houston at 18-4 and riding a current seven-game winning streak. Harden is leading the NBA in both points (31.7 ppg) and assists (9.7 apg) while shooting better than 40 percent from three-point land.

Giannis Antetokounmpo (+500) - The usual suspects have been joined by Antetokounmpo, who has taken the next step to stardom at just 22 years old. Already in his fifth NBA season, the Green Freak is averaging 29.9 ppg, 10.2 rpg, 4.5 apg, 1.7 bpg, and 1.7 apg. But he must start making Milwaukee (12-10) better than mediocre.

Kyrie Irving (+800) - There is only one team better than Cleveland in the Eastern Conference at the moment, and it's Boston (21-4). The Celtics are succeeding even though Gordon Hayward has been out since day one, thanks in large part to Irving (23.5 ppg, 5.0 apg, 3.2 rpg, 1.5 spg). He has been the king of clutch late in games, too.

Eli Manning's team in Week 1 of 2018 (MyBookie.ag)

Jacksonville Jaguars (+300) - This could be a good fit because the Jaguars are already decent, and Manning surely wants to win-especially at this point in his career. They are 8-4 and boast an incredible point differential of plus-121 (second best in the AFC behind New England). Blake Bortles has been unspectacular at QB.

Cleveland Browns (+400) - No franchise in football has endured a worse situation at quarterback for a longer period of time than Cleveland. The current trio includes DeShone Kizer, Kevin Hogan, and Cody Kessler. Not coincidentally, the Browns are 0-12. It goes without saying that this bad of team will not be Manning's first choice.

New York Giants (+450) - It is hard to see Manning staying put in New York, where the Giants unceremoniously benched him to end his streak of starts. And he did not just get benched. He got benched in favor of Geno Smith and-perhaps a week down the road-Davis Webb. Moreover, the Giants stink and the franchise is in shambles.

Denver Broncos (+500) - Denver is a horrendous 3-9, tied for second to last in the AFC ahead of only winless Cleveland. The Broncos' quarterback depth chart currently features Trevor Siemian, Brock Osweiler, and Paxton Lynch. Could Manning return to the team with which Peyton won his second Super Bowl? Retiring is +300.

World Cup

Germany (+450) - Germany is the all-time leader with eight final appearances and sits second behind Brazil with four titles. The Germans are favored to go back-to-back after triumphing at the 2014 event in Brazil. They remained in fine form with a victory in the 2017 FIFA Confederations Cup.

Brazil (+500) - The Brazilians undoubtedly cannot wait for a shot at redemption as they were humiliated on their home soil with a 7-1 semifinal loss to Germany three years ago. They trailed 5-0 less than 30 minutes into the match and eventually by 7-0 before scoring a late goal.

Argentina (+600) - Argentina is looking for its third World Cup title, which would still leave it in fourth behind Brazil (five), Germany, and Italy (four). The Argentines last lifted the trophy in 1986, and this is almost certainly their last chance to do so with Lionel Messi leading the way.

France (+600) - France got the job done in 1998 but suffered heartbreak eight years later when a shootout loss to the Italians followed Zinedine Zidane's infamous head-butt. The Blues fell to Germany 1-0 in the 2014 quarterfinals. Spain, which won it all in 2010, is a +700 fifth choice.
Doc's Sports has a great offer for new clients. You can get $60 worth of picks from any expert handicapper for any sport he handicaps. All with no obligation and no credit card needed. Claim your free picks today .
Read more articles by Ricky Dimon