Thank God it's Friday: Sacramento Cuts Ties With Cousins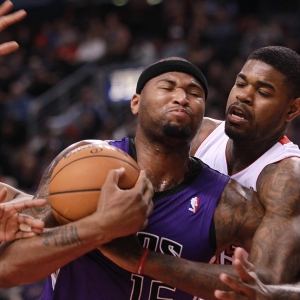 DeMarcus Cousins sounded genuinely sad to be leaving Sacramento, but it will likely be the the Kings who are feeling much worse than their departed star in the near future. The consensus is that Sacramento got ripped off by New Orleans in this week's blockbuster deal. An even more overwhelming consensus agrees that the Slam Dunk Contest was a complete dud. Zach LaVine was not a part of the festivities, and Aaron Gordon did not have the same kind of spring in his step that he displayed in 2016.

Odds provided by BetOnline Sportsbook unless otherwise indicated.

Free $60 in Member Sports Picks No Obligation Click Here
Sacramento Kings
.The Cousins era is over in Sacramento. He was unloaded to the Pelicans (along with Omri Casspi) immediately after last Sunday's All-Star Game in exchange for Buddy Hield, Tyreke Evans, Langston Galloway, and first-round plus second-round picks in this year's NBA Draft. That's a lot of moving parts, but is it a whole lot of nothing? Well, Kings' general manager Vlade Divac said he had a better deal on the table two days earlier but rejected it only to see the offers become increasingly worse. "Most likely we would get less, because I had a better deal two days ago," Divac said when asked why he did not wait to make a trade until closer to the deadline. Cousins' new teammate Anthony Davis is +10000 to win NBA MVP.
Aaron Gordon
. Gordon gave us the first drone-aided attempt in Slam Dunk Contest history, but he did not give us much more than that. Dunks were bricked left and right by all four of last weekend's participants, and even the successful attempts paled in comparison to the show put on by Gordon and LaVine in 2016. The Magic forward bowed out in the first round before Glenn Robinson III captured a relatively surprising title. Explaining that the contest is physically draining if you put in the necessary amount of effort, Gordon has already taken his name out of the 2018 entry list. Robinson III's
Pacers are -1 home favorites over Memphis
on Friday.
Lonzo Ball
. As a certain high draft pick in this summer's draft, Ball was already going to have plenty of pressure on him at the next level. Then his dad happened. The expectations will be even higher after LaVar Ball first said that his oldest son would one day be better than two-time NBA MVP Stephen Curry. He went even further during an interview when UCLA recently faced USC. "I have the utmost confidence in what my boy is doing, LaVar added. "He's better than Steph Curry to me. Put Steph Curry on UCLA's team right now and put my boy on Golden State and watch what happens." Um, okay. Ball is +400
at MyBookie.ag
to win the Wooden Award.
Mark Gottfried
. Gottfried is coaching N.C. State for the rest of this season, but not beyond that-not unless he takes his team on some kind of Jim Valvano-esque postseason run, anyway. N.C. State fired Gottfried last week but has allowed him to stay on board for the remainder of the 2016-17 campaign. In five full seasons with the Wolfpack, they reached the NCAA Tournament four times and the Sweet 16 twice. N.C. State is currently 14-15 overall and a horrendous 3-13 in the ACC. The program is coming off a season in which it went 16-17 overall and 5-13 in the conference. ACC rivals North Carolina and Duke are +600 and +1000, respectively, to win the National Championship.
Antoine Vermette
. The NHL suspended Vermette 10 games last week for slashing a ref. That's right; Vermette took a stick to the back of a ref's leg after what the Anaheim center felt was an unfair faceoff. During a Ducks' 1-0 win over Minnesota, the 34-year-old Canadian lost a faceoff to Mikko Koivu of the Wild. Opining that linesman Shandor Alphonso had dropped the puck before he was ready, Vermette hit Alphonso with his stick and promptly incurred a game misconduct. He appealed the ensuing 10-game suspension, which would have come with a $97,000 fine if it had been upheld. Instead, it will be half that because Vermette's ban was reduced to five games. He can return on March 3 against Toronto.Anaheim is +800 to win the Western Conference.
Jason Day
. Being ranked No. 1 in the world may not be important in golf as it is in, say, tennis, because you obviously don't get any kind of a favorable seed at a golf tournament based on ranking. But there is still something special about any No. 1 ranking, and Day no longer has that distinction. Day was passed in the top spot by Dustin Johnson when the American rolled to a five-stroke victory at last week's Genesis Open. Johnson, the reigning U.S. Open champion, opened with rounds of 66, 66, and 64 before a closing 71 was more than enough to seal the deal. Day did not card a single round in the 60s and stumbled to a T64 finish. He is now No. 2 in the rankings, in between Johnson and Rory McIlroy. Johnson is a +900 second choice behind Jordan Spieth to win the Masters.
FC Barcelona
. Well, it is safe to say Barcelona will not be winning the Champions League this season. In the first leg of their round of 16 showdown against Paris Saint-Germain last week, Lionel Messi and company lost 4-0 on the road at Parc des Princes in Paris, France. Barca trailed 2-0 by halftime before the Parisians added goals in the 55
th
and 71
st
minutes. Barcelona still has a mathematical chance to reach the quarterfinals when it hosts the second leg on March 8, but it will have to beat PSG by at least four goals. Bayern Munich is a +275 favorite to win the Champions League.
Read more articles by Ricky Dimon