This Week in Sports Betting, A-Z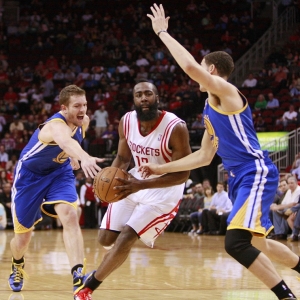 A. Alexander, Leslie . The Rockets' owner was fined $100,000 for leaving his courtside seat and yelling at referee Bill Kennedy during Houston's series-clinching Game 5 win over Oklahoma City last Tuesday.Alexander should feel better about the loss of $100,000 because his team beat San Antonio by about a million points in Game 1 on Monday-or because $100,000 is chump change for him. The Rockets are +5.5 road underdogs on Wednesday, per BetOnline Sportsbook.

Free $60 in Member Sports Picks No Obligation Click Here
B. Browns
.The Browns went with Myles Garrett at No. 1 overall in the NFL Draft and also added Jabrill Peppers and DeShone Kizer. They were generally considered to be the big winners of draft weekend. Let's see how that translates to the football field. Don't hold your breath!
C. Cech, Petr
. Arsenal already wasn't gonna win the English Premier League title this season; not with Chelsea almost 20 points ahead of the Gunners. Cech and company are now worried solely about finishing in the top four and earning a place in the 2017-18 Champions League. Those hopes took a hit with a 2-0 loss to Tottenham last Sunday. "I feel angry and disappointed because obviously this is not a game we wanted to lose and this is a very big disappointment for us," Cech commented. "It hurts because it was a huge game. We needed to win to keep our Champions League finishing position (hopes) alive."
Chelsea is a -2000 favorite
at Bovada Sportsbook to win the EPL title.
D. Dale Earnhardt, Jr.
The two-time Daytona 500 winner announced his retirement last Tuesday, effective at the end of this season. Earnhardt in NASCAR, Tiger Woods (basically) in golf, Serena Williams (at least temporarily) in tennis. Say it ain't so!
E. ESPN
. Well, last week stunk if you worked for ESPN-if you were one of the ones who got fired and even if you were one of the ones who did not. It was the biggest firesale since after every Marlins' World Series title!
F. Fired
. Speaking of people getting fired…. The Bills let now-former general manager Doug Whaley oversee their NFL Draft for three days only to give him the pink slip immediately thereafter. Even the Chicago Bears are impressed with the perplexity of that move.
G. Gift Ngoepe
. Ngoepe became the first African player in the major leagues when he played in Pittsburgh's game against the Cubs last Wednesday. The 27-year-old, who also got a hit in that game, went 3-for-3 in his first career start two days later against Miami.
5Dimes Sportsbook
has the Pirates (Taillon) as -130 favorites at Cincinnati (Davis) on Wednesday.
H. Holtby, Braden
. The Capitals avoided another playoff collapse by holding off Toronto in six tough games. Success didn't last long, though, as they dropped the first two games of their series against Pittsburgh-both at home-3-2 and 6-2. Holtby's woes almost continued on Monday when he allowed two late goals as the Penguins forced overtime, but Washington prevailed 3-2 in the extra frame to pull within 2-1. One more postseason disaster and this city could be approaching Atlanta levels.
The Caps are -135 road favorites
on Wednesday, according to MyBookie.ag.
I.
Infuriated
. The Cubs were reportedly "infuriated" that their pitching coach, Chris Bosio, said in no uncertain terms that Milwaukee slugger Eric Thames is using performance-enhancing drugs. Thames has 11 home runs this season, albeit just one in five games against Chicago. Bosio, you bozo!
J. Jimmie Johnson
. It was an eventful April for both Earnhardt and Johnson, who are teammates at Hendrick Motorsports. After Earnhardt announced his retirement and Johnson won back-to-back races in Texas and Bristol, their paths collided at last weekend's event in Richmond. The No. 48 Chevrolet slammed Earnhardt into the wall midway through the race and sent him stumbling to 30
th
-place finish. Johnson finished 11
th
, while Joey Logano took home the checkered flag.
K. Keuchel, Dallas
. Keuchel went 20-8 with a 2.48 ERA in 2015 to win the AL Cy Young Award. He compiled a 9-12 record with 4.55 ERA last year. He is 5-0 with a 1.21 ERA so far this season. That's more fluctuation than T-Swift's dating history. Houston is +400 at
GT Bets
to win the AL Pennant.
L. Lynch, Marshawn
. Lynch is getting back to work, and he better be ready to do a lot of it because the other running backs currently in Oakland's stable are Jalen Richard, DeAndre Washington, Taiwan Jones, and Elijah Hood. Feed the beast!
M. Marlins
. A group led by Derek Jeter and Jeb Bush is in the running to buy the Marlins. That's one proven winner and, well, one proven loser. What gives?
N. Noah Syndergaard
. Syndergaard finally went in for MRI. It may have been one or two starts too late. The Mets' right-hander had avoided getting checked out despite dealing with bicep pain his throwing arm, but it became too much when he left last Sunday's outing (an eventual 23-5 loss to Washington) after giving up five runs in 1.1 innings. Syndergaard has been diagnosed with a partial tear in his right lat muscle and is out indefinitely.
O. Over
. That's what Russell Westbrook's historic season is.He averaged 31.6 points, 10.7 rebounds, and 10.4 assists during the regular season and 37.4 points, 11.6 rebounds, and 10.8 assists in a five-game loss to Houston. Is that good? It's not bad! The Rockets are +800 at
BetOnline Sportsbook
to win the Western Conference.
P. Peterson, Adrian
. The Saints' 2017 roster may have an average age older than the rosters of that new 3-on-3 basketball league. Quarterback Drew Brees is 38 years old, and they just signed the 32-year-old Peterson to be one of their running backs. Aren't Terrell Owens and Chad Johnson still available to play receiver?
Q. Quicken Loans Arena . Cleveland lost its last two regular-season home games, but Quicken Loans Arena has been a friendly confine so far in the playoffs. Then again, Bankers Life Fieldhouse was also just fine for the Cavaliers in round one. LeBron James and company improved to 3-0 at home in the postseason by taking care of Toronto 116-105 in Game 1 on Monday. Cleveland is +360 atBookMaker to win the NBA title.


R. Rafael Nadal . Nadal became the first man in Open Era history to win the same tournament 10 times when he triumphed in Monte-Carlo last month. He didn't wait long to duplicate the feat at another event. Exactly one week later, Nadal lifted the Barcelona for the 10th time this past Sunday. The King of Clay is once again on his throne.

S. Sharapova, Maria . While Nadal is clear French Open favorite on the men's side, it did not take long for Sharapova to earn favorite status on the women's side. In fact, it took all of three matches. In her first tournament since January of 2015 because of a drug ban, Sharapova picked up three wins last week in Stuttgart before falling to Kiki Mladenovic in the semifinals. She is a +600 co-favorite at Bovada Sportsbook to win the French.

T. Ten . Not one, not two, not three, not four, not five, not six…. No, Anthony Rendon had 10-ten-RBIs in the Nationals' 23-5 humiliation of the Mets last Sunday.

U. Utah Jazz . Congratulations for ending Paul Pierce's career, Utah. Your reward is a date with the Golden State Warriors! The Jazz won a decisive Game 7 at the Clippers last weekend-closing the book on The Truth. Unsurprisingly, Golden State is so far proving to be much more difficult than the Blake Griffin-less Clippers.The home team hammered Utah 106-94 in the opener on Tuesday.

V. Vatanen, Sami . Vatanen played in the Ducks' playoff opener against Calgary before missing the rest of that series with an upper-body injury. He finally returned for Game 3 against Edmonton this past Sunday, when Anaheim prevailed 6-3 to close within 2-1. The road team has won all three games in this Western Conference semifinal clash. MyBookie.ag has Anaheim as a +115 road underdog on Wednesday.

W. Wall, John . The Wizards' point guard wore a cape to his press conference following last Wednesday's Game 5 victory over the Hawks. He was stellar in round one and has been awesome against Boston so far, too, but the only Superman-like qualities have belonged to Isaiah Thomas. The Celtics' 5-foot-9 star made his 33 points in Game 1 seem pedestrian when he erupted for 53 on Tuesday in a 129-119 overtime win to put Washington in a 2-0 hole.

X. Xavier Woods . According to executive vice president Stephen Jones, the Cowboys drafted five of the Top 68 players on their draft board. They rounded out that group by trading into the sixth round and taking Woods, a safety from Louisiana Tech, at No. 191 overall. He had 14 interceptions and six forced fumbles as a four-year starter in college.

Y. Yunel Escobar . The Angels sound like they are just about ready to give Escobar the boot from the leadoff spot. And why not? The veteran third baseman is batting .232 this season with no stolen bases. Los Angeles (Nolasco) is a +104 underdog at Seattle (Iwakuma) on Wednesday, as per GT Bets.

Z. Zurich Classic . The Zurich Classic of New Orleans turned into a team event this year, and it was won by Jonas Blixt and Cameron Smith in a Monday morning playoff over Kevin Kisner and Scott Brown. Who? Who? Who? And who?
Read more articles by Ricky Dimon