This Week in Sports Betting, A-Z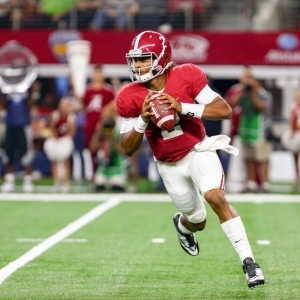 A. Alabama . Death, taxes, and Alabama finishing with the No. 1 class on National Signing Day. If those aren't the three certainties of life, they should be. As usual, head coach Nick Saban welcomed the finest haul of recruits in the land to Tuscaloosa last Wednesday. The Crimson Tide are +300 favorites at BetOnline Sportsbook to win the College Football Playoff.

B. Beyonce . Unless you've been living under a rock (heck! Even if you've been living under a rock), you know the news: Beyonce is expecting twins. You just know they're gonna be ballers at something-either music, sports, or life in general.

C. Canada . The Canadians won't be winning the Davis Cup-tennis' annual team competition-this season. And the way in which they bowed out of the 2017 event won't soon be forgotten. In a decisive fifth match against Great Britain, 17-year-old Denis Shapovalov was defaulted for blasting a ball in frustration that went straight into the eye of the chair umpire. Who says tennis isn't a contact sport?

D. Delle Donne, Elena . The Chicago Sky traded Delle Donne to the Washington Mystics on Monday. Delle Donne was the WNBA MVP in 2015 and finished second in scoring last season at 21.5 points per game.

E. Earnhardt, Jeffrey . Another Earnhardt will be a part of the Daytona 500. It was announced last week that Jeffrey, grandson of Dale Sr. and nephew of Dale Jr., will be the primary driver of the Circle Sport-TMG No. 33 car.

F. Fired . Claude Julien was fired as head coach of the Boston Bruins on Tuesday. Boston had missed the playoffs each of the past two seasons and was a mediocre 26-23-6 during this 2016-17 campaign when Julien got the boot. The Minnesota Wild are -170 home favorites over the Tampa Bay Lightning on Friday, according to GT Bets.

G. Golden State Warriors . According to Warriors' owner Joe Lacob, Michael Jordan said that 73 wins "don't mean (expletive)" when they had dinner with other owners during the collective bargaining agreement negotiations. Golden State, of course, won 73 games last season but lost the NBA Finals to Cleveland. Jordan's Bulls won a then-record 72 games in 1995-96 and captured the title. 5Dimes Sportsbook has the Warriors as -7.5 favorites at Memphis on Friday.

H. Hazard, Eden . Hazard climbed to ninth on the list of top scorers in the English Premier League this season with his 10th goal during Chelsea's 3-1 win over Arsenal last weekend. With the victory, the Blues remained nine points ahead of second-place Tottenham Hotspur atop the EPL table.

I. Inked . Free agent first baseman/designated hitter Mike Napoli is off the market. Previously with AL champion Cleveland, Napoli signed a one-year, $8.5 million contract with Texas on Tuesday. He hit 34 homers and drove in 101 runs for the Indians in 2016.

J. James, LeBron . The NBA is becoming the best reality show on television these days. All-star Weekend should definitely institute some kind of cage-fighting event for anyone who doesn't get along: LeBron vs. Charles Barkley, James Dolan vs. Charles Oakley, Phil Jackson vs. Carmelo Anthony, Jordan vs. Lacob, etc., etc., etc. Bovada Sportsbook has the Cavaliers at +275 to win the title.

K. Krzyzewski, Mike . Krzyzewski is back from his bad back. After missing seven games following surgery, Coach K returned last weekend when Duke beat Pittsburgh. The Blue Devils are now 2-0 upon K's return following Thursday's win over North Carolina, and they have won four in a row overall. Speaking of streaks, Grayson Allen has gone one consecutive game without tripping an opponent.

L. LaMelo Ball . Lonzo Ball took over in the second half of UCLA's dramatic comeback against Oregon on Thursday and that wasn't even the best accomplishment in his own family this week. LaMelo, a sophomore at Chino Hills High School, scored 92 points-yes, 92-in a 146-123 win over Los Osos on Tuesday. He has already committed to the Bruins, for whom Lonzo had 15 points and 11 rebounds in an 82-79 victory over the Ducks.

M. Malik Dime . Dime, who wasn't even playing in Washington's game at Colorado on Thursday because of a broken finger, made the most noise during the Huskies' 81-66 loss. The senior from Senegal slapped a student heckler right after the halftime buzzer sounded.

N. New England Patriots . Just when you thought Tom Brady and the Patriots could not be any more legendary, they went out and did that. Once trailing the Falcons 28-3 in Super Bowl LI last Sunday, Brady and company stormed back for a 34-28 overtime triumph. Give him five. New England is a +400 favorite at MyBookie.ag to win Super Bowl LII.

O. Offensive coordinators . One day after his offense could not put New England away despite really needing only one more score of any kind in the entire fourth quarter, Kyle Shanahan accepted the head-coaching job in San Francisco. The Falcons immediately replaced him with former Alabama OC and admitted alcoholic Steve Sarkisian. Of course, compared to Atlanta fans right now, Sarkisian probably doesn't drink that much.

P. Phil Jackson . It has become a straight up soap opera in New York. The president is calling out the star player, the owner and a former great are fighting, and the team can't win games. Other than all of that, things are going great for the Knicks! New York is a -2.5 home favorite over Denver on Friday, per BetOnline Sportsbook.

Q. Quadruple overtime . Not one, not two, not three…. No, Alabama and South Carolina needed four overtimes to decide their contest on Tuesday. The Crimson Tide eventually pulled out a 90-86 road victory.


R. Rick Pitino . "Don't mention his name to me. That's all I got. Thank you everyone." That's what the Louisville head coach had to say about Louisville center Mangok Mathiang following Monday's loss at Virginia. Mangok was suspended along with forward Deng Adel for missing a team curfew. The Cardinals were also without guards Quentin Snider (hip flexor) and Tony Hicks (broken hand) as they went down 71-55.

S. Sixteenth Hole . The hottest player on the planet won again at last week's Phoenix Open. Hideki Matsuyama triumphed for the fifth time in his last nine starts after beating Webb Simpson in a four-hole playoff. Matsuyama played the famously raucous par-3 16th in one-under, with three pars and a third-round birdie.

T. Tiger Woods . Things went from bad (a missed cut at Torrey Pines, where he has won seven times) to worse (a withdrawal following a first-round 77 last week in Dubai) for Tiger. The 14-time major champion pulled out after his birdie-free, five-over effort because of back spasms. Tiger later withdrew from Riviera and the Honda Classic, which had been on his February schedule.

U. UNC vs. Duke . The first of two regular-season battles between UNC and Duke did not disappoint. In a game that featured too many ties and lead changes to recount, the Blue Devils pulled away late inside their friendly confines of Cameron Indoor Stadium en route to an 86-78 victory. Get your popcorn ready for March 4.

V. Vick, Michael . In advance of the Super Bowl, the former Falcons' star penned a heartfelt piece for The Players Tribune to express his love for the city of Atlanta. Well, now the recently-retired quarterback knows what it's like to be an Atlanta sports fan. The city had already endured too many epic collapses to name, but last Sunday's meltdown from 25 points up in Super Bowl LI certainly tops every kind of chart.

W. Westbrook, Russell . Oklahoma City trailed Memphis 102-99 late in the fourth quarter last Friday. Final score: Thunder 114, Grizzlies 102. Not only did OKC score the last 15 points of the game, but Westbrook also scored all 15 of them by himself. He finished with-you guessed it-a triple-double, consisting of 38 points, 13 rebounds, and 12 assists. The Thunder are +4500 at BookMaker to win the Western Conference.

X. Xavier . The rematch with Villanova surely can't go as poorly for the Musketeers as the first meeting between the two teams this season, when the defending National Champions pounded the X-Men 79-54 on Jan. 10. Xavier has won four in a row heading into Saturday's showdown. Then again, it had won six in a row prior to facing the Wildcats last time.

Y. Yankees . New York signed Chris Carter (no, not the one who caught passes for the Vikings many moons ago) to a one-year, $3.5 million deal earlier this week. The 30-year-old hit just .222 with Milwaukee last season but tied for the National League lead with 41 home runs. The Yankees are +2000 at GT Bets to win the World Series.

Z. Zach LaVine . First LaVine (18.9 ppg) was out of the dunk contest, instead opting to focus on his stellar play for the young Timberwolves-who are just 3.5 games out of a playoff spot in the Western Conference. But now he is out for the season, too, having suffered a torn ACL in his left knee during last Friday's loss to Detroit.
Read more articles by Ricky Dimon