This Week in Sports Betting, A-Z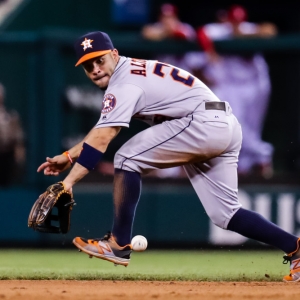 A. Astros . An eighth consecutive World Series is coming and going without the Yankees-their longest such drought since ending a streak of 13 straight misses with a title in 1996. Houston took down New York in seven games and now finds itself locked with Los Angeles at 1-1 in what has certainly been an entertaining Fall Classic. Houston (McCullers) is a -140 home favorite over Los Angeles (Darvish) on Friday, per MyBookie.ag.

B. Breeders' Cup . A field of 14 horses is currently scheduled for next weekend's Breeders' Cup Classic.

C. Coyotes . How bad are the Coyotes? Well, they have played 10 games so far this season and are sporting a grand total of zero wins. Arizona is 0-9-1, giving it a single point in the standings. No other NHL team has fewer than seven points.

D. Dwyane Wade . Wade is back to the bench, while J.R. Smith is once again Cleveland's starting two guard. In three games as a starter, Wade averaged 5.7 points per game while shooting 7-for-25 from the floor. He also had almost as many turnovers (eight) as assists (10). On the bright side for Wade, it sounds like is having more…um, success…in the bedroom with Gabrielle Union. The Cavaliers are +310 at GT Bets to win the NBA title.

E. Earl Watson . Speaking of a bad three games, Watson was fired as head coach of the Suns after they started 0-3. Phoenix gave up at least 124 points in all three contests and lost two of the three by at least 42 points. The team has promptly won two in a row under interim coach Jay Triano.

F. Federer, Roger . Federer is an awesome 46-4 this season and may be No. 1 in the world if he had not skipped the entire clay-court swing. He remains in contention to finish the year in the top spot after winning a recent title in Shanghai. The Swiss currently finds himself in the Basel quarterfinals.

G. Georgia-Florida . Head coach Jim McElwain is allegedly receiving death threats because of his team's disappointing season (the Gators are currently 3-3). According to at least one Florida player, Georgia allegedly "can't beat Florida." The Gators are talking a lot this week, but now they have to suit up and play. Georgia is a -14.5 favorite , according to Bovada Sportsbook.

H. Hayward, Gordon .The Celtics have won three consecutive games following an 0-2 start, but no amount of victories will bring Hayward back. Hayward's gruesome dislocated ankle and fractured tibia will keep him out for the entirety of his first season in Boston.

I. Irish . Welcome to the Heisman Trophy race, Josh Adams. Notre Dame's junior running back racked up 191 rushing yards and three touchdowns in last week's 49-14 blowout of USC. Adams has turned in three straight 100-yard performances and also went for 229 yards against Boston College on Sept. 16. The 6-1 Fighting Irish have won five in a row since their lone loss to Georgia. MyBookie.ag has Notre Dame at +1600 to win the National Championship.

J. Jeremy Lin . It did not look as nasty as Hayward's injury, but you could tell from Lin's reaction that it was bad. Looking at his knee and saying "I'm done" over and over again, Lin suffered a ruptured patellar tendon in a season-opening loss to Indiana. And he is, in fact, done for the 2017-18 campaign.

K. Knights . Break up the Knights! Yes, the expansion Vegas Golden Knights are a hard-to-believe 7-1 so far in their first season. They have won all three of their overtime contests, and their current four-game winning streak includes a 4-2 defeat of Chicago on Tuesday. Vegas is a -120 home favorite over Colorado on Friday, as indicated by BetOnline Sportsbook .

L. Lynch, Marshawn . So much for Lynch's return to Buffalo. The Raiders' running back will not be able to face his former team because he is suspended for one game for making contact with a ref during a Week 7 win over Kansas City.

M. Mouthpiece . Stephen Curry incurred a $50,000 fine for throwing his mouthpiece at a ref after failing to draw a foul call during last weekend's loss to Memphis. Curry said afterward that he didn't mean to hit the ref. Yeah, and those Dodgers relievers didn't mean to throw those baseballs in the direction of home plate when Houston hit home runs in the ninth, 10 th, and 11th innings of Game 2!

N. Negative-25 . This isn't fake news; this is not alternative fact: Kansas rushed for negative-25 yards last week. In a 43-0 humiliation at the hands of TCU, the Jayhawks finished with 21 yards of total offense-the worst single-game output in Big 12 history.

O. Over . The streak is over. Browns' offensive tackle Joe Thomas played an unbelievable 10,363 consecutive snaps since being selected third overall by Cleveland in the 2007 NFL Draft before he left last week's12-9 overtime loss at Tennessee with a torn triceps. Thomas will miss the remainder of the year. 5Dimes Sportsbook has the Browns as +10.5 underdogs against Minnesota on Sunday in London.

P. Playoffs . Death, taxes, and Atlanta sports teams choking in the playoffs…. When Atlanta added a new professional sports team, you knew that meant only more heartbreak for the city's fans. And that's exactly what happened. The Major League Soccer expansion franchise turned in a better-than-expected regular season, even looking like a title contender at times. It earned a home playoff game in the first round but lost to Columbus in penalty kicks on Thursday night following a 0-0 tie.
Q.Quick, Jonathan .Thanks in part to Quick, Los Angeles is not merely a title contender on the baseball diamond. It's hockey team is also the real deal. Quick leads the NHL in goals-against average (1.88) and save percentage (.944) to go along with his 6-1-1 record for the 8-1-1 Kings.


R. Rematch . The rematch of Super Bowl LI sure wasn't as good as the original. But it was almost as bad for the Falcons as the second half and overtime of the February festivities. Atlanta lost its third straight game-all to AFC East opponents-with a 23-7 setback at New England last Sunday night.The Patriots are +400 favorites atBookMaker to win the Super Bowl.

S. Shea Patterson . Shea goodbye to Patterson. Okay, that's awful. Pun aside, Patterson is gone for the rest of the season. Ole Miss' sophomore quarterback sustained a torn PCL in last Saturday's loss to LSU. He threw 17 touchdowns and was picked off nine times in seven games for the 3-4 Rebels.

T. T.Y. Hilton . You can be upset with your offensive line, but you don't go out and admit it publicly. Well, unless you're Hilton. The Colts' receiver had this to say after quarterback Jacoby Brissett was sacked a ridiculous 10 times during a 27-0 loss to Jacksonville: "We've got to take some pride up front and block for him. What if we put them back there and take those hits?"

U. Upset . Manchester United allowed only two goals in its first eight English Premier League matches this season. Not much figured to change when the Red Devils faced recently-promoted Huddersfield last weekend. Instead, Huddersfield prevailed 2-1 for its first victory over Man United in 65 years.

V. Von Miller . Denver's star linebacker admits the team is in dire straits after losing two games in a row and falling to 3-3. "We're in a really tough spot," Miller said following a 21-0 loss to the Chargers. "We're in a tough stretch. We've been there before; it's nothing new. We've just got to keep balling and get out of this funk we're in…. There's no way to cut it: you can't lose two games straight and not have issues."

W. Woods, Tiger . Tiger has been cleared for full golf activities without limitation. Yes, Tiger is back! Oh, wait, just in time for the three-month offseason…. Tiger is +6600 at Bovada Sportsbook to win the Masters next spring.

X. Xavier . There is talk of an in-state regular-season event featuring Ohio's four premier basketball programs-Xavier, Cincinnati, Dayton, and Ohio State-in upcoming seasons. It sounds like a nice idea…but also one that would fold as fast as another fracas between Xavier and Cincinnati.

Y. Young, Nick . "It is what it is." That's what Young had to say about his relationship with former teammate D'Angelo Russell, who infamously outed Young for cheating on Iggy Azalea. "We both ain't in L.A. anymore." That's for sure! Young plays for juggernaut Golden State; Russell has been relegated to Brooklyn's roster. It's safe to say Young is getting the last laugh! The Warriors are -11.5 home favorites over Washington on Friday, per GT Bets.

Z. Zlatan Ibrahimovic . The Manchester City striker is among the athletes in contention-however distant-for the 2017 Time Person of the Year. Ibrahimovic is tied with…wait for it…Daenarys Targaryen at +10000 according to BetOnline Sportsbook . If you're tied with Daenarys Targaryen at anything, you're doing something right!
Read more articles by Ricky Dimon