This Week in Sports Betting, A-Z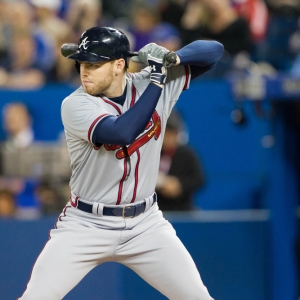 A. AT&T Byron Nelson Classic . Billy Horschel had not won since going back-to-back at the BMW Championship and the Tour Championship in 2014 to win the FexEx Cup. Jason Day had not won since lifting The Players Championship trophy in May of 2016. They dueled down the stretch last week, and it was Horschel who ended up ending his drought by beating Day in a playoff at the Byron Nelson. Day missed a 15-footer on the 18th that would have sealed the deal in regulation and then erred on a four-foot par putt on the first playoff hole.

Free $60 in Member Sports Picks No Obligation Click Here
B. Busch, Kyle
. Busch has one million reasons to not care that last week's NASCAR All-Star race didn't count in the Monster Cup standings. He picked up his first win at that event and his first win of the season in Charlotte, taking home $1 million in the process.
C. Cloud Computing
. The Preakness was a thriller that saw Cloud Computing edge Classic Empire. That's all well and good-unless you're in the business of generating big ratings for the Belmont. With no Triple Crown contender, the Belmont is about as exciting as a Week 17 game between the Browns and the 49ers.Classic Empire is a +200 favorite at
Bovada Sportsbook
to win the Belmont.
D. Djokovic, Novak
. Heading into his French Open title defense, Djokovic has not won a title since triumphing at a season-opening event in Doha. He at least managed to reach the Rome final last weekend but promptly got clobbered by Alexander Zverev. Djokovic is now hoping that new coach Andre Agassi comes to the rescue at Roland Garros.
E. Exams
. Kobe Bryant helped an Indiana high school student and the rest of his class get exempt from a final exam when he retweeted the student's tweet. Aaron Rodgers did the same for a class in Iowa. Even North Carolina student-athletes are jealous.
F. Freddie Freeman
. Few teams in the league can afford to have an MVP candidate go down for 10 weeks, and it's safe to say the Braves are not among them. Freeman suffered a fractured left wrist when he got hit with a pitch last Wednesday, and he will be out for several months. The first baseman is batting.341 this season with 14 homers and 25 RBIs.
G. Gunners
. Arsenal is out of the 2017-18 Champions League after finishing in fifth place-one spot out of the money-on the 2016-17 English Premier League table. The Gunners won their finale this past Sunday, but they needed some help from either Manchester City or Liverpool and did not get it.
H. Home runs
. Kris Bryant hit two of the
m on Sunday to reach double-digits for the season. Anthony Rizzo did the same-two to reach double-digits-on Wednesday.
5Dimes Sportsbook
has the Cubs (Butler)
as -107 home favorites
over San Francisco (Samardzija) on Thursday.
I.
Indianapolis 500
. Scott Dixon's weekend started strong when he won the pole for the Indy 500. It got even better when he made the commendable decision to celebrate with a dinner at Taco Bell. But that's where Dixon and Dario Franchitti were robbed at gunpoint. No one was injured.
BookMaker
has Dixon as a +500 to win on Sunday.
J. Judge, Aaron
. The jury is no longer out on Judge. It has already ruled that the 6-foot-7 phenom has a cheering section named after him at Yankee Stadium:Judge's Chambers.
K. Kawhi Leonard
. The Spurs were plus-23 in their series against Golden State when Leonard left (in other words, they led by 23 in Game 1). They were minus-87 the rest of the way, losing all four games-including one by 36 points. Now that's one way to measure value in the MVP discussion.The Warriors await either the Cavs or Celtics.
Cleveland is a -10 road favorite
in Game 5 on Thursday, according to BetOnline Sportsbook.
L. LaVar Ball
. Your weekly LaVar Ball update: he did an interview with
The Herd
last Wednesday and got into it with co-host Kristine Leahy. When pressed about how many of the Big Baller Brand ZO2 shoes he had sold, LaVar told her, "stay in your lane." Perhaps LaVar should heed his own advice.
M. Mark Cuban
. The Mavericks' owner says his team went into full tank mode after getting mathematically eliminated from the playoffs. Of course, it would even bigger news if a team in that situation
didn't
tank.
N. Nadal, Rafael
. The King of Clay is perfect on the surface no more in 2017. Nadal, who may have been fatigued following titles in Monte-Carlo, Barcelona, and Madrid, lost to Dominic Thiem in the Rome quarterfinals last week. He is a -150 favorite at
MyBookie.ag
to win the French Open.
O. Odor, Rougned
. The Braves sure could have used Odor for one game-or even just a few minutes-last week. Toronto's Jose Bautista put forth all kinds of antics (including his world-class bat flip) following a home run, after which the benches cleared. Bautista appeared to be interested in fighting various Atlanta players, but the memory of what Odor did to him in 2016 may have entered his mind.
P. Pittsburgh Penguins
. What a difference two days make. Last Sunday, the Penguins humiliated Ottawa 7-0 to take a 3-2 lead in the Eastern Conference Finals. The Senators returned home on Tuesday and righted the ship, forcing a Game 7 with a 2-1 victory.
Pittsburgh is a -200 home favorite
on Thursday, per Bovada Sportsbook.
Q. Quintana, Jose . In the span of seven starts, Quintana saw his ERA plunge from a disastrous 6.75 to a solid 3.92. He turned in five quality starts during that stretch. But then Wednesday happened. The White Sox lost at Arizona 8-6, with Quintana giving up eight runs in just 4.1 innings. His ERA is back up to 4.82.


R. Real Madrid . For the first time since 2012, Real Madrid has won La Liga. Cristiano Ronaldo and company clinched the title with a 2-0 road defeat of Malaga this past Sunday, thus preserving a three-point lead over rival Barcelona in the standings.

S. Sissons, Colton . The Predators' 23-year-old center entered these playoffs with just 13 career NHL goals, including eight this season. He has already lit the lamp five times this postseason, with a hat trick to his credit in the Western Conference Finals clincher on Monday. Thanks in part to Sissons' three goals, Nashville beat Anaheim 6-3 in Game 6.

T. Trout, Mike . Trout is batting .347 with 15 homers, 35 RBIs, 33 runs scored, and nine stolen bases. And Mets' manager Terry Collins said last week that he considered intentionally walking the Angels' 25-year-old center fielder with the bases loaded.Trout is -160 at BetOnline Sportsbook to win American League MVP.

U. University of Missouri . Michael Porter Sr. should already win assistant coach of the year in college basketball. Since being hired by Cuonzo Martin at Missouri, the Tigers have landed heralded recruits Michael Porter Jr. and Jontay Porter. You guessed it: they are brothers, and sons of Michael Sr. Jontay signed last week and is trying to reclassify from 2018 to 2017 so that he can play during what will surely be his brother's only college season.

V. Von Miller . The Broncos held their annual service recognition day last week, honoring approximately 200 employees. For the first time ever, a player crashed the party. Miller, who asked permission to attend, thanked the employees in a speech and then stuck around to shake hands. Well done.

W. Wild card . Maria Sharapova, who had been the co-favorite to win the entire tournament, was denied a wild card into Roland Garros by the French Tennis Federation. She didn't even get a wild card into qualifying, as FFT president Bernard Giudicelli said it was his duty to "protect the game" and thus prevent someone who had been suspended 15 months for doping from playing in the tournament. Perhaps he is simply protecting French players from potentially losing to Sharapova.

X. Xavier Rhodes . For the first time in his career, Rhodes finds himself on the list of the NFL's top 100 players. Voted on solely by NFL players, the list has Minnesota's cornerback at No. 66 heading into the 2017 season. Rhodes led the Vikings with five interceptions this past year and made his Pro Bowl debut.

Y. Yu Darvish . The Rangers have now won six in a row when Darvish starts. All six of those starts have been quality, and he has earned the win in four of those six. Darvish is 5-2 overall this season with a 2.83 ERA and 68 strikeouts in 63.2 innings. Texas (Martinez) is +165 underdog at Boston (Pomeranz) on Thursday, as indicated by MyBookie.ag.

Z. Zaza Pachulia . Most four-game sweeps are quickly forgotten. This one may not be. Pachulia, who was in some shape of form responsible for Leonard's injury, got blasted in the press room by Spurs' coach Gregg Popovich and has been bombarded with threats to his family. It has gone too far. Then again, Zaza's foot also went too far…. Golden State is -300 at GT Bets to win the NBA title.
Read more articles by Ricky Dimon