This Week in Sports Betting, A-Z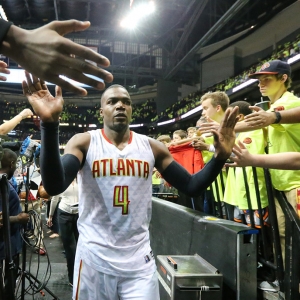 A. Atlanta Hawks . The Hawks never do anything much in the playoffs and probably won't this time around, but they at least made a ton of noise to end the regular season. Atlanta won both games of a home-and-home set with Cleveland last week-each in shocking fashion. The underdogs prevailed 114-100 on the road without Paul Millsap, Dwight Howard, Dennis Schroder, and Kent Bazemore. Two days later they erased a 26-point deficit in the fourth quarter before stunning LeBron James and company 126-125 in overtime. And with that the Celtics bagged the No. 1 seed in the Eastern Conference and added the Hawks to their Christmas card list.

Free $60 in Member Sports Picks No Obligation Click Here
B. Bryan Bickell
. Bickell played his final NHL game last weekend, five months after announcing his upcoming retirement due to being diagnosed with multiple sclerosis. The 31-year-old capped off his 10-year career with his first-ever shootout goal, helping to lead Carolina past Philadelphia 4-3.

C. Cristiano Ronaldo . If you still can't believe how bad that Ronaldo statue at Portugal's international airport is, you're not alone. Real Madrid is a -500 favorite to win La Liga, as indicated by Bovada Sportsbook.

D. Dallas Stars . Lindy Ruff is now a former head coach of the Stars as it was announced following the regular season that his expiring contract will not be renewed. Dallas won the Central Division last year but went 34-37-11 this season to finish 11th in the Western Conference.

E. Ewing, Patrick . The former Georgetown and New York Knicks star was hired as head coach at his alma mater earlier this month. Ewing led Georgetown to three Final Fours and one National Championship during his playing career before being selected No. 1 overall in the 1985 NBA draft by New York. He replaces John Thompson III.

F. FBI search . Mets' manager Terry Collins joked on Monday that there is a search out for leadoff batter Jose Reyes, who has struggled in the early stages of this season. "I've got the FBI out looking for the real Jose Reyes," Collins said. "He's being held someplace." Reyes was 1-for-27 at the time and the FBI apparently still hasn't located him, because he is 1-for-10 since Collins' comment. New York (Gsellman) is a +128 underdog at Miami (Chen) on Thursday, per BetOnline Sportsbook.

G. Garcia, Sergio . Garcia no longer has the title of best player never to win a major. The monkey is off his back after the 37-year-old Spaniard triumphed at the Masters last week. When the rest of a jam-packed leaderboard faded on Sunday, the season's first major turned into a match-play battle between Garcia and Ryder Cup teammate Justin Rose. Garcia led by three at one point on the front nine, trailed by two after 13 holes, birdied the 14 th, eagled the 15th, and eventually won with a birdie on the first playoff hole. As usual, Augusta National delivered the drama.

H. Hornets . Charlotte was officially eliminated from playoff contention when it fell to Boston 121-114 last Saturday. The Hornets ended the season on a five-game losing streak, and none of those five contests was closer than a seven-point margin. Is that bad? It's not good! The Golden State Warriors are -190 favorites at MyBookie.ag to win the NBA title.

I. Injured . Yankees' catcher Gary Sanchez, who blasted 20 homers in 53 games as a rookie in 2016, is out for four weeks because of a biceps injury. Sanchez, dealing with a Grade 1 muscle strain, is 3-for-18 with one dinger so far this season.

J. Johnson, Dustin . The world No. 1 and pre-tournament favorite withdrew from the Masters right before his scheduled tee time on Thursday after slipping on the stairs at his rental home and injury his back the day before. Somehow Paulina Gretzky must have been involved.

K. Kris Letang . The Penguins announced last week that Letang is out for the playoffs (4-6 months to be exact) because of a herniated disk in his neck. Pittsburgh's top defenseman had five goals and 29 assists in 41 games this season. The Penguins are +490 at BookMaker to win the Stanley Cup.

L. Lawson brothers . The Lawson brothers, Dedric and K.J., celebrated National Sibling Day by announcing that they are transferring from Memphis to Kansas. Well, losing in the Elite Eight is better than not making the NCAA Tournament at all!

M. Myers, Wil . San Diego's first baseman hit for the first cycle of 2017 during Monday's 5-3 win over Colorado. Myers capped it off with a dramatic triple in the top of the eighth inning.

N. Ninth inning . When a six-run lead is not enough going into the last inning…. That was the case for Seattle this past Sunday, when it blew a 9-3 advantage and lost to the Angels 10-9. "It's a really tough one," second baseman Robinson Cano assured. "Just get ready for tomorrow." "Tomorrow" proved to be better, as the Mariners blanked Houston 6-0 on Monday. But they lost the last two games of the series to the Astros, 7-5 and 10-5. 5Dimes Sportsbook has the Angels (Nolasco) as +117 home underdogs against Texas (Darvish) on Thursday.

O. O'Reilly Auto Parts 500 . Ryan Blaney arguably had the best car at last weekend's O'Reilly Auto Parts 500 in California, leading 148 of 334 laps. But some questionable pit decisions while focusing on bonus-point stages as opposed to the overall win may have cost him. Jimmie Johnson was the beneficiary as the seven-time Monster Cup champion surged to the front and stayed there to take home the checkered flag.

P. Posey, Buster . In his first home at-bat of the season on Monday, Posey took a 94 MPH fastball to the helmet from Arizona starter Taijuan Walker. The Giants' star catcher left the game and was placed on the seven-day concussion disable list.

Q. Quenneville, Joel . The Blackhawks' head coach is not shaving his mustache for the playoffs, contrary to an April Fools piece concocted by one NHL writer. In less important news, Quenneville says that center Artem Anisimov is good to go for Game 1 of the postseason after sustaining a leg injury last month. Chicago is a -170 home favorite over Nashville on Thursday, according to MyBookie.ag.


R. Romo, Tony . Romo is retiring from the NFL to become an analyst for CBS. But first he became an NBA player for a day…. Well, something like that. He took part in warmups with the Mavericks on Tuesday, spoke to the crowd, and had his own No. 9 Mavs jersey sell out before the end of the first quarter.

S. Sherman, Richard . Sherman and the Seahawks appear ready to part ways. Rumors have him and former Seattle teammate Marshawn Lynch potentially joining the Raiders as a sort of packaged deal. But the asking price for Sherman may be a first-round pick, and it remains to be seen if any suitor bites that kind of bait.

T. Triple-doubles . As the NBA season neared its end, it became clear that Russell Westbrook would break Oscar Robertson's record for triple-doubles. The only question was when and how he would do it. Question answered. Westbrook delivered 50 points, 16 rebounds, and 10 assists at Denver this past Sunday and then won the game in overtime a 36-foot three-pointer at the buzzer. The Thunder are +4000 at Bovada Sportsbook to win the Western Conference.

U. United . The doctor who got dragged off of that United flight once killed it as a poker player. He placed second at a World Series of Poker event to earn $117,000 and his player profile shows a total of $234,664 in lifetime WSOP earnings. It is far to say, however, that he did not have a poker face while getting physically removed from the plane.

V. Venus Williams . The clay-court swing is underway, but it isn't off to a good start for Venus. The 36-year-old lost her opening match in Charleston last week to someone named Laura Siegemund. BetOnline Sportsbook has Serena Williams as a +200 favorite to win the French Open

W. World Series banner . The Cubs raised it on Monday and celebrated the celebration by beating the Dodgers 3-2 on a walk-off single by Anthony Rizzo. Wednesday's ring ceremony was not as lucky, as Chicago ended up falling to L.A. 2-0.

X. Xavier Rathan-Mayes . The Florida State junior announced late last month that he is leaving for the NBA Draft. Rathan-Mayes averaged 10.6 points and 4.8 assists per game this past season, and his assist-to-turnover ratio of 2.6-to-1 was third in the ACC.

Y. Yankees . Gosh darn it, Martha Stewart! You ruined everything! New York starter Michael Pineda had a perfect game going after six innings of Monday's contest against Tampa Bay, but that's when Stewart jinxed it by taking to Twitter before the top of the seventh. "It's top of the seventh here at yankee stadium and the Yankees are pitching a perfect game versus the Tampa rays," she posted. Of course, it ended right after that, as Evan Longoria doubled off Pineda in the seventh. New York is +600 at GT Bets to win the American League East.

Z. Zetterberg, Henrik . Missing the playoffs is never the way any Detroit Red Wings' season should end. This one did, but it also ended well in a way. The last game ever at Joe Louis Arena this past Sunday was also Zetterberg's 1000 th NHL game. Not only did Detroit defeat New Jersey 4-1, but Zetterberg also contributed two points (one goal, one assists) and was named the first star of the game.
Read more articles by Ricky Dimon