This Week in Sports Betting, A-Z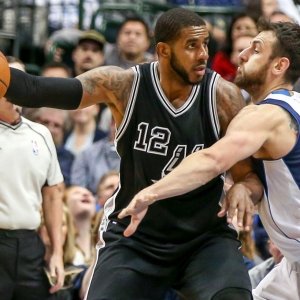 A. Aldridge, LaMarcus . The Spurs' all-star forward missed two games with a minor heart arrhythmia, but he was cleared to play on Wednesday. Aldridge contributed 19 points, seven rebounds, and four assists, but San Antonio fell at home to Portland 110-106.

B. Bulls . The Bulls actually won a basketball game on Monday. Unfortunately for them, they lost-again-on Wednesday. After dropping five in a row, Chicago prevailed at Charlotte earlier this week only to fall at home against Memphis 98-91 two days later. The Bulls are one game out of a playoff spot as part of a logjam between the sixth and 10th positions in the Eastern Conference. Memphis is a +4 underdog at Atlanta on Thursday, per BetOnline Sportsbook .

C. Champions League . Even the Warriors, Indians, and Falcons are impressed by the collapse of Paris Saint-Germain last week. PSG won the first leg of its round of 16 battle with Barcelona 4-0 only to lose the second go-around 6-1. When allowing two goals in the final seven minutes would have been okay, Les Parisiens watched Barca find the back of the net an unbelievable three times.

D. Dominican Republic . The Dominicans went 3-0 during first-round pool play at the World Baseball Classic, highlighted by a 7-5 win over the United States in which they scored four runs in the eighth inning. In their first second-round game, however, they took a 3-1 loss against Puerto Rico. MyBookie.ag has Japan and Team USA as +200 title co-favorites.

E. Ezekiel Elliott . The Cowboys' running back pulled down a woman's shirt to expose her breasts during a recent St. Patrick's Day party in Dallas. Although the woman said it was all in good fun, it probably was not the smartest of moves by Elliott-who is rarely in the business of marking the smartest moves off the field.

F. FA Cup . The semifinal draw was held earlier this week and the matchups are as follows: Chelsea vs. Tottenham Hotspur and Manchester City vs. Arsenal. Things cannot be any worse for City than they were in the Champions league, in which they blew a 5-3 lead after one leg of their fourth-round matchup with Monaco. City and Chelsea are +200 co-favorites atBookMaker to win the FA Cup.

G. Greensboro . Despite the fact that his Syracuse team lost its ACC Tournament opener in New York to Miami (FL), head coach Jim Boeheim talked plenty of smack about former host city Greensboro. He said there is "no value" to having the ACC festivities there. The NIT promptly trolled Boeheim and company by pitting them against UNC-Greensboro in the first round. Syracuse took care of business 90-77 at home on Wednesday.

H. Henrik Lundqvist . The Rangers' veteran goaltender will miss the next two to three weeks because of lower-body injury. Lundqvist, 35, recently became the first goalie in NHL history to earn at least 30 wins in 11 of his first 12 seasons.

I. Ian Desmond . The Rockies' first baseman underwent surgery on Wednesday to repair a broken bone in his left hand. There is no timetable for his return. Desmond batted .285 with 22 home runs and 86 RBIs in 2016, his only season with the Rangers.

J. Josh Jackson . "Hell no." That was the response of Kansas head coach Bill Self when asked if Jackson would miss any NCAA Tournament games due to multiple off-the-court incidents. Well, duh. The Jayhawks suspended Jackson for their first game of the Big 12 Tournament and they promptly got upset by TCU. They aren't about to risk a loss to No. 16 seed UC Davis, are they? Kansas is a +200 favorite at GT Bets to win the Midwest Region.

K. Kyle Busch . Busch did not win the Monster Cup race last week, but he did win the headlines. After getting spun out on the final lap by Joey Logano while running in the top five, Busch finished 22nd-and finished with a bloody face. All-out fisticuffs between Busch and Logano, and Logano's crew, were the big story at Las Vegas Motor Speedway. Busch is +750 at Bovada Sportsbook to win this weekend in Phoenix.

L. LaVar Ball . Daddy Ball's trash talk is doing a great job of distracting everyone from what actually matters at UCLA right now: the Bruins' blew a chance for a No. 2 seed by losing to Arizona in the Pac-12 semifinals and they are now a No. 3 seed in the NCAA Tournament's toughest region. Get your popcorn ready for a potential UCLA vs. Kentucky showdown in the Sweet 16. And also get your popcorn ready for 1-on-1 games featuring Mr. Ball vs. Jordan and Mr. Ball vs. Barkley. Granted, those are less likely to happen-probably a good thing for LaVar's sake.

M. Manziel, Johnny . Manziel put a ring on it, announcing his engagement to girlfriend Bre Tiesi last Friday. Needless to say, that's the only ring Manziel will be putting on in the near future.

N. North Carolina . North Carolina is the betting favorite to win it all. And a certain school located eight miles down the road is like, "huh?!?!"

O. Out for the season . Bad news for the Mavericks: they lost Chandler Parsons for the season earlier this week because of a knee injury. Good news for Parsons: he now gets to spend more time with actress Bella Thorne.

P. Play-in games . The NCAA Tournament officially tipped off on Tuesday, even though bracket filler-outters couldn't care less until today. Winners were Mount St. Mary's, UC Davis, Kansas State, and USC. By the way, forcing two pairs of No. 16 seeds to play each other and thus depriving two of them a chance to face a No. 1 remains the worst idea in sports. 5Dimes Sportsbook has Kansas State as a +3.5 underdog against Cincinnati on Friday.

Q. Quenenville, Joel . The Blackhawks' head coach announced earlier this week that center Artem Anisimov is out 3-4 weeks with a lower-body injury. Quenneville said Anisimov (22 goals, 23 assists) will "hopefully" return before the April 8 regular-season finale. Chicago is a -125 favorite at Ottawa on Thursday, according to MyBookie.ag.
R. Rajon Rondo . Rondo was hit with the ol' "DNP-Coach's Decision" for five straight games starting on Dec. 30 and then came off the bench thereafter. But he was back in a starting role on Monday and delivered 20 points, seven rebounds, and six assists the win over Charlotte. In another start on Wednesday he went for 17 points, six rebounds, and eight assists.

S. Serena Williams . Serena hit some tennis balls with a couple of random people at a San Francisco park earlier this month. It may have been the last hitting she does for a while. The world No. 1 recently withdrew from big tournaments in Indian Wells (ongoing) and Miami (starting next week) because of a knee injury.

T. Tim Tebow . Tim Tebow had two hits and made a diving catch in the outfield for the Mets on Wednesday. ARE YOU NOT ENTERTAINED?!?!

U. UConn women . The UConn women have a better chance of winning the National Championship than the Falcons had of winning the Super Bowl when they led New England 28-3 in the third quarter. And the tournament hasn't even started! The Huskies have won something like a million games and 100 NCAA Tournaments in a row, and there's no sign of those streaks stopping anytime soon.

V. Valspar Championship . Adam Hadwin? Who knows who that is, or more like who that was. Before this season, the 29-year-old Canadian was an unknown golfer. Now he is becoming a name. Hadwin shot a round of 59 in January and picked up his first PGA Tour victory last week by triumphing at the Valspar. See you in Augusta, Adam. Jordan Spieth is a +600 favorite at BetOnline Sportsbook to win the Masters.

W. Ware, DeMarcus . Ware says his body feels great and that a team-undisclosed which one-offered him a $9 million contract for 2017. So what does he do? Retire, naturally. The 34-year-old linebacker called it a career earlier this week. He finished with 138.5 sacks in 12 NFL seasons.

X. X . When Nick Kyrgios upset Novak Djokovic two weeks ago in Acapulco, he took to Instagram immediately thereafter and posted a joker emoji followed by an "X." Translation: "Djokovic out." They faced each other again on Wednesday in Indian Wells and the world No. 2 was similarly hopeless, suffering another straight-set loss to the 21-year-old Australian.

Y. Young, Nick . Young came off the bench for two games as the horrendous Lakers build for the future, but he was back in the starting lineup on Wednesday. It didn't matter. The Lakers got clobbered by Philadelphia and Denver with Young beginning the game on the bench and they lost to Houston by 39 points with Young starting. Yes, it's hopeless in L.A.

Z. Zak Irvin . On its way to the Big Ten Tournament last week, Michigan's plane aborted a takeoff attempt amidst high winds and skidded off the runway. But the story, of course, has a happy ending. Everyone on board was safely evacuated, the Wolverines eventually made it to Washington, D.C., and they cut down the nets following wins over Illinois, Purdue, Minnesota, and Wisconsin. Irvin scored in double-figures in all four games and shot 25-for-44 from the floor. Michigan is a -2.5 favorite over Oklahoma State on Friday, as indicated by GT Bets.
Read more articles by Ricky Dimon