This Week in Sports Betting, A-Z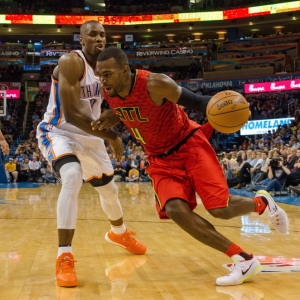 A. Atlanta Hawks . The Hawks won a game on Tuesday; like…an actual game of basketball. They had lost seven in a row before getting the best of Phoenix 95-91. Of course, the Suns were without Devin Booker-who scored 70 points against Boston last Friday. So unless this math is wrong, Atlanta would have lost by 66 points if Booker (ankle) had played. The Hawks are -1 favorites at Philadelphia on Monday, per MyBookie.ag.

B. Boeheim, Jim . Boeheim was planning on retiring as head coach at Syracuse after next season. And then he wasn't. Coach-in-waiting Mike Hopkins decided he was tired of waiting and accepted the head job at Washington. With Hopkins suddenly gone, Boeheim changed plans and signed what is believed to be an extension through the 2021-22 campaign.

C. Cleveland Cavaliers . Cleveland suddenly finds itself in second place in the Eastern Conference behind Boston. A 7-10 record in the last 17 games will do that. The Cavs have also dropped three of their last four following a 103-74 blowout loss at San Antonio on Monday. Bovada Sportsbook has Cleveland at -300 to win the East and +275 to win the NBA title.

D. Dustin Johnson . With the Masters looming next week, no one on the planet is playing better golf than Johnson. The world No. 1 has three top-three finishes in his last three starts, including two wins in a row (at Riviera and at last week's match-play championship). Johnson held off Jon Rahm to win the match-play final this past weekend by a 1-up score. BetOnline Sportsbook has Paulina Gretzky's husband as a +500 favorite to win the Masters

E. Elena Vesnina . Vesnina captured the biggest singles title of his career two weeks ago in Indian Wells. A few days later she was on the court in Miami, losing her opening match to an opponent (AjlaTomljanovic) ranked No. 594 in the world. It's a fickle game, this tennis.

F. Fired . Indiana gave Tom Crean his marching orders earlier this month after the Hoosiers lost to Georgia Tech in the first round of the NIT. Speaking of that game, Indiana was supposed to host it as the better seed but chose not to because it would "devalue" Assembly Hall (per athletic director Fred Glass). The Yellow Jackets certainly didn't mind. They-and ACC Coach of the Year Josh Pastner-now find themselves in the NIT final.

G. Gausman, Kevin . For the first time in four seasons, the Orioles have a new Opening Day starter. It will be Gausman, who went 9-12 with a 3.61 ERA in 2016. Chris Tillman, who started the last three openers, is out with a sore shoulder.

H. Haley, Micheal . The San Jose forward was suspended one game without pay for punching Nashville forward Calle Jarnkrok in last Saturday's game. He was also assessed a match penalty for the incident, which occurred midway through the third period. But just check out the video to know that Haley got his money's worth.

I. Isaiah Thomas . Thomas missed two games in mid-March with a knee bruise, but it is safe to say he has picked up where he left off. The NBA's third-leading scorer (29.1 ppg) has scored 25, 25, 34, and 30 points in four outings since-all Boston wins. The Celtics are -8 home favorites at 5Dimes Sportsbook to beat Milwaukee on Wednesday.

J. Jason Pierre-Paul . Pierre-Paul signed a four-year extension with the Giants earlier this month. It is worth up to $62 million, and $40 million is guaranteed. The contract probably says that he gets the other $22 million if he goes four full years without blowing off any of his fingers with fireworks.

K. Kyle Larson . Apparently Larson got tired of finishing in second place (and why wouldn't he? Because if you're not first, you're last-right?). After three straight runner-up performances, Larson took home the checkered flag from California last weekend.

L. Las Vegas . The Las Vegas Raiders. Get used to it, folks. That's right-the Raiders officially announced their move from Oakland to Sin City earlier this week, effective for the 2019-20 season. League owners voted 31-1 in favor, with Dolphins' boss Stephen Ross being the only dissenter.

M. Minnesota Wild . The Wild were once 23-8-4 after winning 12 games in a row. They are playing as bad now as they were good in December. Minnesota has lost four straight, nine of its last 10, and 11 of its last 13. Nine of those 11 recent setbacks have come in regulation. The Wild are +700 to win the Stanley Cup , according to Bovada Sportsbook.

N. North Carolina . UNC was the betting favorite when the Big Dance began, and nothing has changed after 64 total March Madness games. The Tar Heels survived a 75-73 thriller against Kentucky last Sunday to give the Final Four two No. 1 seeds along with Gonzaga. They are even money favorites at MyBookie.ag to win it all.

O. Oregon . So much for Oregon being a football school. Even without shot-blocking center Chris Boucher (ACL), the Ducks are off to Phoenix following wins over Iona, Rhode Island, Michigan, and Kansas. After beating URI and UM by a combined four points, Oregon clobbered KU 74-60 last Saturday night in the East Region final. GT Bets has the Ducks as +5 underdogs against North Carolina.

P. Peterson, Adrian . When the Vikings signed Latavius Murray earlier this month, general manager Rick Spielman confirmed that Peterson would move on elsewhere. It's the end of an era in Minnesota.

Q. Quadriceps injury . Jazz forward Gordon Hayward missed Monday's 108-100 win over the Pelicans with a quad problem. Hayward is averaging 21.5 points and 5.5 rebounds per game for a surprisingly good Utah squad.
R. Roger Federer . John Isner recently asked on Twitter if Federer is from planet Earth? All of us should probably be wondering the same thing. At 35, Federer has won the Australian Open and the Indian Wells Masters this year, and he is currently in the Miami quarterfinals.

S. Sign . Will he or won't he? Arsenal manager Arsene Wenger reportedly has an extension on the table, but fans of the Gunners don't necessarily want him back with the club at 15-7-5 and in sixth place in the English Premier League standings.

T. Thirty-nine . That's how many points Virginia scored against Florida in the second round of the NCAA Tournament. No, not in the first half-in the entire game. Unfortunately for the Gators, they gave up almost exactly double that (77) and lost to South Carolina in the Elite Eight.

U. USA . The United States won its first World Baseball Classic title in the fourth installment of the event. Team USA avenged a round-robin loss to Puerto Rico by dominating last week's final 8-0. Marcus Stroman of the Blue Jays, who started the championship game, was named WBC MVP. Toronto is +1060 at BookMaker to win the American League Pennant.

V. Vanderbilt . Although it probably did not or will not impact the National Championship, Vanderbilt's Matthew Fisher-Davis committed-at least to this point-the biggest blunder of the NCAA Tournament. A foul with 14.6 seconds left when your team is up by one? Sure, Northwestern needed all the help it could get in its first-ever Big Dance appearance…but c'mon, man!

W. Wade, Dwyane . The Bulls' guard is out for the regular season because of a small fracture in his right elbow. There is a chance Wade could return if Chicago advances to the playoffs. And with his team at 35-39, head coach Fred Hoiberg is like, "playoffs?!?!"

X. Xavier . The Musketeers were one of the talks of the tournament for a while, with a double-digit win over Maryland, a 25-point blowout of Florida State, and a 73-71 victory at Arizona's expense. But it all came crashing down in the form of an 83-59 loss to Gonzaga. At least Bill Murray has the Cubs' World Series triumph still fresh in his mind. Gonzaga is a -6.5 favorite over South Carolina, as indicated by BetOnline Sportsbook.

Y. Yadier Molina . It was not an ideal ending of the World Baseball Classic for Molina. Not only did Puerto Rico get blown out by Team USA in the final, but he also got into a war of words with Baltimore outfielder Adam Jones. Jones said that the Puerto Ricans were already planning a victory celebration before the championship game even happened, to which Molina did not take kindly and demanded an apology.

Z. Zero . That's how many games Lionel Messi will play during a current four-match stretch for Argentina. Messi was hit with a ban for berating an official during his country's 1-0 win over Chile last week. He missed Tuesday's World Cup qualifying match against Bolivia, which the Argentines lost 2-0.
Read more articles by Ricky Dimon