This Week in Sports Betting, A-Z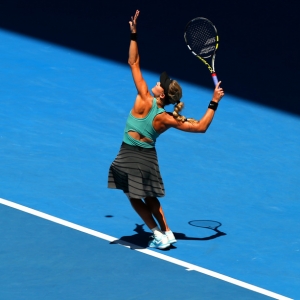 A. Ankiel, Rick . Ankiel recently admitted that he drank vodka to calm nerves in advance of his season-opening start in 2001 following a 2000 playoff meltdown. He's probably gonna have to come with something better than that if he's trying to pitch his upcoming book to potential buyers.

B. Bet . Genie Bouchard paid off a Super Bowl bet with a Twitter follower by going on date with him to the Nets vs. Bucks game last Wednesday. Of course, it was probably just a publicity stunt to shed light on what's really important: have you seen her in the Sports Illustrated Swimsuit issue?!?!

C. Claude Julien . Julien wasn't unemployed long-exactly one week, in fact. Shortly after being fired by the Bruins, Montreal hired the 56-year-old last Tuesday. The Canadiens are -160 home favorites over the Islanders on Thursday, as indicated by Bovada Sportsbook.

D. Dunk contest . Can we just pretend that didn't happen? We should, but we won't. Last weekend's Slam Dunk Contest was an absolute dud, especially compared to the show put on by Zach LaVine and Aaron Gordon in 2016. Gordon fizzled this time around and LaVine didn't participate. All four of the contestants were somewhere between mediocre, bad, and awful, so mediocre was enough for Glenn Robinson III to backdoor his way to the title.

E. Elliott, Chase . The son of NASCAR Hall of Famer Bill Elliott will be on the pole for the Daytona 500 this Sunday. Dale Earnhardt Jr. will try to chase Chase down from the No. 2 starting spot. Earnhardt Jr. and Brad Keselowski are +600 co-favorites at BetOnline Sportsbook to win.

F. Foul . In last Thursday's Bulls-Celtics game, Boston's Marcus Smart was called for a shooting foul against Jimmy Butler as time expired with the Celts ahead 103-102. Smart barely-if at all-nicked Butler's elbow. Chicago's star guard promptly sank both free-throws for a 104-103 victory. Even tic tacks are less ticky-tack than that call.

G. Gordon, Eric . Most people figured that a Gordon would win one of last Saturday night's premier festivities at all-star weekend. They just didn't think it would be Eric. But the Houston guard came through in the clutch to win the Three-Point Contest over Kyrie Irving in the final.

H. Harrison, Ryan . Nine seasons after winning his first ATP Tour match as a 15-year-old, Harrison finally won a title. The American triumphed at last week's Memphis Open without even losing a single set in five matches. It's not a big tournament, but by U.S. men standards it might as well be a Grand Slam.

I. Irving, Kyrie . Irving announced last week that he thinks the world is flat. Stay in school, kids. Cleveland is a -10 home favorite over New York on Thursday, per MyBookie.ag.

J. Johnson, Dustin . There's a new No.1 in the world in golf, and it's Johnson. The reigning U.S. Open champion overtook Jason Day for the top spot by triumphing at last week's Genesis Open. Johnson fired rounds of 66, 66, and 64 before a coasting to a 71 on Sunday, good for a five-stroke victory. He may also be No. 1 among golfers in the WAG department, too, since he's married to Paulina Gretzky. GT Bets has Johnson at +950 to win the Masters; Jordan Spieth is a +800 favorite.

K. Kristaps Porzingis . Like, what's even the point of the Skills Challenge? Of course, everyone might be asking what is the point of the entire all-star weekend, since no event was entertaining this year. But back to the Skills Challenge. Whoever makes the first pass through the target and then makes his first three-pointer is always going to win. It hardly has anything to do with skills. Whatever the case, Porzingis won the thing.

L. Lincoln City . The 133-year-old club was playing in the FA Cup round of 16 for the first time in 130 years. Now it's in the quarterfinals for the first time ever, marking the first time since 1914 that any non-league team has advanced this far. Lincoln City upset Burnley of the English Premier League 1-0 last Saturday with a goal in the 89th minute.

M. Mitch Kupchak . After 30-plus seasons in the Lakers' front office, Kupchak is out as general manager. Magic Johnson is in as president of basketball operations. Los Angeles made that move on Tuesday with the team currently 19-39 and on course for a fourth straight miss of the playoffs.

N. N.C. State . Mark Gottfried is coaching the Wolfpack for the rest of this season, but not beyond that-not unless his team goes on some kind of Jim Valvano-esque postseason run, anyway. Gottfried was fired last week but will remain on board for the remainder of the 2016-17 campaign. N.C. State is currently 15-14 overall and a horrendous 4-12 in the ACC.

O. Orioles . Baltimore's signing of Welington Castillo earlier this offseason effectively cut ties with catcher Matt Wieters. Wieters moved on when he signed a two-year, $21 deal with the Nationals on Tuesday. Washington is +1000 at Bovada Sportsbook to win the World Series.

P. Pastner, Josh . Georgia Tech took a relatively bad home loss to Gottfried's Wolfpack on Tuesday, but that still doesn't change the fact that the Yellow Jackets have soared past expectations-extremely low ones, it must be said-in Pastner's first season at the helm. They are 7-8 in the ACC and could not have been expected to win more than a few conference games.

Q. Quick, Jonathan . Quick cannot come back quickly enough for the Kings, who are in fifth place in the Pacific Division and tied for ninth in the Western Conference. The veteran goalie suffered a groin injury in the first game of the season but is finally expected to return in early March.
R. Revis, Darrelle . Revis surrendered to Pittsburgh police last Friday after an altercation the previous weekend that apparently left two men unconscious. The Jets' cornerback faces counts of aggravated assault, robbery, conspiracy to commit aggravated assault, and terroristic threats. It doesn't take a genius to figure out that that ain't good.

S. Seventy-three . That's how many points Jimmer Fredette scored in a game this past Sunday. Of course, he needed two overtimes and an opponent called the Zhejiang Guangsha Lions in order to do it.

T. Trade . Former Kings' center DeMarcus Cousins was traded to New Orleans immediately following the All-Star Game in exchange for Buddy Hield, Tyreke Evans, Langston Galloway, a first-round in the 2017 NBA Draft, a second-round pick in the 2017 NBA Draft, laundry detergent, two No. 2 pencils, a pack of kitchen garbage bags, and some garbage to fill said kitchen garbage bags. Sacramento general manager Vlade Divac must be trippin'!

U. UCLA . Apparently LaVar Ball is tired of being overshadowed by his three basketball-playing sons. The father made recent headlines of his own when he said that oldest son Lonzo, UCLA's freshman phenom, would one day be better than two-time NBA MVP Stephen Curry. He even doubled down on that comment when asked about it during last Saturday's game between the Bruins and USC. "I have the utmost confidence in what my boy is doing," LaVar said. "He's better than Steph Curry to me. Put Steph Curry on UCLA's team right now and put my boy on Golden State and watch what happens." Welp. UCLA is a -11.5 favorite at Arizona State on Thursday, according to BetOnline Sportsbook.

V. Vermette, Antoine . Vermette went all Orlando Brown on a referee during the Ducks' 1-0 win over Minnesota last week. The center slashed the back of Shandor Alphonso legs with his stick after what he thought was an unfair faceoff (Vermette felt that Alphonso dropped the puck before he was ready). The NHL suspended Vermette 10 games, but the ban was reduced to five following an appeal.

W. Warriors plus one . All-Star Game announcers Marv Albert, Reggie Miller, and Chris Webber spent much of last Sunday night discussing the inevitable four Warriors plus one other player lineup that would be utilized by Western Conference coach Steve Kerr. When it finally happened, not a single one of them noticed-at least not for several minutes. Davis was the first to enjoy the plus-one distinction, and Russell Westbrook obviously never got that call. 5Dimes Sportsbook has Golden State as a -12.5 home favorite over the Clippers on Thursday.

X. Xavier . Is there a streakier college basketball team than Xavier this season? The Musketeers have one win that wasn't part of a winning streak and one loss that wasn't part of losing streak. They have winning streaks of seven, six, and four games to go along with losing streaks of two, three, and four games. The season-long four-game skid is current, as Xavier saw its woes extended with a 71-64 setback at Seton Hall on Wednesday. Gonzaga is a +650 favorite at BookMaker to win the National Championship.

Y. Young, Trae . Oklahoma has been an unmitigated disaster on the hardwood this season. The Sooners are 9-18 overall, 3-12 in the Big 12, and have lost leading scorer Jordan Woodard for the duration due to a torn ACL. But there is some good news on the way. Young, a five-star recruit from Norman, Okla., announced last Thursday that he will stay at home instead of going to play for either Kansas or Oklahoma State.

Z. Zlatan, Ibrahimovic . Ibrahimovic notched a hat-trick with three goals in Manchester United's 3-0 Europa League win over St. Etienne last week. As good as that is, his former club may not be missing him too much these days. Paris Saint-Germain had no trouble blasting Barcelona 4-0 in the first leg of their fourth-round Champions League showdown. PSG is +500 at MyBookie.ag to win the Champions League title; Bayern Munich is a +220 favorite.
Read more articles by Ricky Dimon