Case of the Mondays: Rare Losing Streaks for Purdue and Kentucky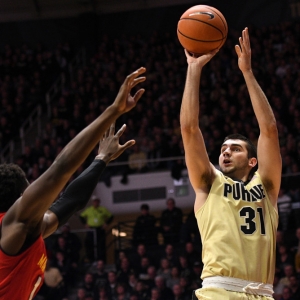 Purdue had been 23-2. Then last week happened. Kentucky had never lost three games in a row under head coach John Calipari. Then last week happened. It was a rough week on the college hardwood for a whole host of well-respected programs, as Villanova, Virginia, and Duke also went down. As for the NBA, last Thursday's trade deadline caused chaos.

Odds provided by MyBookie.ag unless otherwise indicated.

Purdue . Purdue lost twice in its first 25 games of the season. It has now lost twice in its last two. Of course, the schedule did not help. The Boilermakers faced fellow Big Ten powers Ohio State and Michigan State, squandering a 14-point second-half lead and falling at home to the Buckeyes 64-63 this past Thursday before dropping a 68-65 decision on the road against the Spartans three days later. Purdue is +800 to win the NCAA Tournament.

Kentucky . Billy Gillispie was the head coach the last time Kentucky lost three games in a row. Yes, it's easy to forget, but Billy Gillispie was once the head coach at Kentucky. The Wildcats, who are in the midst of a three-game skid, have not dropped this many in succession since Feb. 25 through March 7 of 2009 when Gillispie was at the helm for a four-game losing streak. Calipari's 'Cats were already coming off a setback at Missouri and this past week saw them fall to Tennessee (61-59 at home) and Texas A&M (85-74 on the road). Kentucky is +4000 to win the NCAA Tournament.

Isaiah Thomas . "I felt like I got my powers back playing on this team," Thomas commented following his debut with the Lakers this past Saturday. The 5'9'' point guard scored 22 points on 7-for-12 shooting and dished out six assists. But that's just about where the good news ends for Thomas, who said prior to last week's deadline that he was "tired of being traded." Well, he got traded again; this time from Cleveland-which acquired him in exchange for Kyrie Irving in August of 2017-to the Lakers. In other words, the 29-year-old went from one of the favorites in the Eastern Conference to a team that is six games out of a playoff spot in the West. And despite Thomas' efforts on Saturday, Los Angeles could not even beat Dallas-losing 130-123 to the fourth-worst team in the NBA. The Cavaliers, meanwhile, are +750 to win the NBA title.

Chicago Blackhawks . The Blackhawks are in danger of missing the playoffs for the first time since 2007-08. They are currently enduring the NHL's longest losing streak (five games), which has left them in 12th place in the Western Conference and 10 points out of postseason position. "Well, it's surely getting smaller-we know that," captain Jonathan Toews said his team's window to make the playoffs following a 3-0 setback against Minnesota this past Saturday. "We're well aware of the situation. As we said all along, we got to focus on your job and that's what we're going to keep doing." Chicago is a -130 favorite at Arizona on Monday.

International Olympic Committee . High winds in Pyeongchang have been wreaking havoc on skiing and snowboarding events in the early stages of the Winter Olympics. Slopestyle went on as scheduled, albeit with some delays, but crashes were the norm. Australian snowboarder Tess Coady wiped out during a training run and suffered a torn ACL-obviously ending her 2018 Olympics. The women's giant slalom and men's downhill were postponed from last weekend to this Thursday. "It's a bummer that we're not able to race today," Team USA skiing superstar Mikaela Shiffrin said on Sunday. "But with the training block I've had, I'm prepared and feeling good. I'll use this time to continue to train and refocus on Wednesday's slalom race. We have a great gym and space to eat and take plenty of naps, so I'll use this time to recharge." Shiffrin is a +115 favorite to win gold in the giant slalom.

Dustin Johnson . It was another final-round disappointment for Johnson, which has been an all-too-common theme throughout his career. Johnson did not exactly collapse at the AT&T Pebble Beach Pro-Am, but he never made any kind of a move when even a modest 3-under 69 would have been enough to tie for first and force a playoff. The world No. 1, who was tied atop the leaderboard with Ted Potter Jr. through three rounds, carded an even-par 72 and finished tied for second at 14-under with Phil Mickelson, Jason Day, and Chez Reavie. Now that would have been quite a playoff if Potter Jr. had not run away with the tournament, three strokes clear of everyone else. Johnson is +150 to win a major in 2018.

Arsenal . Everyone other than Manchester City can kiss their 2017-18 English Premier League title hopes goodbye. The goal for the rest of the field is to secure a top-four position and earn a spot in the 2018-19 Champions League. That is easier said than done for Arsenal, which lost to Tottenham 1-0 this past Saturday and is mired in sixth place on the Premier League table. A win would have moved the Gunners to within one point of Tottenham for fifth place in the standings and within two points of fourth place. Instead, they are now six points behind fourth-place Liverpool and seven points south of the third-place Spurs. "The game should have been finished (in our favor) at halftime," manager Arsene Wenger said. "We missed opportunities on the counterattacks that are not missable at our level…. In the final part of the game we should have come back to 1-1. We had opportunities-dangerous situations that we didn't transform into opportunities. That's where my regret was." Man City is also a +200 favorite to win the FA Cup and a +300 favorite to win the Champions League.
Read more articles by Ricky Dimon