Case of the Mondays: Germany's Title Defense Begins with Loss to Mexico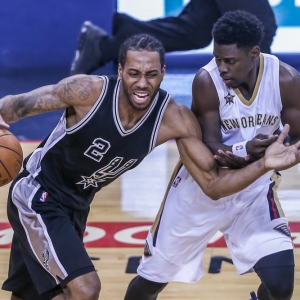 The 2018 World Cup is underway. Germany apparently did not get the memo. The defending champions lost their opener to Mexico this past weekend, but of course there is still time for them to turn things around and advance out of the group stage. But there won't be another chance until 12 months from now for Phil Mickelson to make amends for his latest U.S. Open failure.

All odds provided by Bovada Sportsbook .

Germany . The Germans are not exactly on thin ice in Russia, but they better beat both Sweden and South Korea if they want to take any guesswork out of the equation and secure safe passage into the round of 16. Germany is in an early hole after losing to Mexico 1-0 on Sunday, when the underdogs found the back of the net in the in the 35th minute and had plenty of late chances to increase their lead. It turned out that an insurance goal was not necessary, because the 2014 World Cup champs could not manage an equalizer. Germany is now a +750 fourth choice to win the World Cup; Brazil, which drew with Switzerland in its opener, is a +400 favorite.

Phil Mickelson . The U.S. Open remains the only major Mickelson has not won in his otherwise illustrious career. With his most recent opportunity unofficially gone, the 48-year-old hit a putt on the 13th hole during third-round action when the ball from his previous putt was still rolling down-and soon to be off-the green. "If somebody is offended by that, I apologize to them," Mickelson said. "But toughen up, because this is not meant that way. I just wanted to get on to the next hole and I didn't see that happening at the time. I'd gladly take my two strokes and move on…. At that time, I just didn't feel like going back and forth and hitting the same shot over. I took the two-shot penalty and moved on. It's my understanding of the rules." Of course, that explanation is bogus because it surely would not have taken Mickelson three shots (one plus a two-stroke penalty) to get back to where his offending shot finished (about four feet from the hole). Whatever the case, the left-hander made a 10 on the hole, carded a Saturday 81, and eventually finished T48 at 16-over. Mickelson and back-to-back U.S. Open champion Brooks Koepka are both +2500 to win the British Open; Jordan Spieth, Dustin Johnson, and Rory McIlroy are +1200 co-favorites.

San Antonio Spurs . San Antonio is the only team that can offer Kawhi Leonard a five-year, $219 million contract next summer. Unfortunately for the Spurs, Leonard may not be around at that point to listen to such an offer. The 26-year-old reportedly wants out now, as reports surfaced last Friday indicating that Leonard has asked to be traded this offseason. His preferred destination is Los Angeles (specifically the Lakers), but that legendary franchise may not have the necessary assets. The Lakers are -140 favorites to have Leonard on their roster for the start of the 2018-19 season, and they are +600 to win the NBA title.

Evan Longoria . The Giants' third baseman got hit in the hand by a pitch last Thursday and has opted for surgery that will sideline him from six to eight weeks. He was tied for the team lead with 34 RBIs and was second in home runs (10) at the time of the injury. "Hopefully soon after the all-star break, I should be back," Longoria noted. "It shouldn't be too long before I can start the process of strengthening it…. It's best to say six to eight weeks, but I have a hard time telling myself that. I'll definitely push for some time soon after the all-star break." San Francisco is +650 to win the National League West.

Baltimore Orioles . This is not a misprint: the Orioles are already 27.5 games out of first place in the American League East. They were actually 28.5 games behind New York before halting a halting a nine-game losing streak with a 10-4 victory over Miami on Sunday. Baltimore is the worst team in Major League Baseball at 20-50 and it would not even be close if not for the woeful Royals (22-49). The Orioles are dead last in baseball in runs scored, batting average, slugging percentage, WHIP, and batting average allowed. They are a laughable +90000 to win the AL East; the Yankees are -220 division favorites and +400 World Series favorites.

New England Patriots . The 2018 season ended poorly for the Patriots, and this offseason is not exactly curing any ills. Rob Gronkowski trade rumors are swirling, Julian Edelman is facing a four-game suspension for violating the league's performance-enhancing drug policy, and now Tom Brady is talking about retirement. No, the 40-year-old's departure from the NFL is not imminent; but he was more candid than usual in a recent interview with Oprah. "I think about [retirement] more now than I used to, Brady admitted. "I think I'm seeing that there's definitely an end coming, sooner rather than later." New England is a +650 favorite to win the Super Bowl.

Johnny Manziel . Manziel did not see the field in the Hamilton Tiger-Cats' 2018 Canadian Football League regular-season opener this past Saturday night and his team lost to the Calgary Stampeders 28-14. The fact that Manziel did not play is unsurprising, as Jeremiah Masoli had been penciled in as the starter by head coach June Jones. There is no reason to think anything will change in the near future because Masoli-despite the loss-was effective, going 25-of-36 for 344 yards with two total touchdowns (one passing, one rushing). Hamilton is +600 to win the Grey Cup.




Read more articles by Ricky Dimon