Case of the Mondays: Losing Streak Continues for Young and Oklahoma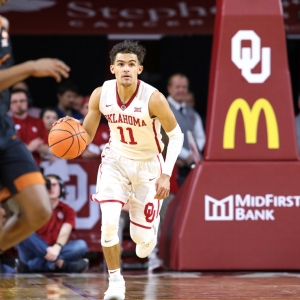 Trae Young was the toast of the college basketball town in the early stages of this 2017-18 campaign, but things have gone south in a hurry. Oklahoma has lost five games in a row and it is 2-8 in its last 10 outings. At times, Young has been unable to throw the ball in the ocean. Now the Sooners need to throw some wins together in order to avoid the dreaded NCAA Tournament bubble. Speaking of losing streaks, the Celtics are hoping that the all-star break will halt their downward trend.

Odds provided by BetOnline Sportsbook unless otherwise indicated.

Trae Young . Oklahoma has been so bad of late that it needs to start winning again if it simply wants to take part in the NCAA Tournament. Consecutive losses to Texas, West Virginia, Iowa State, Texas Tech, and Texas have the Sooners at 16-10 overall and 6-8 in the Big 12. Young has shot worse than 36 percent in five of the last seven games, and he has committed at least five turnovers in 13 of the last 15 outings. It's clear the star freshman is getting frustrated. "I'm getting guarded like nobody else in the country is being guarded; scouted on like no one else in the country is," Young said following last weekend's 77-76 home loss to Texas. "It's a mystery coming out each and every game to try and figure out how a team is going to guard me and how I'm going to dictate how my team wins…. It's a lot tougher for me to score now than it was in the beginning. It's a process. Right now, it's tough." And it won't get any easier, because the Sooners are playing at Kansas on Monday night. Oklahoma is a +8.5 underdog .

Boston Celtics . If the NBA season ended today, Boston and Cleveland would be on a collision course for the Eastern Conference semifinals instead of the finals. That's because Toronto has overtaken the top spot thanks to a seven-game winning streak combined with the Celtics' three-game skid. Aside from Boston, every other team in the top five of the East standings went into the all-star break on at least a two-game winning streak. But the Celtics are going in the opposite direction following setbacks against the Pacers, Cavaliers, and Clippers. The "over/under" on Boston's regular-season win total is currently 54.5.

Montreal Canadiens . Now that the Blackhawks have actually won a hockey game this month (a 7-1 destruction of Washington on Saturday), the NHL's longest current losing streak belongs to Montreal. The Canadiens have dropped five straight, have taken only one point during this stretch, have allowed at least five goals in three of the five setbacks, and have not found the win column since Feb. 4. Now in second-to-last place in the Eastern Conference, Montreal got blown out 6-3 by upstart Vegas two days ago. The expansion Golden Knights are +700 to win the Stanley Cup.

Lindsey Vonn . Vonn is 0-for-1 so far at the Pyeongchang Winter Olympics. Her first event came this past Saturday, when she had a strong run going in the Super-G but flew way off course on a late turn and finished off the podium in a tie for sixth. The 33-year-old American has since been a target of significant criticism on social media, but she will have a chance to make amends when the downhill competition takes place on Wednesday. Vonn is a -170 favorite to win gold (Bovada Sportsbook).

Tiger Woods . If Tiger is still in the business of calling any tournament he finishes uninjured a success, then this past week at Riviera was a success. But if he is past those kinds of moral victories, then he took a step back from what he displayed at Torrey Pines earlier this month. Tiger missed the Riviera cut by four strokes, carding rounds of 1-over and 5-over. That's the bad news. The good news is that Tiger is playing in back-to-back weeks because he is not satisfied with his game, so he will turn up again on Thursday at the Honda Classic outside of Miami, Fla. "The game speed is ramped up just a little bit,'' Tiger said last Friday. "Just got to be able to fix that. One of my hallmarks of my whole career is I've always hit the ball pin high with my iron shots, and I have not done that. My wedge game is fine, but my normal iron shots that I've always dialed in for much of my entire career, it's just not there…. I need some tournament rounds." He is +2000 to win the Masters ( Bovada Sportsbook ).

Rafael Nadal . For the first time since last August, Nadal is down at No. 2 in the ATP rankings. Roger Federer surpassed him on Sunday night, winning a 500-point event in Rotterdam when all the Swiss needed to do was reach the semifinals. While Federer is racking up more hardware, Nadal is sidelined by a hip injury that he sustained at the Australian Open-but the Spaniard is expected to return later this month. As for Federer, he is back in the top spot for the first time since November of 2012. He now has the record as the oldest player to ever be ranked No. 1 on the ATP Tour, surpassing then-33 Andre Agassi by a whopping three years. Nadal is a -125 favorite to win the French Open this spring.

Aric Almirola . In one of the most controversial finishes in Daytona 500 history, Almirola had the lead on the final lap. Nearing victory on the backstretch (turn three of four), he tried to block Austin Dillon but Dillon's car tapped Almirola's bumper and spun the No. 10 car out. The No. 3 took over the top spot and cruised the last 10 seconds or so to the checkered flag. "My heart is broken," Almirola admitted. "I thought I was going to win the Daytona 500."
Want free sports betting picks? Doc's Sports has you covered - get $60 worth of picks free from any of Doc's Sports expert handicappers. Get $60 worth of premium members' picks free .
Read more articles by Ricky Dimon