Expert World Cup Betting Picks: Quarterfinals Best Bets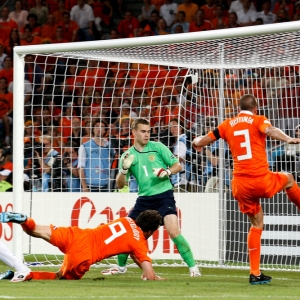 Let's get this out of the way up front - while the Round of 16 was a classic in terms of play on the field, it was far less classic for me from a betting perspective. It was a case of close but not close enough in most cases - and then I picked Spain, which didn't go well at all. Really, that has been the case for this entire World Cup - I've been mostly pointing in the right directions, but just not right enough to make a profit. But that changes now. We are going to destroy this quarterfinal round. It's fate. Or something. And we are going to be fearless about it and make a pick in each of the four games. Go big or go home. ( All odds are from Bovada ):
July 6, Uruguay vs. France draw (+220): There obviously aren't draws in this round, but we are betting that this game will go into extra time like three of the eight games in the Round of 16 did. Uruguay is a team I have been high on for the last three World Cups, and they are really playing well this time around. Their win over Portugal was no fluke, and they are playing with a confidence and maturity that is well above what they have had in the past. They are a strong and dangerous team. France is a good team as well, and they are clearly dangerously explosive - they scored three goals in 11 minutes against Argentina. They came in with somewhat higher expectations than Uruguay, and have mostly lived up to them. This should be a very good game, and it doesn't take a massively overactive imagination to envision either of the teams coming out on top. When the game is reasonably close the draw seems like a nice play at the right price - and this is such a spot. This is a worthy gamble.
July 6, Belgium (+270) vs. Brazil: Brazil is the last of the major favorites coming into the tournament that is still standing. Belgium was a popular pick to win it all, too - not as an elite, but right near the top of the second tier of teams. This is a really great matchup - the most compelling of this round. Brazil is the better team, but they feel like they are a touch below their very best in this tournament. They feel a little vulnerable, in the sense that a loss at any point in this tournament wouldn't feel like a shock. Would anything feel like a shock this year, really? Belgium got a serious scare against Japan, and it really looked like they were going to lose it, but they dug deep when it mattered and came through. I want to believe that that scare will be a wake up call for them. They had not faltered at all before that point, and they certainly have the talent not to be outmatched here. Brazil is a deserving favorite, but this price seems out of whack as the public jumps on Brazil, so there is value in gambling on Belgium here. This will be a fun rooting interest to have in a classic game.
July 7, England (-115) vs. Sweden: England had a serious scare in the Round of 16, but they found a way to win it, which they never do. This is not a truly elite team, but they feel better than they have been in several editions of the tournament, and surely they are due for something to go right for them. Sweden has won three of four games, but they have not really done anything to excite or compel me watching them here. I just don't think that they are deep enough or talented enough here to be a real threat. England is better and more talented, and the price here is fair. This is worth a shot.
July 7, Croatia (+125) vs. Russia: Russia keeps winning when I don't expect them to. But they just aren't that good, and they keep overperforming. They have burned me twice already when they have won after I picked against them, but I don't learn quickly, so I am going against them again. Croatia should have beaten Denmark more handily than they should have in the Round of 16 - it took one of the craziest sets of penalty kicks you will ever see to get the win. They are a very talented team, though, and like Belgium I expect that performance to be a wakeup call for them. Croatia is deeper and more talented in every phase of them game, and I have no issues with taking them at this price. It is more than fair.
The World Cup is the biggest betting event worldwide, and Doc's Sports expert handicappers have been handicapping the matchups for months. They will have winning picks all throughout the tournament, and you can get $60 worth of premium members' picks free .
Read more articles by Trevor Whenham