Free World Cup Betting Picks for This Week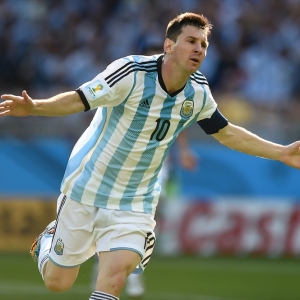 The first week of World Cup action was exciting and often surprising on the pitch. And from a betting perspective it was okay but not great on this front. We picked six games that were interesting bets last week, and two of the six came through. We took flyers on some longer shots, so the result is only a small hole - and now it's time to dig out of it in the second week of action. We have seen more and know where teams are at, so we should be in better shape this time around. Between now and the end of action on Monday there are six games that stand out as playable. ( Odds are from Bovada ):
June 21 - Argentina (+110) vs. Croatia: Argentina should be playing very angry here, and I am willing to bet that they will use that as positive fuel. They had no business drawing against the underdogs from Iceland, but a combination of getting cocky and having a couple of bad breaks was their undoing. They will be better here because they have to be, and they have an edge in talent here. Croatia is talented and will be tough, but Argentina should use their will to win.
June 23 - Mexico (-155) vs. South Korea: Mexico is coming off the biggest win in decades for their program, and they need to keep their foot on the gas to maintain their edge in the group. South Korea is totally outclassed here, so they won't have a chance if Mexico is at full throttle or close to it. The Mexicans could be set up for a letdown game, but I trust their skill, and believe they know how significant what they did was. They don't want to waste that.
June 23 - Germany (-240) vs. Sweden: Like Argentina, but even more so, Germany should be playing very angry here. They were caught flat-footed, and they lost a devastating game. The press in Germany surely isn't happy, and the fans weren't very content in the arena, either. It doesn't have to be a big deal, though - they can still advance happily by winning their last two games. Sweden is solid, but Germany would be solidly favored no matter what, and an angry and embarrassed Germany should be able to roll all over them. The return won't be big here, but it is considerably bigger than the risk.
June 24 - Poland and Colombia draw (+240): Both of these teams had frustrating losses to teams they absolutely should have beaten. They should both be angry and focused. They are well-matched teams, anyway - both have plenty of talent and real strengths that match up well to the opponent. This was a game I had circled before the tournament, but now that the stakes have been ratcheted up it is can't-miss TV. I have no idea who is going to win, so the draw at this price seems like a sound play.
June 25 - Uruguay (+165) vs. Russia: Russia has been a bit of a surprise, absolutely demolishing two opponents so far. They have already advanced, though, and now they are playing a much more difficult opponent. The Russians could be believing that they are the team that the scores suggest - which they aren't. Uruguay has advanced, too, but they will be hungry to win the group and to knock the Russians down a peg or two. This will be humbling for the hosts.
June 25 - Portugal (-160) vs. Iran: Iran really isn't very good. Portugal is very good, led by an offensive savant clearly at the top of his game. It's a total mismatch, and the favorites need to win to have a shot at winning the group. Motivation won't be an issue, and this one could get ugly. Just grabbing some relatively easy money here. The second week of action is the best spot to bet the bigger favorites because you can best predict motivation in mismatch games.
Read more articles by Trevor Whenham