This Week in Sports Betting A-Z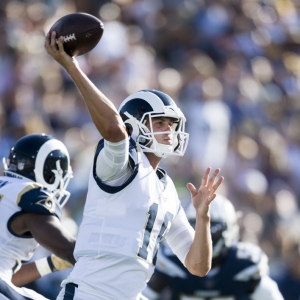 A. Aaron Donald . The Texans have J.J. Watt and Jadeveon Clowney on the ends. The Rams now have Donald and Ndamukong Suh in the middle of their defensive line. Los Angeles signed Suh to a one-year, $14 million contract earlier this week. Scary stuff in L.A….

B. Bubba Watson . When Watson wins golf tournaments, there are more tears than in a final episode of The Bachelor. That was once again the case last weekend, when the 39-year-old American won the Match Play Championship. Watson beat Justin Thomas in the semifinals before destroying fellow University of Georgia standout Kevin Kisner 8&6 for the title. BetOnline Sportsbook has Watson at +1600 to win the Masters for a third time next week.

C. Chicago White Sox . Not one, not two, not three, not four, not five…. No, the White Sox clobbered a whopping six home runs on Opening Day to beat Kanas City 14-7. That tied the record for homers in a season opener. Matt Davidson accounted for three by himself, finishing 3-for-4 with five RBIs and four runs scored while becoming the fourth player in MLB history to leave the yard three times on Opening Day.

D. Declared . LiAngelo Ball declared for the NBA Draft on Tuesday. In news that may or may not be related, he scored 72 points in a game for his Lithuanian team immediately thereafter. Let's just say the competition level was not exactly overwhelming.

E. Ed Hochuli . Say it ain't so, Ed! The legendary NFL official announced his retirement earlier this month. Hochuli, of course, set the standard for NFL officials' workout regimens-a standard that will never be met by anyone else!

F. Fultz, Markelle . Markelle Fultz, you ruined everything! The No. 1 overall back is back for the first time since the fourth game of the season. In the second game of his return, Fultz finished with three points on 1-for-5 shooting, seven assists, five rebounds, and one break of Joel Embiid's orbital bone. Embiid, who collided with his teammate while setting a screen during Wednesday's win over New York, will require surgery and could miss 2-4 weeks.

G. Golden State Warriors . Stephen Curry is out with an MCL injury, but at least the timing is good. Sure, he is likely to miss the first round of the playoffs-but who cares?!?! Now he has time to go to the Masters! The Warriors are +105 favorites at Bovada Sportsbook to win the NBA title.

H. Huberdeau, Justin . Huberdeau ended a seven-game goal drought by lighting the lamp twice in Florida's 4-3 loss at the Maple Leafs on Wednesday. Toronto is a -165 favorite at the Islanders on Friday, according to GT Bets.

I. Ichiro Suzuki . At 44 years old, Ichiro was not about to stick around in Miami and endure an 0-162 season with the Marlins. He signed a one-year deal with Seattle, his original club, and was in the starting lineup on Wednesday. Ichiro played left field and went 0-for-2 with a strikeout in 2-1 win over Cleveland.

J. Jean . That's Sister Jean, of course. Nobody could have anticipated the breakout star of the NCAA Tournament being a 98-year-old nun, but hey, everyone likes surprises-especially in March! Her Loyola-Chicago Ramblers will try to continue their run when they face Michigan in the Final Four on Saturday. Loyola-Chicago is a +5.5 underdog , per MyBookie.ag.

K. Kansas . It was all chalk-Rock Chalk Jayhawk, to be exact-on the other side of the bracket. It will be No. 1 seed vs. No. 1 seed in Saturday's nightcap after Villanova cruised through the East Region and Kansas outlasted Duke in an overtime thriller in the Midwest Region final last weekend.

L. Le'Veon Bell . Bell's contract situation with the Steelers is getting ugly, and he isn't happy about the negative media attention. The star running back tweeted the following on Thursday: "it's so hard to be a hero in a city that paints [you] out to be the villain.".

M. Michigan . The Wolverines were 19-7 (8-5 Big Ten) through 26 games this season. They have not lost since Feb. 6. Michigan's 13-game winning streak includes the Big Ten Tournament title and NCAA Tournament wins over Montana, Houston (on a three-pointer at the buzzer), Texas A&M, and Florida State.

N. Not the Cubs . "We're not the Cubs." That's what Dallas Keuchel said during spring training when asked about Houston's chances of defending its World Series title. It was a shot, of course, at Chicago-while failed in its quest to defend following its famous triumph in 2016. 5Dimes Sportsbook has Houston (Keuchel) as a 1-77 favorite at Texas (Fister) on Friday night.

O. Opening Day . Baseball season is here (!!!!)-at least for all but four teams. Washington, Detroit, Cincinnati, and Pittsburgh saw their Opening Day games postponed and will get underway with doubleheaders on Friday. BookMaker has the Nationals' over/under season total at 93.5.

P. Perez, Salvador . Gotta hate the stairs. Just ask Dustin Johnson, who at this time last year missed the Masters due to a back injury while falling on some stairs at his rental home in Augusta. Perez is the latest staircase victim, having sprained an MCL while lugging a suitcase to the top floor of his home on Tuesday. The Royals' all-star catcher could miss up to six weeks.


Q. Quenneville, Joel . The Blackhawks are in last place in the Central Division and have been eliminated from playoff contention. Will the Quenneville era soon come to an end?
R. Rafael Nadal . Nadal will make a return trip to No. 1 in the world despite having not played a single match since the Australian Open two months ago. Federer failed to defend either his Indian Wells or Miami titles from 2017, paving the way to an upcoming change at the top. Of course, roles could be reversed this spring on clay. Federer is not playing, but he could regain No. 1 because Nadal has a boatload of points to defend.

S. Serena Williams . Everyone can agree that giving birth is tough. Returning to professional tennis after giving birth appears to be tough as well. Serena, who welcomed a daughter last August, got walloped by big sister Venus in the Indian Wells third round, and she lost right away in Miami to Indian Wells champion Naomi Osaka.

T. Tanking . Chicago, which has been called out more than a few times for tanking, went 4-3 in its first seven games of the month. Realizing the error of their winning ways, the Bulls have since lost seven in a row-including six straight by double-digits. They are 24-51, tying them for the third worst record in the Eastern Conference. Chicago is a +6.5 underdog at Orlando on Friday, as indicated by BetOnline Sportsbook.

U. UEFA Champions League . While college basketball is down to the Final Four, an elite eight remains in the Champions League. Action will resume on the pitch next week with the quarterfinals, in which Manchester, Barcelona, Real Madrid, and Bayern Munich are among the participants.

V. Villanova . The Wildcats became the beasts of the NCAA Tournament when No. 1 overall seed Virginia etched itself in unfortunate history with an immediate loss to 16th-seeded UMBC. Unlike the Cavaliers, Villanova has acted accordingly as top dog. Head coach Jay Wright's team won all of its East Region games by double-digits en route to the Final Four. 'Nova is a -110 favorite at GT Bets to win the National Championship.

W. Woods, Tiger . Tiger Woods has not won a major since 2008, but he finished runner-up at the Valspar Championship, tied for fifth at the Arnold Palmer Invitational, and is Tiger Woods, and therefore he is favored to win the Masters. MyBookie.ag has Tiger at -165 to hit the fairway with his first tee shot at the Masters.

X. Xhaka, Granit . Xhaka's Arsenal club is bumbling around in sixth place on the English Premier League table, but his Swiss national team is looking decent. In an international friendly between two World Cup-bound squads on Tuesday, Switzerland hammered Panama 6-0. Xhaka scored the second goal of the match on a penalty kick in the 31st minute.

Y. Yelich, Christian . Yelich went 1-for-4 with an RBI with his new team as Milwaukee edged San Diego 2-1 in 12 innings on Thursday. Of course, he wasn't the best former Miami Marlin on Opening Day. That was Giancarlo Stanton, who dialed long distance twice during the Yankees' 6-1 victory at Toronto. New York (Tanaka) is a -150 road favorite over the Blue Jays (Sanchez) on Friday, according to Bovada Sportsbook.

Z. Zdeno Chara . Channeling his inner Tom Brady, Chara is still going and going into his 40s. The Bruins' 41-year-old defenseman signed a one-year, $5 million extension on Wednesday. He has seven goals and 16 assists in 65 games this season.
Read more articles by Ricky Dimon