This Week in Sports Betting A-Z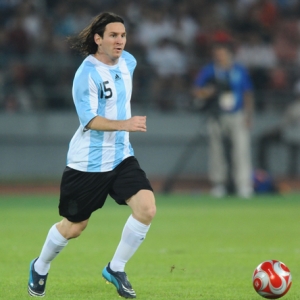 A. Argentina . Lionel Messi and company were minutes away from getting knocked out of the World Cup in the group stage for just the second time ever. Instead, Marcos Rojo found the back of the net in the 86th minute and Argentina beat Nigeria 2-1 to advance out of Group D and send the Super Eagles packing. France is a +130 favorite at Bovada Sportsbook to beat the Argentines prior to penalty picks on Saturday.

B. Barry Trotz . One week after winning the Stanley Cup, Washington's head coach resigned. He is the fifth in the last 40 years to leave following a cup victory and the first to leave for another job rather than retiring since Mike Keenan in 1994. The Islanders hired Trotz last Thursday. Perhaps he figured that-based on sample size-Stanley Cups would be few and far between for the Caps and plenty of playoff choking would once again become the norm.

C. College World Series . Speaking of choking, if Arkansas ends up losing this National Championship it would have to go down as one of the all-time collapses in sports. The Razorbacks were one strike away from finishing off Oregon State in two straight games on Wednesday night, when they let a foul ball that should have ended the series fall between the first baseman, second baseman, and right fielder. Sure enough, that same OSU hitter promptly delivered a game-tying single, and two batters later the Beavers hit what proved to be a game-winning two run homer. Oregon State's 5-3 victory forced a decisive Game 3 on Thursday.

D. Dealt . Mike Hoffman switched NHL teams not once but twice last week. Ottawa could not unload forward fast enough, and the reason why is epic. Hoffman's fiancee has been accused of cyberbullying the wife of Senators' star defenseman Erik Karlsson. After the Sharks acquired him from Ottawa, they promptly unloaded the 28-year-old to Florida on the very same day. Panthers' players: hide your wives!

E. Eliminated . The Germans almost got eliminated by Sweden last Saturday. They did get eliminated by South Korea on Wednesday. Germany used an amazing late goal in their second match to stay alive, but there were no such heroics against the Koreans, who pulled off a 2-0 upset of the defending champions. Check out our advice for betting the World Cup knockout rounds .

F. Fired . Tigers' pitching coach Chris Bosio was apparently fired earlier this week for being a bozo. Bosio got the boot for making an undisclosed insensitive remark to a team employee. He won't be missed (and vice versa), as Detroit is 36-45 and saddled with the 22nd-best ERA in baseball and is 24th in batting average against.

G. Gortat, Marcin . The 76ers drafted Mikal Bridges and then traded him away from his mom, a team employee. One week later, the Clippers traded Austin Rivers away from his dad-head coach Doc Rivers. Los Angeles shipped the 25-year-old guard across the country to Washington in exchange for Gortat, a 6'11'' center.

H. Hamilton Tiger-Cats . Manziel has been incident-free through Hamilton's first two games of the 2018 Canadian Football League season. Then again, it's not hard to stay incident-free when you don't see the field. The Tiger-Cats lost to Edmonton 28-14 and then beat Calgary 38-21.

I. Irving, Kyrie . Irving said in a New York radio interview that he thinks LeBron James should have been MVP over James Harden. Of course, Irving also thinks the world is flat. So if he thinks LeBron was the real MVP, that probably means Harden was the real MVP.

J. Juan Soto . The Nationals' 19-year-old phenom is on a 10-game hitting streak. Unfortunately for Soto, his last eight games have all featured just one hit exactly, and the rest of Washington's offense stinks. A shutout loss at Tampa Bay on Tuesday was the team's second such setback in a row. The Nationals (Roark) are +125 underdogs at Philadelphia (Nova) on Thursday, per MyBookie.ag.

K. Kershaw, Clayon . Kershaw returned from a stint on the DL (lower back) but did not last long last Saturday. The Dodgers' ace left after giving up two runs in three innings of work against the Mets.

L. Longoria, Evan . Speaking of the disabled list, Longoria got hit in the hand by a pitch earlier this month and underwent surgery that will sideline him for six to eight weeks. He was tied for the team lead with 34 RBIs and was second in home runs (10) at the time of the injury.

M. Mexico . Mexico was arguably the best team in Russia through two matches, defeating Germany and South Korea. El Tri promptly got clobbered 3-0 by Sweden on Wednesday, but South Korea became Mexico's favorite country with its stunner against the Germans. A Germany win would have sent the defending champs through while eliminating Mexico. XBet.ag has Mexico at +650 to reach the semifinals.

N. No. 25 seed . The French Open controversially decided not to seed Serena Williams, whose ranking is obviously low (currently 183rd) due to time off from childbirth. Wimbledon has gone in a different direction, announcing on Wednesday that Serena will be the No. 25 seed. Of course, that is not necessarily a good thing for the 36-year-old American or for others involved; she could meet a top 8 seed in the third round.

O. Orioles . Not one, not two, not three, not four, not five…not 27, not 28, not 29…. No, Baltimore is a laughable 30 games out of first place in the American League East. And, yes, it's still only June. 5Dimes Sportsbook has the Orioles (Yacabonis) as a +140 home underdogs against Seattle (Leake) on Thursday.

P. Paul Casey . Casey took a four-shot lead with him into Sunday's final round at the Travelers Championship. It wasn't anywhere near enough to hold off Bubba Watson, as the Englishman carded a 2-over 72 and Watson went for a 7-under 63 en route to a three-stroke victory.


Q. Quintana, Jose . The Cubs recently got swept in a four-game series by Cincinnati for the first time since 1983, they are 1-6 in their last seven contests, and Kris Bryant is on the DL. Quintana, who has lost his last two starts, will try to stop the bleeding when Chicago wraps up a four-game set with the Dodgers on Thursday.


R. Roger Federer . Federer and Rafael Nadal have been passing the No. 1 ranking back and forth like a hot potato. No one else has been at the top spot since August of last summer, and these two all-time greats have traded it six times in the last four months. It is Nadal who stole it back on Monday after Federer failed to defend his 2017 Halle title, losing to Borna Coric in the final this past weekend. The 36-year-old Swiss, however, is still the No. 1 seed at Wimbledon-which begins next week. BetOnline Sportsbook has Federer as a +185 favorite to triumph at the All-England Club.

S. Sweden . The Swedish fans are easy on the eyes. Good news for others watching on TV: those fans will be in Russia and on TV screens for at least one more match. A stellar Group F performance (wins over South Korea and Mexico plus a respectable loss against Germany) saw the Swedes top the table and book a spot in the round of 16.

T. Traded . Dwight Howard averaged 16.6 points and 12.5 rebounds per game this past season with Charlotte. That will do nothing to change the public perception that the 32-year-old center is washed up-not when he changes teams faster than Derek Jeter used to change girlfriends. Howard's latest move (which will become official on July 6) was a trade from the Hornets to the Nets. Brooklyn plans on releasing Howard, which will make him an unrestricted free agent.

U. U.S. Open . Brooks Koepka is now a back-to-back U.S. Open champion. That means he has two more U.S. Open titles than Phil Mickelson. He also has one fewer putt-while-ball-was-still-rolling at the U.S. Open than Mickelson. Tiger Woods is +1200 at GT Bets to win this week's Quicken Loans National.

V. VAR . If you are a sports fan (ie, if you have been watching the World Cup) and had a dollar for every time you hear "VAR," you would be a very rich person. But have you bothered figuring out what it stands for? No, not Video Assisted Review. It's Video Assistant Referee.

W. Winston, Jameis . It didn't start with crab claws and it didn't end with crab claws. With Winston, there is always something new. The latest report has the NFL planning to suspend the Bucs' quarterback for three games at the start of the 2018 regular season for violating the league's personal conduct policy. It stems from Winston allegedly assaulting a female Uber driver during a ride in the early hours of March 13, 2016.

X. Xavier Woods . "I'm trying every day to give them a reason not to want anybody else," the Cowboys' safety recently said of his team. They have been linked this offseason to Seahawks' safety Earl Thomas. Dallas is +1800 at BookMaker to win the NFC.

Y. Yankees vs. Red Sox . Get your popcorn ready for this weekend's three-game series in the Bronx between the two best teams in baseball. It begins on Friday with the Red Sox leading the Yankees by a half-game in the American League East.

Z. Zero . That's how many games Ben Simmons played in the NBA prior to this season. As such, how do people fail to understand that he was a rookie? As Nike pointed out in a stellar Instagram post, he wasn't just a rookie. He was the rookie. Simmons won Rookie of the Year honors ahead of Donovan Mitchell on Monday. Luka Doncic is a +200 favorite at MyBookie.ag to win ROY in 2018-19.
Read more articles by Ricky Dimon