This Week in Sports Betting A-Z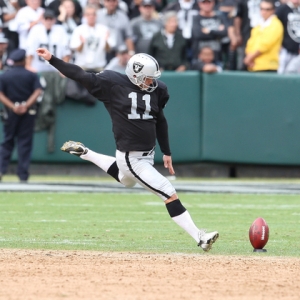 A. Aaron Feis . A football coach at Marjory Stoneman Douglas in Parkland, Fla., Feis put his life on the line to shield students from bullets during last week's school shooting. Feis, 37, was among the 17 killed. R.I.P.

B. Booker, Devin . This was not a video game; this was real life. Booker went a ridiculous 20-for-25 in the final round of last Saturday's Three-Point Contest during all-star weekend festivities in Los Angeles. He captured the title with a single-round record of 28 points.

C. Celtics . Aside from Boston, every other team in the top five of the Eastern Conference is enjoying at least a two-game winning streak. The Celtics, on the other hand, have lost three in a row. Combined with Toronto's seven-game surge, they are now second in the East and jeopardy of going up against Cleveland as early as the conference semifinals. BookMaker has Boston at +500 to reach the NBA Finals.

D. Dillon, Austin . Driving in the famous No. 3 car and channeling his inner Dale Earnhardt, Dillon wrecked leader Aric Almirola on the second-to-last turn of this past Sunday's Daytona 500 and sped away to victory. "The last lap of the Daytona 500, you just don't lift (off the gas)," Dillon said. "I guess I could have lifted and [given] it to him. I guess that was my other option-give up a Daytona 500 ring that I'm wearing."

E. Eric Hosmer . Hosmer agreed to an eight-year, $144 contract with the Padres last weekend-the richest in franchise history. Perhaps when you already have a World Series title under your belt, it's easier to take the money and run while worrying about wins later. In San Diego's case, those wins may come much, much later.

F. Fergie . If only we had Simon Cowell at the Staples Center to judge Fergie's rendition of the National Anthem prior to the NBA All-Star Game…. After all, Cowell has arguably heard better vocals during failed American Idol auditions. That was literally laughable-just ask Draymond Green. Golden State is a -180 favorite at GT Bets to win the NBA title.

G. Grievance . A.J. McCarron won his recent grievance against the Bengals, stemming from 2014 when the team allegedly left the former Alabama quarterback on the non-football injury list for an unnecessary length of time. McCarron will become an unrestricted free agent on March 14 as a result of his win in the courts. So, yes, the Bengals lose even during the offseason.

H. Halfpipe . The Americans have not been any good at traditional Winter Olympic sports in Pyeongchang, but at least they can get the job done in more X-Games style competitions. Chloe Kim dominated the women's halfpipe last week, while Shaun White delivered a clutch third run to capture men's gold.

I. Interim general manager . Panthers' interim GM Marty Hurney has been reinstated following a sexual harassment investigation. Hurney, who was cleared by the NFL last Friday, is expected to be named Carolina's full-time general manager in the near future.

J. Janikowski, Sebastian . Janikowski's 18-year run with the Raiders is over. The team announced last week that it will not bring back the 39-year-old, who missed the 2017 campaign due to injury. Janikowski is the Raiders' all-time leading scorer with 1,799 points (11th in NFL history).

K. Kennedy, Andy . Kennedy's Ole Miss Rebels have been throwing up more bricks than Paul George in the Three-Point Contest. As such, Kennedy is out as head coach. He had already been planning to step down at the end of the season, but he decided to do so immediately following last Saturday's loss at Mississippi State-the Rebels' seventh in a row. Ole Miss is a +9.5 underdog at Missouri on Tuesday, according to BetOnline Sportsbook.

L. Losing streak . The Chicago Blackhawks actually won a hockey game-and did so in surprisingly emphatic fashion (7-1 over Washington this past Saturday). As such, the NHL's longest current losing streak now belongs to Montreal. The Canadiens have dropped five straight (four in regulation) and find themselves in second-to-last place in the Eastern Conference. Montreal is a +145 underdog at Philadelphia on Tuesday, as indicated by Bovada Sportsbook.

M. Mitchell, Donovan . The Dunk Contest was worse than The Black Panther, worse than Larry Nance Sr., and worse than Vince Carter. Dennis Smith Jr. had the best dunk (and did not need any props), but Mitchell was the most consistent and-for whatever it's worth-took home the title.

N. New York Mets . General manager Sandy Alderson said last week that he thinks Tim Tebow will be in the major leagues at some point. In related news, Alderson also thinks Fergie is going to earn a Grammy for her National Anthem performance.

O. Odorizzi, Jake . The Rays traded Odorizzi-a right-handed starter-to Minnesota last week. Odorizzi went 10-8 with a 4.14 ERA and 127 strikeouts in 143.3 innings for Tampa Bay in 2017.

P. Pearl, Bruce . The proverbial honeymoon may be over for the 2017-18 Auburn Tigers and their head coach. They started the season 21-2 but have dropped two of their last four with a bad home loss to Texas A&M and an even worse road setback against South Carolina. In last Saturday's disappointment against the Gamecocks, starting forward Anfernee McLemore suffered a season-ending leg injury. "We're down to eight guys," head Pearl lamented.


Q. Quenneville, Joel . It was not all fun and games for the Blackhawks' head coach when his team trounced Washington 7-1. Four Chicago fans directed racial taunts at the Capitals' Devante Smith-Pelly while he was in the penalty box, and they have since been banned from future home games. "It can't happen," Quenneville said. 5Dimes Sportsbook has Washington as a +109 home underdog against Tampa Bay on Tuesday.
R. Roger Federer . Federer may be aging even better than Tom Brady-certainly better than Fumbled in the Fourth Quarter of the Super Bowl Tom Brady. The 36-year-old became the oldest-ever No. 1-ranked player on the ATP Tour when he surpassed Rafael Nadal at the top spot on Monday. Federer, three years older than Andre Agassi when the American was last No. 1, captured the title at last week's tournament in Rotterdam.

S. Shiffrin, Mikaela . Shiffrin won the event she is bad at and lost the event she is good. Okay, that's putting it just a bit simpler than the reality of the situation and obviously she isn't "bad" at any event, but she did capture an unexpected gold in the giant slalom and failed to make the podium as the favorite in the slalom.

T. Tiger Woods . Bad news: Tiger missed the cut last week at Riviera. Good news: the fact that Tiger needs more work means he is playing at this week's Honda Classic. "I need some tournament rounds," said the 14-time major champion, who carded rounds of 1-over and 5-over to miss the weekend by four strokes. Tiger is +5500 at MyBookie.ag to win the Honda.

U. University of Michigan . UM student assistant Austin Hatch was honored at Senior Night this past Sunday, when the Wolverines beat Ohio State 74-62. Hatch, who suited up for warm-ups, is a survivor of two different plane crashes that killed his entire immediate family.

V. Vonn, Lindsey . Vonn went downhill fast-quite literally-during the Super-G event last weekend. The 33-year-old American was in the midst of a stellar run before going way off course on a late turn and plunging into a tie for sixth, well off the podium. Vonn is a -170 favorite at Bovada Sportsbook to win gold in the downhill on Wednesday.

W. Watson, Bubba . Watson's weekend did not start off well. After all, he got vociferously rejected by Tracy McGrady during last Friday's NBA All-Star Celebrity Game. And if you saw the kind of shape McGrady is in these days, you know getting a shot blocked by him is especially bad. But Watson rebounded like a champ. On the golf course, the big-hitting lefty was back to his old self and earned his 10th career win with a two-shot victory at Riviera.

X. Xander Bogaerts . The Red Sox won the American League East last season, but things never felt right and they lost right away in the playoffs to Houston. Mookie Betts said last week that there was "tension in the locker room." Added Bogaerts: "I mean, we all know; we all know what was going on. I don't think I really want to get into details. The quicker we move on is the better for all of us." Boston is +500 at BetOnline Sportsbook to win the American League Pennant.

Y. Young, Trae . It has gone from bad to worse in Oklahoma, where the bubble has become a very real reality for the Sooners. They are 16-11 overall, 6-9 in the Big 12, 0-6 in their last six, and coming off a 30-point loss to Kansas on Monday. Young has shot worse than 36 percent in six of the last eight games and he has committed at least five turnovers in 14 of the last 16 contests.

Z. Zero . That's how many minutes Jimmy Butler played in the All-Star Game. "Just rest, man," Butler said. Or in the words of at least one Twitter user, "LA nightlife undefeated."
Read more articles by Ricky Dimon