This Week in Sports Betting A-Z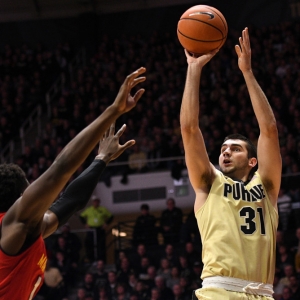 A. Aubameyang, Pierre-Emerick . Arsenal signed the former Borussia Dortmund forward last week with a transfer fee of 60 million pounds, and the 28-year-old wasted no time making an impact. In the Gunners' 5-1 English Premier League win over Everton this past Saturday, Aubameyang scored a goal in the 37th minute.

B. Boilermakers . Not one, not two, not three, not four, not five…not 17, not 18…. No, Purdue has won an amazing 19 games in a row. The Boilermakers are not exactly dominating (see: a 78-76 win at lowly Rutgers last weekend), but 19 straight games are 19 straight games. They are +800 at BetOnline Sportsbook to win the National Championship.

C. Clippers . The Blake Griffin era is over in Los Angeles. The Clippers traded their longtime star forward to Detroit last week in a deal that included five other players plus a first-round pick and second-round pick going to L.A. Griffin is averaging 20.0 points, 9.5 rebounds, and 6.0 assists in three games-all wins-with his new team.

D. Dunk . Jaylen Brown posterized Kristaps Porzingis during the Celtics' 30-point win over the Knicks last Wednesday. But when asked to rank it, Brown responded, "One to 10? On my scale? It was about a five." Huh? That's like calling Kate Upton a five. Just no.

E. Expansion team . With 32 games still remaining, Vegas broke the record for most wins by an NHL expansion team when it picked up its 34th victory in the form of a 3-2 defeat of Winnipeg last week. The Golden Knights are currently 35-13-4 following this past Sunday's win over Washington, and they are in first place in the Western Conference. Vegas is a +105 underdog at Pittsburgh on Tuesday, per GT Bets.

F. Fisher, Mike . Fisher, who announced his retirement from the NHL last August, is coming back. The Predators' 37-year-old center has been practicing the past few days and is expected to sign a contract later this month.

G. Groundhog . Winter is staying. So said Punxsutawney Phil last Friday, when the groundhog saw his shadow on Groundhog Day. But is winter actually staying? Fortunately for us, Phil almost always sees his shadow (more than 100 times since 1887) and is almost always wrong. Let's just say that the person who put $3 million on the Eagles at MGM in Las Vegas to win almost $6 million is probably a better predictor of things.

H. Harden, James . Harden scored 60 points Houston's 114-107 victory over Orlando last Thursday. But he was even better than those 60 points suggest. Harden became the first player in NBA history with a 60-point triple-double, also recording 11 assists and 10 rebounds. 5Dimes Sportsbook has the Rockets as -10.5 favorites at Brooklyn on Thursday.

I. Indians . Chief Wahoo won't be on Cleveland's uniforms starting in 2019, and it won't be on Jim Thome's Hall of Fame plaque when he gets inducted into Cooperstown this summer. The Indians' longtime logo is on the way out, and the "C" will be in, per an agreement between team owner Paul Dolan and MLB commissioner Rob Manfred last week. MyBookie.ag has Cleveland at +650 to win the World Series.

J. J.J. Watt . The Houston Texans may not have won the Super Bowl on Sunday (heck, they weren't even in the playoffs!), but Watt continues to rack up the hardware. After being named co-Sports Illustrated Sportsperson of the Year along with Astros' second baseman Jose Altuve, Watt earned the NFL's Walter Payton Man of the Year honors last week. Instead of sitting around feeling sorry for himself while injured, the star defensive end raised more than $30 million for Hurricane Harvey relief efforts.

K. Kevin Love . "It just seems like shit luck, really," is what Love had to say after suffering a broken left hand in Cleveland's loss at Detroit last Tuesday. The third broken had of his career will likely keep the star forward out for six to eight weeks. Adding insult to literal injury, the Cavaliers are 6-12 in their last 18 games dating back to Christmas. Cleveland is a -7 favorite at Orlando on Tuesday, according to BetOnline Sportsbook.

L. LiAngelo Ball . It's time for another Ball brothers update: they had their best game against a top-flight Lithuanian club this past Sunday, combining for 44 points and seven assists. LiAngelo scored a game-high 25. Despite that, LaVar still ripped their head coach for not starting his sons.

M. Marbury, Stephon . Marbury has announced his upcoming retirement from professional basketball, which offers additional breaking news: Marbury is still playing basketball. The former NBA star will play his final game on Sunday with the China Basketball Association's Beijing Fly Dragons.

N. NFL Hall of Fame . The 2018 Canton class is one of the youngest ever, featuring three first-ballot inductees: Ray Lewis, Randy Moss, and Brian Urlacher. Terrell Owens and Brian Dawkins are also headed to the Hall.

O. Olympics . Fasten your seatbelts, folks. The Winter Olympics in Pyeongchang are just two days away. Bovada Sportsbook has Norway as a +140 favorite to win the medal count and a -120 favorite to win the most golds.

P. Philadelphia Flyers . Philadelphia will be partying for weeks upon weeks, but that doesn't change the fact that its hockey team is garbage right now. It does change, however, how much Philly fans care. They couldn't care less about hockey at the moment. Whatever the case, the Flyers have lost four games in a row for the longest current losing streak in the NHL.


Q. Quiet, please . The only hole in golf on which those signs do not apply is the par-3 16 th at TPC Scottsdale. Matt Kuchar came within inches of acing it on Sunday and finished tied for fifth behind champion Gary Woodland. Fellow former Georgia Tech Yellow Jacket Ollie Schniederjans finished tie for third, but not before putting his ball into the water from the green while playing the 17th hole in round one. Dustin Johnson is +620 favorite at BookMaker to win this week's AT&T Pebble Beach Pro-Am.


R. Rasual Butler . Butler and his wife, former American Idol finalist Leah LaBelle, were killed in a single-car crash last week. The former La Salle Explorer played 14 years in the NBA for eight different teams. He was 38; LaBelle was 31. R.I.P.

S. Super Bowl LII . It was a great game from start to finish, with Nick Foles-yes, Nick Foles-winning MVP honors after leading Philadelphia to a 41-33 upset of the Patriots. Tom Brady went 28-of-48 for 505 yards, five touchdowns, and no interceptions…and lost. New England never punted a single time, but a strip-sack by Eagles' defensive end Brandon Graham with a little more than two minutes remaining proved to be the difference.

T. Trade . The Chiefs and Redskins did not even wait for the Super Bowl to engineer what could be the biggest deal prior to the 2018 NFL season. Kansas City kicked off its Patrick Mahomes era-and the Kirk Cousins sweepstakes era-by shipping Alex Smith to Washington in exchange for a third-round draft pick and cornerback Kendall Fuller.

U. United . Thirteen points can generally be considered a full-blown chasm when it comes to soccer standings. In this year's English Premier League, however, it's something relatively competitive. Manchester City has been absolutely dominant in 2017-18, but its recent draw with Burnley combined with Man United's 2-0 in over Huddersfield means the gap is 13 with 12 matches remaining….

V. Victoria Azarenka . A nasty custody battle has kept the former world No. 1 off the tennis circuit of late, forcing her to withdraw from the 2017 U.S. Open and this year's Australian Open-among several other events. But she picked up a big victory off the tennis court (in an actual court) last week and is expected to return to action next month in Indian Wells.

W. White, Brevin . Unless you're an Alabama fan, it's always a good day when Nick Saban loses a recruiting battle. It's even better when he loses one to…Princeton?!?! White, an ESPN 300 prospect from California, is sticking with Princeton despite getting an offer from 'Bama on Jan. 25. "The main reason I decided to stick was because Princeton offers me opportunities to fulfill my aspirations on and off the field," White explained. "Alabama is a first-class institution and a program with a great education, but Princeton checks more boxes personally for me."

X. Xavier . Xavier is 21-3 overall and has won six games in a row-a streak that includes victories over No. 25 Creighton, No. 19 Seton Hall, and in overtime against Georgetown this past Saturday. But things are about to get even tougher for the Musketeers, who have road dates with both Butler and Creighton this week. Xavier is a +3 underdog at Butler on Tuesday, as indicated by MyBookie.ag.

Y. Young, Trae . Oklahoma has lost two in a row and five of its last seven games. That stretch includes a 2-for-14 performance from three-point range by Young in his team's 79-74 loss at Texas last weekend. He has also committed at least five turnovers in eight consecutive outings.

Z. Zinedine Zidane . Real Madrid slumped to a 2-2 draw against Levante of all La Liga teams last weekend. Zidane's club is now 11-7-4 in Spain's top league, a whopping 19 points back of FC Barcelona. "This year is being difficult for us," he admitted. "We cannot put three or four results together. We were in control of the game (on Saturday), above all the first half, so I am not happy." GT Bets has Real Madrid as a -400 favorite over Real Sociedad on Saturday.
Want free sports betting picks? Doc's Sports has you covered - get $60 worth of picks free from any of Doc's Sports expert handicappers. Get $60 worth of premium members' picks free .
Read more articles by Ricky Dimon