This Week in Sports Betting A-Z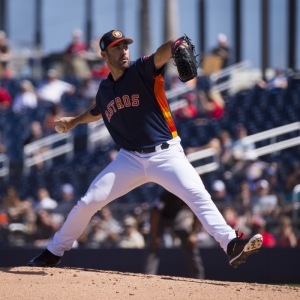 A. Angel Hernandez . The longtime Major League Baseball umpire thinks he has been continually left off postseason assignments due to racial bias (he is part Cuban) and an alleged grudge against him held by MLB vice president. Wrong! As we have already seen time and time again this year, Hernandez is continually left off postseason assignments due to the fact that he is absolutely awful at umpiring baseball games.

B. Ball, LiAngelo . Former Alabama guard Collin Sexton, a projected first-round pick in the NBA Draft, said that "for sure" the middle Ball brother will get drafted. Unfortunately for LiAngelo, Sexton is not an NBA scout or an NBA GM. More knowledgeable sources suggest that 'Gelo has no chance of playing in the NBA.

C. Capitals . 3-1 leads have been blown left and right in the sports world over the past few years. Now it is the Washington Capitals of all teams who have such a lead. What could possibly go wrong?!?! Washington is a +125 underdog at Vegas in Game 5 on Thursday, per Bovada Sportsbook.

D. Danica Patrick . Patrick is getting out of the car and onto the stage. The 36-year-old, who officially retired from racing after last month's Indianapolis 500, will host the ESPYs later this summer. Speaking of the ESPYs, that's where Patrick got Aaron Rodgers' e-mail address six years ago. The rest is history.

E. ESPN . UFC and ESPN have reached a deal worth $1.5 billion over five years starting in 2019. ESPN will own the UFC's complete rights and will air 30 fight night's annually-10 on the channel's TV networks and 20 via stream. Some will love this, and some will hate this. But as long it's simply replacing stuff like reruns of "Sports Nation," "Get Up," "First Take," and "Highly Questionable," we should all be fine.

F. French Open . Rafael Nadal came back from a set down to win his quarterfinal match against Diego Schwartzman on Thursday. Juan Martin Del Potro is next, likely followed by Dominic Thiem. Those are formidable foes…but, like, does it really matter who's on the other side of the net?

G. Governor John Carney . Sports betting in Delaware is officially open for business. Tuesday marked the grand opening, and a total of $322,135 was wagered at the state's three casinos. Governor Carney made the first bet, placing $10 on the Phillies to beat the Cubs-which paid off a winner as Philadelphia rolled 6-1. The Cubs (Chatwood) are -123 home favorites over Philly (Pivetta) on Thursday ( 5Dimes Sportsbook).

H. Hunter Henry . The Chargers will be without their projected starting tight end for this 2018 campaign. Henry, who has 81 receptions for 1,057 yards and 12 touchdowns in two seasons, suffered a torn ACL in practice last month. Will Antonio Gates be walkin' through that door? San Diego is a +155 favorite at BookMaker to win the AFC West.

I. Iguodala, Andre . Iguodala returned from a knee injury on Wednesday for the first time since Game 3 of the Western Conference Finals. It turned out the Warriors didn't need him…or Stephen Curry…or Klay Thompson…or really anyone other than Kevin Durant in Game 3 against Cleveland. Durant delivered 43 points, 13 rebounds, and seven assists as Golden State won 110-102 for a 3-0 advantage.

J. Justify . Justify can become the second horse in the last four years to win the Triple Crown when he races at the Belmont Stakes on Saturday. Good Magic, who gave Justify a run for his money almost the entire way at the Preakness before stumbling to fourth, is out. But Bravazo, who made a late charge to finish second in Maryland, is in. GT Bets has Justify as a -130 favorite.

K. Kickoffs . The NFL has approved various changes to kickoff rules, effectively immediately. Among them are no running starts for kick coverage teams and the kicking team must have five players lined up on either side of the ball. Well, at least Goodell didn't do the expected Goodell thing and eliminate kickoffs altogether!

L. LeBron James . Shouldering more of a load than Camila Cabello in Fifth Harmony, LeBron has gotten the Cavaliers this far. But not even a triple-double (33 points, 10 rebounds, 11 assists) were enough to win at home in Game 3. Is the LeBron era in Cleveland 48 minutes away from being over? The Cavs are +5.5 home underdogs on Friday, according to MyBookie.ag.

M. Memorial . It seems like it is just about time for Tiger to start winning. Now that the Masters has come and gone, what better time to do so than at the U.S. Open next week? The 14-time major champion contended again last week at the Memorial, where he briefly found himself tied for the lead on Saturday before stumbling to a T23 finish. Bryson DeChambeau ended up winning in a three-man playoff.

N. Noah Syndergaard . Syndergaard has been on the disabled list with a strained ligament in his right index finger, but the Mets' righty tossed 25 pitches in a simulated game on Tuesday and is expected to start against the Yankees on Sunday. Thor vs. Aaron Judge and Giancarlo Stanton? That's a midsummer regular-season game worth watching.

O. Out . Speaking of the disabled list, Clayton Kershaw came off it for one day, threw five innings, and went right back on it. Dodgers' manager Dave Roberts said the lower-back strain is not too serious, but this becoming an all-too-common problem for L.A.'s ace.

P. Philadelphia Union . The Eagles recently had their White House invitation rescinded by the president. If the city's MLS team keeps playing-and behaving-like it did last weekend, it will never get invited to the White House as league champions in the first place. The Union incurred two red cards for out-of-control arguing in the 19th minute and played 9-on-11 the rest of the way, losing to Atlanta United 3-1.


Q. Quinn, David . Now is probably not the time to be think about next season in hockey. But, whatever; Quinn, formerly with Boston University, was recently hired as the new head coach of the Rangers. He led BU to a national runner-up finish in 2014-15.


R. Ramirez, Hanley . Boston designated Ramirez for assignment and then released him last week. The 34-year-old, who has $15.25 million remaining on his contract, hit .254 with six homers and 29 RBIs in 44 games this. Bartolo Colon, for one, thinks Ramirez has a lot of years left! The Red Sox (Beeks) are -170 home favorites over Detroit (Boyd) on Thursday night, as indicated by BookMaker.

S. Sculpture . Okay, it's actually a plaque. But that thing of Brandi Chastain at the Bay Area Sports Hall of Fame induction made Ronaldo's bust at a Portuguese airport look like the Mona Lisa by comparison.

T. Tiger-Cats . Johnny Manziel's preseason debut for the Hamilton Tiger-Cats of the Canadian Football League last Friday featured zero points scored in five possessions, plenty of trash-talking by Toronto players, an intentional grounding penalty against him that he referred to as the "worst call of the century," and head June Jones confirming that Jeremiah Masoli is the regular-season starter ahead of Manziel. But, hey, other than that everything went great! Hamilton is +550 at Bovada Sportsbook to win the Grey Cup.

U. UEFA Champions League . Death, taxes, and Real Madrid winning the Champions League…. Those seem to be the three current certainties of life. Now the question is: can Ronaldo LeBron James an otherwise mediocre Portugal team to World Cup success? Brazil is a +330 favorite at XBet.ag; Portugal is +2000.

V. Vegas Golden Knights . It will be a really bad day for the Golden Knights if they lose on Thursday night. It will be an even worse day for bettors who had the audacity to back them before the season started.

W. Williams, Serena . Serena's first Grand Slam since giving birth to her first child started off well enough. After winning three matches, however, the 36-year-old withdrew due to a pectoral injury prior to a highly-anticipated showdown with Maria Sharapova.

X. Xavier Rhodes . The Vikings' star cornerback ended up at No. 55 on the NFL Network's Top 100 list heading into the 2018 season, as voted on by the players. But if Rhodes is so good, why did Minnesota lose to Philadelphia 38-7 in the NFC Championship? Of course, if New Orleans had any cornerbacks half as good as Rhodes, Minnesota never would have been in the NFC Championship.

Y. Yale . Nobody outside of close Duke circles is going to be too disappointed when the Blue Devils lose in men's lacrosse. Yale? Certainly not disappointed. The Bulldogs recently took down Duke 13-11 to win the school's first National Championship in men's lax.

Z. Zlatan Ibrahimovic . Zlatan incurred a red card-and deservedly so!-during a recent match between L.A. and Montreal. He slapped some smallish opponent as if it was an amateur UFC fight between Andre the Giant and Spud Webb. He then faked an injury of his own by collapsing to the ground as if he was…well…any soccer player. The Galaxy are -166 favorites at MyBookie.ag to beat Real Salt Lake in regulation on Saturday.
Read more articles by Ricky Dimon