Sports Betting Futures Odds: Some Wild Results in the NFC North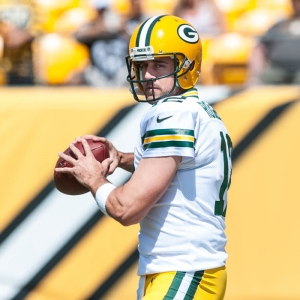 The Vikings lost at home to Buffalo and the Lions upset New England. In other words, the NFC North is not what we thought it was-at least not in Week 3. Meanwhile, football will have to share center stage in the sports world this weekend with golf. Following Tiger Woods' famous triumph at the TOUR Championship in Atlanta, the Ryder Cup is taking place across the pond in Paris.

All odds provided by Bovada Sportsbook .

NFC North

Minnesota Vikings (+120) - As -17 favorites, the Vikings suffered the NFL's biggest upset in 23 years when they lost at home to the Bills 27-6 last weekend. Unbelievably, the Bills led 27-0 midway through the second quarter before coasting to victory. On the bright side for Minnesota, it is still a respectable 1-1-1 through three weeks.

Green Bay Packers (+200) - Also at 1-1-1 (the Packers and Vikings tied at Lambeau Field in Week 2), Green Bay is currently tied for second in the division. Aaron Rodgers has been less than 100 percent since sustaining a knee injury in the season opener, and he struggled to get the offense going in a recent 31-17 loss at Washington.

Chicago Bears (+350) - The Bears should be 3-0, but for now they will take a 2-1 record that has them alone in first place in the NFC North. Led by newcomer Khalil Mack as the star linebacker, Chicago is fifth in the entire league in total defense following back-to-back wins over Seattle and Arizona in which it allowed 31 points.

Detroit Lions (+1000) - While Chicago would be 3-0 if it had not blown a massive Week 1 lead over Green Bay, Detroit would be 0-3 if it had lost to defending AFC champion New England on Sunday night. Instead, the Lions pulled off a 26-10 victory as +6.5 home underdogs for their first win of 2018. The visit the Cowboys in Week 4.

NHL points leader

Connor McDavid (+275) - McDavid racked up 108 points to top the NHL charts in 2017-18, beating out Philadelphia's Claude Giroux by six points. The 2016-17 league MVP was sixth in goals (41) and third in assists (67) behind Giroux and Winnipeg's Blake Wheeler. McDavid recorded 100 points (30 goals, 70 assists) a season earlier.

Sidney Crosby (+850) - With McDavid (21 years old) on the rise and Crosby (31 years old) still going strong, the NHL is in good hands as it prepares for the 2018-19 campaign that begins on Oct. 3. The key for Crosby is staying healthy, and he has played at least 75 games in five straight seasons. He finished 10 th in points (89) last year.

Nikita Kucherov (+1000) - Three players reached the 100-point mark in 2017-18, with Kucherov finishing right on the number. His consistent improvement over the past three years has been impressive, recording 66 points in 2015-16 and 85 points one season later prior to his 100-point performance. Kucherov dished out 61 assists in 2017-18.

Evgeni Malkin (+1400) - Malkin finished fourth in points (98) and fourth in goals (42) last season. He was the top goal-scorer among anyone who finished in the top 10 in points. The 32-year-old finally played more than 70 games (78) for the first time since 2011-12). Mark Scheifele and Nathan MacKinnon are also +1400.

Ryder Cup

Team USA to win (-135) - The Americans have won only two of the last eight events, but was their 17-11 blowout at Hazeltine in 2016 the start of a new trend? They are absolutely loaded in 2018, with 11 of the top 17 golfers in the current rankings. That includes Tiger and three-time major champions Jordan Spieth and Brooks Koepka.

Team Europe to win (+145) - On paper the Europeans are nowhere near as stacked, but they simply know how to get the job done in this team competition. And it's not like this particular European side can be discounted-especially not with home-course advantage. Justin Rose just won the FedEx Cup and Rory McIlroy is in fine form.

Tiger Woods to be top wild card point-scorer (+300) - Both captains (Jim Furyk and Thomas Bjorn) had four picks, or proverbial wild cards, beyond the automatic qualifiers. Tiger, of course, was the most high-profile and no-brainer selection. Although he is red hot, the 42-year-old is just 13-17-1 lifetime in seven Ryder Cup appearances.

Justin Rose to be top European point-scorer (+500) - What's not to like about Rose this week? The Englishman 11-6-2 lifetime in four Ryder Cup appearances, with a winning record in all three disciplines (fourballs, foursomes, and singles). He won the FedEx Cup with three consecutive top-four finishes. McIlroy is also +500.

Ryder Cup top American

Dustin Johnson (+500) - Since the British Open, Johnson has one win (RBC Canadian Open) and two other top-three showings (including at the TOUR Championship). He remains No. 1 in the world ahead of Rose, Koepka, and Justin Thomas. The 34-year-old is 3-0-0 in singles during his Ryder Cup career.

Justin Thomas (+600) - Thomas has never been a part of the Ryder Cup, but he has been absolutely on fire over the past two seasons to establish himself as one of the Americans' anchors on the 2018 team. The 25-year-old is No. 1 on the PGA's money list in 2018 and he has recorded four top-10 finishes in his last six tournaments.

Brooks Koepka (+650) - Koepka compiled a 3-1-0 record in his Ryder Cup debut, helping Team USA dominate the visiting Europeans in 2016. And that was before he was a major champion; now he has won three majors, including back-to-back U.S. Opens. However, the 28-year-old has struggled since winning the PGA Championship.

Tiger Woods (+750) - Tiger boasts a 4-1-2 singles record at the Ryder Cup, so there is no telling how good he can be in Paris if Furyk manages to mesh him with the right partner(s). The 14-time major winner is back up to No. 13 in the world and he was one Justin Rose par on 18 away from winning the FedEx Cup. Spieth is also +750.





Read more articles by Ricky Dimon