Sports Betting Futures Odds: NBA Schedule Released, Carmelo to Rockets Official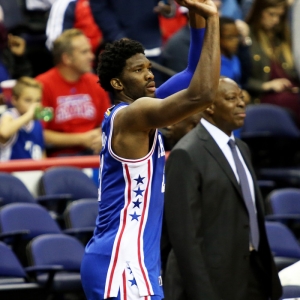 Basketball is doing its best to stay relevant with baseball nearing the home stretch and football on the immediate horizon. The NBA released its 2018-19 schedule last week, and Carmelo Anthony officially signed with the Houston Rockets on Monday. As usual, Christmas Day is one of the highlights of the best teams' upcoming slates.

Odds provided by Bovada Sportsbook unless otherwise indicated.

NBA Christmas Day

Philadelphia (+5.5) at Boston - With LeBron James-less Cleveland out of the picture, Celtics vs. 76ers figures to be the most intriguing rivalry in the Eastern Conference. Philadelphia's process arguably went faster than expected with a 52-30 record last season, but Joel Embiid and company lost to Boston in five games in the second round.

Oklahoma City (+6) at Houston - At least for one year, the Rockets will have their version of a big three. Carmelo inked a one-year contract, joining James Harden and Chris Paul in Houston. The 34-year-old will run into his former team on Christmas-a former team that is down to a big two with Russell Westbrook and Paul George.

L.A. Lakers (+8.5) at Golden State - This, of course, is the cream of the crop. The Lakers are revamped with LeBron leading the way, but will they have enough to compete with Golden State-especially on the road? Dec. 25 is right around the time that new Warrior and star big man DeMarcus Cousins is scheduled to take the floor.

Portland (+5.5) at Utah - This may not be as big as the three aforementioned matchups, but it should be a good one. Utah was perhaps the NBA's most pleasant surprise in 2017-18 as star rookie Donovan Mitchell carried it to a 48-34 record a first-round win over OKC. The Blazers earned the West's No. 3 seed before fizzling.

NFL Defensive Player of the Year

J.J. Watt (+600) - Watt is a three-time winner of this award, having bagged the honor in 2012, 2014, and 2015. The Texans' defensive end has been limited to a mere eight games over the past two seasons-three in 2016 due to back injury and five last year before suffering a broken leg. He is expected to be ready for the regular season.

Joey Bosa (+600) - Bosa has been a consistent force for the Chargers since being selected No. 3 overall in the 2016 draft. The former Ohio State standout contributed 10.5 sacks as a rookie (in just 12 games) and recorded 12.5 sacks during a full 16-game slate last season. He also forced four fumbles and made 64 solo tackles.

Aaron Donald (+600) - At the moment, Donald is one of the biggest stories in football for the wrong reasons. His holdout from Rams' training camp is ongoing, and there seems to be no end in sight. But it would too costly for both team and player for this to extend into the regular season. Donald had 11 sacks and five forced fumbles in 2017.

Khalil Mack (+700) - Watt (2014, 2015), Mack (2016), and Donald (2017) have shared the last four Defensive Player of the Year awards. Like Donald, Mack (36.5 sacks in the last three years) is also holding out right now. Oakland may even be willing to trade the star defensive end. Denver linebacker Von Miller is a +950 fifth choice to win DPOY.

U.S. Open (women's)

Serena Williams (+300) - The gap in sheer talent level between Serena and everyone else is such that she pretty much has to be favored every time she takes the court. Her comeback from the 2017 birth of her first child includes a recent runner-up performance at Wimbledon. Serena, 36, is a six-time champion of the U.S. Open.

Simona Halep (+700) - Following three runner-ups, two semifinal finishes, and five quarterfinal performances, Halep finally got over the Grand Slam hump by winning the French Open this spring. The 26-year-old Romanian has lost prior to the quarterfinals in six of her eight career U.S. Open appearances, but she is playing her best right now.

Angelique Kerber (+700) - Halep and Kerber are the last two slam champions, as Kerber triumphed at Wimbledon following Halep's success at Roland Garros. On the heels of an alarming slump in 2017, the fourth-ranked German has reached at least the quarters of all three majors in 2018. She also won the U.S. Open two seasons ago.

Sloane Stephens (+1000) - The reigning U.S. Open champion finished runner-up to Halep at the French Open and did the same this past week on the hard courts of Montreal. In terms of current form, the 25-year-old American is right there at the top along with Halep. Garbine Muguruza and Caroline Wozniacki are +1200 fifth choices.

Tiger Woods

To win the $10 million match against Phil Mickelson (-155 at MyBookie.ag) - Golf's offseason always has plenty of somewhat worthwhile exhibition events-none bigger than this fall's battle between Woods and Mickelson in Las Vegas right around Thanksgiving. Based on current form, of course, Tiger has to like his chances.

To wear red against Mickelson (+175 at MyBookie.ag) - The $10 million showdown at Shadow Creek Golf Course is scheduled for either Nov. 23 or Nov. 24, which is either the Friday or Saturday after Thanksgiving. In other words, it won't be played on a Sunday. Still, this is just a one-round affair-which means red is a real possibility.

To win the 2019 Masters (+1200) - Tiger isn't quite the favorite right now, but he may be by the time next April rolls around. Showing relatively consistent improvement in his comeback with a few bumps along the way, the 14-time major champion contended on Sunday at both the British Open and PGA Championship. It's safe to say he is back.

United States to win the Ryder Cup (-120) - Although Tiger did not automatically qualify for the USA's Ryder Cup team, he will obviously be a captain's pick. The Americans are loaded with Dustin Johnson, Jordan Spieth, Brooks Koepka, Justin Thomas, and many more, but they have lost six of the last eight events.


Read more articles by Ricky Dimon