Sports Betting Futures Odds: Saints Take Complete Control for Top Seed in NFC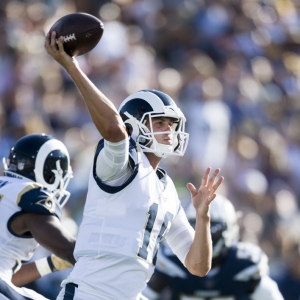 The Sunday night and Monday night festivities in Week 15 all but determined the No. 1 seed in the NFC, and the road to the Super Bowl likely goes through New Orleans. After the Rams got upset at home by Philadelphia, the Saints went on the road to scrape past Carolina. Meanwhile, at the college level, bowl season is already well underway.

All odds provided by MyBookie.ag .

NFC Championship

New Orleans Saints (+120) - Dating back to late November, New Orleans has lost 13-10 to Dallas, overcome a slow start to beat Tampa Bay 28-14, and held off Carolina 12-9. As the scores suggest, something is up with Drew Brees and the offense. Fortunately for the Saints, their last two are at home-where they'll likely play twice in the playoffs.

Los Angeles Rams (+190) - Once an MVP candidate, Jared Goff finds himself in considerable slump. Running back Todd Gurley appears to be less than 100 percent even though he managed to score two more touchdowns on Sunday. With the top seed probably gone, L.A. has to hope it can fend off Chicago for a first-round bye.

Chicago Bears (+550) - With the Rams struggling and the Saints' offense suddenly in mediocre form, Chicago has become a trendy pick to reach the Super Bowl. Khalil Mack and company are third in the NFL in both total defense and scoring defense. The Bears are 7-1 in their last eight following consecutive wins over the Rams and Packers.

Dallas Cowboys (+1200) - What a difference a week makes. The Cowboys had extended their winning streak to five games with back-to-back victories over New Orleans and Philadelphia only to get humiliated 23-0 by Indianapolis last Sunday. Like every other team in the NFC East, it's hard to get a true read on Dallas.

Bowls

Fiesta Bowl: LSU (-7.5) vs. Central Florida - Central Florida once again missed out on the College Football Playoff despite going undefeated, and it is once again griping about it. The Knights upset Auburn 34-27 in last season's Peach and now get a shot at another SEC foe. LSU is 9-3 with losses only to Alabama, Florida, and Texas A&M.

Peach Bowl: Michigan (-7.5) vs. Florida - Outside of the College Football Playoff, there may not be a better matchup that this one. Jim Harbaugh's Michigan team is looking to bounce back from another loss to Ohio State as it prepares to face Dan Mullen's resurgent Florida squad. The Gators are 9-3 and have won three in a row.

Citrus Bowl: Penn State (-6.5) vs. Kentucky - Kentucky contended in the SEC East even longer than Florida, starting 5-0 before finishing the regular season 9-3. The Wildcats lost three of their last seven games, and the Nittany Lions dropped three of their last eight. Will motivation be a factor for a reeling Penn State team?

Gator Bowl: Texas A&M (-6.5) vs. N.C. State - Playing more than a month since their last game, the Aggies still may have momentum from their ridiculous 74-72 seven-overtime defeat of LSU. They have won three straight, while 9-3 N.C. State has done the same. Wolfpack receiver Kelvin Harmon is skipping the game for NFL purposes.

2019 World Series

Boston Red Sox (+550) - The winter meetings in Las Vegas came and went without much fuss, so there's a lot that still must be sorted out before the start of the 2019 season. Of course, the Red Sox don't have to do much. They just won the World Series and are loaded with both their lineup and their pitching staff.

Houston Astros (+600) - Boston will try to replicate the magic in back-to-back seasons, something Houston could not do in 2018 after it triumphed one year earlier. While the Red Sox will likely lose closer Craig Kimbrel, the Astros lost a pitcher of their own in Charlie Morton. Of course, they both have more than enough pieces to cope.

New York Yankees (+650) - The Yankees have reached the playoffs in two straight years but now must find a way to take the next step after getting ousted by each of the last two World Series champions. Are they still in the running for either Bryce Harper or Manny Machado? If York manages to land one of those two, watch out.

Los Angeles Dodgers (+700) - Los Angeles rented Machado for the second half of 2018, and he helped lead a run to the Fall Classic, at which point the NL champs again fell short at the final hurdle. Now the Dodgers are seeking a longer-term solution. Will it be Harper? No other team has better than +1100 odds (the Cubs).

UEFA Champions League

Manchester City (+300) - While its in-city rival Manchester United gave manage Jose Mourinho the boot on Tuesday, things are still going swimmingly for Manchester City. The Sky Blues are considerable favorites to repeat as English Premier League champions. No EPL Club, however, has won the Champions League since 2011-12.

FC Barcelona (+450) - The Champions League round of 16 draw was held last weekend, pitting Messi and company against Lyon. That should not be a problem for the five-time champs. Perhaps the two most intriguing matchups are Juventus vs. Atletico Madrid and Liverpool vs. Bayern Munich.

Juventus (+600) - Cristiano Ronaldo's exit from Real Madrid seems to have leveled the balance of power after the Spanish team captured three consecutive Champions League titles. Now he laces them up for Juventus, which has finished runner-up twice in the past four seasons. The Zebras are a dominant 15-0-1 in Serie A at the moment.

Paris Saint-Germain (+700) - Formerly with FC Barca, Neymar will take his Parisian club into a round of 16 showdown against Manchester United. Right now, advantage: Paris. PSG is completely dominating Ligue 1 these days, sporting a 14-0-2 record through 16 matches. It won Ligue 1 by 13 points in 2017-18.
Read more articles by Ricky Dimon