Sports Betting Futures Odds: Match Madness Has Arrived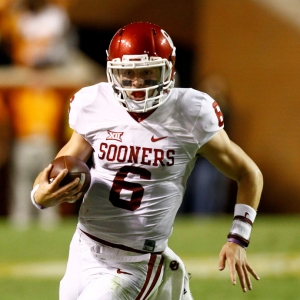 The Big Dance is a little more than a week away, so right now conference tournaments have center stage. Somewhat inexplicably, the Big Ten festivities have already come and gone. But among those soon to tip off their events are the Big 12 and SEC. Also don't forget about football as the NFL combine has people buzzing about this spring's draft.

All odds provided by BetOnline Sportsbook .

Big 12 Tournament

Kansas (+200) - You can blame Iowa State (three titles) for the fact that Kansas has won the Big 12 championship only once in the last four years. As usual, the Jayhawks are favored heading into it with a 13-5 conference record (two games better than Texas Tech and West Virginia). Devonte' Graham was named Big 12 Player of the Year.

West Virginia (+300) - After going 15-21 in its first two seasons in Big 12, West Virginia has compiled winning records on each of the last four occasions-including 11-7 this year. The Mountaineers have not lost in regulation since Feb. 17, with three straight wins followed by an overtime setback against Texas.

Texas Tech (+400) - The Red Raiders could have an in-state rivalry game on their hands for Thursday. That will be the case if Texas beats Iowa State during first-round action. Texas Tech, which has never won this tournament and last reached the final in 2005, lost four straight before getting a much-needed win over TCU last Saturday.

TCU (+700) - Once a football and baseball school, TCU basketball has taken off under former Pittsburgh head coach Jamie Dixon. The Horned Frogs won the NIT last year and have reached .500 (9-9) for the first time ever in Big 12 Conference play. They had won four in a row prior to their recent loss at Texas Tech.

SEC Tournament

Auburn (+300) - Relative to their blistering start, the Tigers are in the midst of a late-season swoon-but that has not prevented them from being favored to cut down the nets in St. Louis. Once 21-2, head coach Bruce Pearl's squad is 4-4 in its last four games. Auburn could run into Kentucky in the semifinals.

Tennessee (+380) - A surge down the stretch propelled Tennessee into a tie with Auburn for the SEC regular-season title at 13-5. The Volunteers have not toppled anyone great of late, but they did sweep Kentucky-including a 61-59 road win on Feb. 6. UT has failed to win a single SEC Tournament since 1979.

Kentucky (+400) - Kentucky only bothers with National Championship banners. After all, Rupp Arena would not have room for 31 SEC triumphs (no other school has won it more than six times). As usual in the one-and-done era, these Wildcats are extremely talented but extremely young. They had won four straight before losing to Florida.

Florida (+400) - The Gators' 80-67 home win over UK last Saturday wrapped up what was a wildly up-and-down regular season. They were No. 7 in the nation around Thanksgiving with a victory over Gonzaga and a thrilling loss to Duke. In typical see-saw fashion, UF lost three in a row before winning three straight to end the schedule.


NFL Draft No. 1 pick

Saquon Barkley (+180) - Barkley was +1000 at the beginning of February. He was the second favorite behind Sam Darnold going into the combine. Unsurprisingly, the former Penn State running back completely dominated in Indianapolis and will be the No. 1 overall pick of the Browns…if they go with the best player available.

Sam Darnold (+300) - So it turns out that perhaps none of the star quarterbacks will be hit with the misfortune of going to Cleveland. But if the Browns bypass Barkley, Darnold may be their man. He did not throw at the combine, instead waiting to showcase his arm at USC's pro day on March 21.

Josh Allen (+380) - Coming out of Wyoming and having spent most of his time facing Mountain West Conference defenses, Allen is not as well-known as Darnold, Baker Mayfield, and Josh Rosen. But his size (6'5'' and 233 pounds) is impressive and his arm strength was evident at the combine.

Baker Mayfield (+600) - The Heisman Trophy winner is a proven winner. He starred on the field the whole way at Oklahoma and only helped himself at the combine, where scouts were pleasantly surprised with his throwing. Rosen, who had 49 TDs but also 21 INTs in two full seasons at UCLA, is a +800 fifth choice.

Valspar Championship

Jordan Spieth (+850) - How good has golf been so far this year? Playoffs with big names all over the place, Tiger Woods playing, Phil Mickelson winning…. Spieth is favored this week in Tampa Bay, where Tiger is back in action as part of an all-around stellar field. The 24-year-old American is coming off a T14 showing in Mexico.

Rory McIlroy (+1400) - Like Tiger, McIlroy is also making a first-time appearance at the Valspar Championship. Through two months in 2018, the Northern Irishman has been less impressive on the PGA Tour than on the European Tour. He posted two top-three performances in Europe but has gone MC, T20, and T59 in three PGA starts.

Sergio Garcia (+1600) - Sergio failed to mount a charge at the World Golf Championship in Mexico on Sunday, but he still finished a solid T7 at 12-under par. The Spaniard, who is preparing to defend his 2017 Masters title, also placed a decent T33 at the Honda Classic. Spieth and Sergio are also playing this event for the first time.

Justin Rose (+1600) - Rose has not been overly active of late, but now the process of fine-tuning his game for the Masters begins. The 37-year-old Englishman finished T8 at Torrey Pines in late January and never contended last week in Mexico but may have picked up some momentum with a final-round 67. Tiger is a +2500 seventh choice.
Read more articles by Ricky Dimon