Thank God It's Friday: Pacers Come Up Short in Upset Bid Against Cavs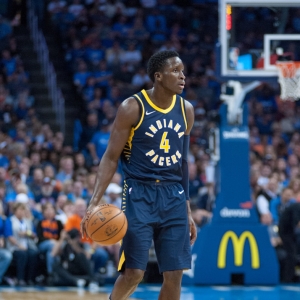 The Pacers gave Cleveland everything it could handle during their Eastern Conference first-round series, but they ultimately came up short-perhaps victimized by officiating, by not having home-court advantage, and of course by LeBron James. Underdog Utah is also giving Houston a real test, at least so far. But the Jazz are still without Ricky Rubio, so the battle is even more uphill that it otherwise would be against the Rockets.

All odds provided by MyBookie.ag.

Indiana Pacers . A 5-over-4 upset is generally not Earth-shattering, but it would have been with LeBron leading the No. 4 seed. Still, Indiana has to be feeling down (Victor Oladipo certainly looked like it in his post-game press conference) because it certainly had a chance. The Pacers lost Game 5 on a LeBron buzzer-beater, dominated Game 6, and then succumbed 105-101 in Game 7. People who bet on Cleveland and gave the points, however, may be feeling even worse this week. With the Pacers (+5.5 underdogs) trailing by seven as the clock ticked down, Oladipo forked up a meaningless (but not for bettors!) three-pointer and drained it to cut the final deficit to four. That single shot reportedly cost Vegas sportsbooks $3.5 million. The Cavaliers, who lead top-seeded Toronto 2-0, are -4.5 home favorites on Saturday .

Ricky Rubio . Regardless of what happens from here on out, it is a successful postseason for Rubio and the Jazz. After all, fifth-seeded Utah pulled off a minor upset of No. 4 seed Oklahoma City in the first round-a series that saw Rubio erupt for 26 points, 11 rebounds, and 10 assists during a Game 3 victory, leaving Thunder star Russell Westbrook incensed about the quality of the Spanish point guard's performance. In the Game 6 clincher, however, Rubio exited after seven minutes of action due to a hamstring injury, and he will be out for at least one more game of the current Western Conference semifinals against Houston. The Rockets are -3.5 road favorites in Game 3 on Friday.

Toronto Maple Leafs . The up-and-coming Maple Leafs may have thought this was their year when they earned 105 points in the regular season with a 49-26-7 record. But it was never going to be easy with Boston (50-20-12) in the first round-and certainly not after the Bruins took a 3-1 lead in the series. Toronto recovered briefly to win the next two and force a Game 7, but they lost 7-4 in Boston last Wednesday. The aftermath has not been fun, either, as there are reports of a rift between head coach Mike Babock and rising star Auston Matthews in addition to the departure of general manager Lou Lamoriello. Trailing Tampa Bay 2-1 in the Eastern Conference semis, the Bruins are +600 to win the Stanley Cup.

Shohei Ohtani . At least temporarily, the honeymoon is over for Ohtani. After being the early-season sensation of Major League Baseball, the Angels' two-way star from Japan has not started since last Tuesday due to both blisters on his pitching hand and a sprained ankle. In his last two outings, he has allowed seven runs during 7.1 innings of work. At the plate, Ohtani's 2-for-3 effort on Thursday was his first multi-hit performance in two weeks and he has homered just once since April 6. Los Angeles is +700 to win the American League pennant.

Josh Allen . It was a long draft day for Allen, but not because he endured any kind of extended Aaron Rodgers-esque wait in the green room. It was a long draft day because Allen had to spend the entire time trying to explain racially-charged tweets he made in high school. He may have to do even more damage control after getting picked by the Bills at No. 7 overall. Giants' safety Landon Collins said earlier this week that if they were teammates, "He would have to explain himself as to why he did that. Because at the end of the day, people are going to continue looking at you sideways or turn their shoulder." The Bills are +4.5 road underdogs against Baltimore in Week1.

AS Roma . Roma's incredible Champions League run included a 3-0 road win over Barcelona to advance through that quarterfinal on away goals. It came to an end earlier this week, when the She-Wolf could not erase all of a 5-2 first-leg deficit against Liverpool. Rome won 4-2, allowing Liverpool to advance 7-6 on aggregate. Awaiting the Reds in the final is none other than…you guessed it…Real Madrid. Ronaldo and company drew with Bayern Munich 2-2 in the second leg on Tuesday and the Whites advanced 4-3 on aggregate. They can become the first club in Champions League history to win the title three years in a row. Real is +125 to win in regulation, while Liverpool is +205.

Kurt Busch . Joey Logano took home the checkered flag from Talladega last weekend. Logano led most of the way, but being out front in Talladega is not often a good thing and it looked like No. 22 Ford would get tracked down in the final laps by a pair of Stewart-Haas Racing teammates. Busch made his move a lap before Kevin Harvick was ready, however, and Harvick was not able to join. Although he did not have the momentum with which to pass Logano, Busch at least managed to place second for his best-ever finish in Talladega. But it could have been ever better. "Two Stewart-Haas cars running second and third should have been able to pull this off," Busch explained. "I'm happy that a Ford won. It wasn't the right one.... "You wish you could go over and do it again. I feel like I left that one out on the table." Kyle Busch is a +300 favorite to win in Dover on Sunday.
Read more articles by Ricky Dimon