Packers are Sellers Prior to Road Game at New England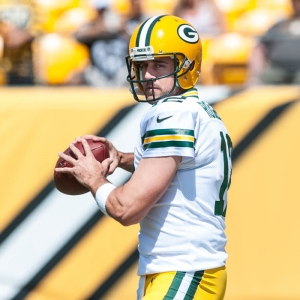 It has been a rough week for the Green Bay Packers, who just barely lost to the undefeated Rams this past Sunday before trading away two of their key players. It was also rough sledding in the state of Florida, where the Gators fell to Georgia and the Tampa Bay Buccaneers dropped to 3-4 on the season with a loss to Cincinnati. Meanwhile, the baseball season has come to an end and Tyronn Lue's tenure in Cleveland has done the same.

Odds provided by MyBookie.ag unless otherwise indicated.

Aaron Rodgers . The Packers are a modest 3-3-1 following their 29-27 setback in Los Angeles during Week 8 action. Although general manager Brian Gutekunst insists the white flag is not being waved, he shipped running back Ty Montgomery to Baltimore, and cornerback Ha-Ha Clinton-Dix to Washington prior to the trade deadline. Putting even more pressure on Rodgers, Green Bay has to play at New England on Sunday night. The Packers are +6 underdogs.
Jameis Winston . The Buccaneers' quarterback quandary is not as embarrassing as their defense, but Winston has been woeful of late. He was picked off four times before getting benched during last weekend's 37-34 loss to Cincinnati and he has thrown multiple interceptions in all four games in which he has played. "I can't find a common factor," Winston said of his problems. "My main thing right now is finding a solution to eliminate them. I know I'm definitely the reason we came up short in this game and I own that; and I have to fix it…. I don't think I've ever been benched. It's humbling, and it's definitely something I can grow from and learn from and you know what, it just adds to the story…. It's a setback. But it's a minor setback for a major comeback." Ryan Fitzpatrick is -400 to start more games than Winston this season.

Florida . The Gators had been flying high with five straight wins since a loss to Kentucky, thus getting back in the thick of the SEC East race. But it all fell apart for them last Saturday, when the World's Largest Outdoor Cocktail Party in Jacksonville went in Georgia's favor via a 36-17 beatdown. Florida watched UGA quarterback Jake Fromm throw for 240 yards and three touchdowns. That result likely means the division is coming down to this week's showdown between Georgia and Kentucky. The Bulldogs are +1200 to win the National Championship; Alabama is a -250 favorite.

Tyronn Lue . Lue did not last long as head coach of the Cavaliers in the post-LeBron James era. Following a 0-6 start to the season, the 41-year-old was fired last weekend. "My time here in Cleveland was truly special," Lue stated. "I am very grateful for the dedication, sacrifice, and support of all the players on our team, the tremendous coaches I worked with and of course, our incredible fans…. I only wish the organization success moving forward." The Cavs enjoyed plenty of success in game one under interim Larry Drew, destroying Atlanta 136-114 on Tuesday. But they lost 110-91 to Denver two days later. Drew is +150 to be head coach of the Cavaliers in 2019-20.

Los Angeles Dodgers . At least the Dodgers won this year's extra-inning World Series thriller. After falling to Houston twice in extras during the 2017 Fall Classic, Los Angeles outlasted Boston over an incredible 18 innings in Game 3. Nonetheless, the overall outcome was the same and the Dodgers have now fallen at baseball's final hurdle twice in a row. The Red Sox, the league's best team from start to finish in 2018, captured their fourth title in the last 15 years by beating L.A. in five games. They bounced back from last Friday's loss with consecutive road victories to seal the deal without too much trouble. Boston and Houston are +700 co-favorites to win the 2019 World Series (BetOnline Sportsbook).

Auston Matthews . The Maple Leafs are arguably the most talented team in the NHL when they are healthy, but Matthews is out for at least four weeks. That is an especially tough blow for Toronto, as the 2016 No. 1 overall pick had 10 goals and six assists through the first 11 games. On the bright side, Matthews will not require surgery on his injured shoulder. Toronto is a +470 favorite to win the Stanley Cup.

Atlanta United . Atlanta's late-October woes began with the announcement that manager Tata Martino will leave at the end of the season, presumably to take over for Mexico's national team. Things only got worse when the club-which had owned the best record in Major League Soccer from just about start to finish-got clobbered by Toronto 4-1 in last Saturday's finale. That opened the door for New York Red Bulls to steal the Supporters' Shield (best record) with a 1-0 victory over Orlando City. "We have to look at this and take a hard look in the mirror and find a way to make sure that this doesn't happen [in the playoffs]," goalie Brad Guzan commented. "[Having a week to regroup] is huge. Every day, mentally, physically, it's huge. We have to find a way…. You can't go into the first leg of a playoff game and concede four goals. You don't give yourself a fighting chance to go back home and play for the home leg. We got to figure it out."
Read more articles by Ricky Dimon